Do you ever sometimes feel like you've done enough creative cooking in the kitchen? That's where I'm at this week. I love cooking – or I did before it became a requirement of my role as a parent, 3 times a day, 7 times a week. I used to spend all day sometimes coming up with a menu for a dinner party, then shopping and preparing for my guests' delight. Now that my guests are family who don't mind telling me when something is "alright but I'd prefer not to have it again," I sometimes run out of energy for a creative menu. That's me this week, so our family meal plan is loosely based around leftovers, and basic staples that I know my kids will appreciate, even if they don't tickle my own taste buds. Sometimes you just need an easy week, right?
MONDAY – CORN CHOWDER WITH NACHOS
Leftovers alert! This the corn chowder I did for lunch over the weekend. There way too much of it, so I have a fridge full to use up. Also, the kids loved it, although inevitably there was a request for variation – nachos on the side please, they go soggy in the soup. To be fair, they do, but I kind of like squishing them into the hot stew, and breaking them into Dorito flavoured croutons with melty cheese – a bit like a French onion soup, but with more cheerful colours!
TUESDAY – CHICKEN & BACON SALAD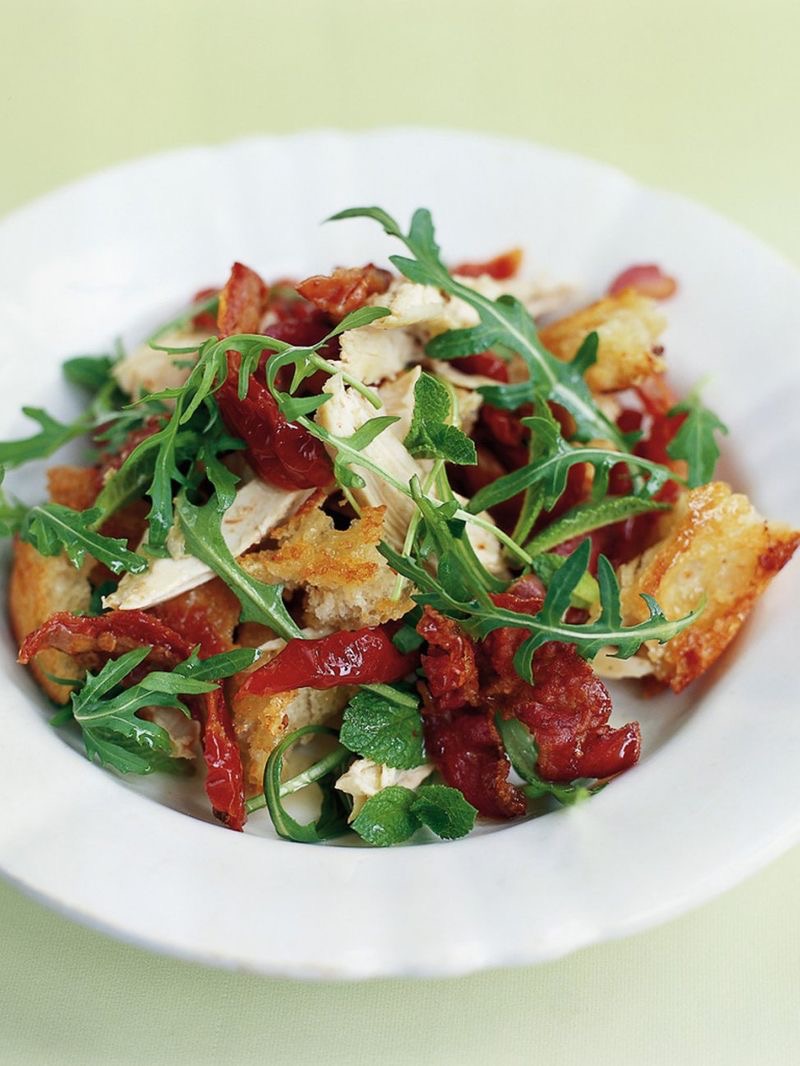 My family love this chicken and bacon salad, and it's quick to prepare, so perfect on a school night. It's loosely based around a Jamie Oliver salad recipe I have, but I use streaky bacon, a bit less chicken, and whatever salad veg I have in the fridge. Avocado is a favourite, with some cherry tomatoes, a jar of sunblush tomatoes, and I use the oil from that to roast big chunks of torn up ciabatta for the croutons – they taste amazing!
WEDNESDAY – PESTO PASTA WITH EDAMAME BEANS
I told you, I'm going for easy this week, and saxophone lesson day needs the speediest dish. Any kind of pasta will do for us, although fusilli grabs onto the pesto better. I add in a few frozen edamame beans to give the illusion of vegetables, polish my halo, and I'm done.
THURSDAY – JACKET POTATOES WITH BEANS AND CHEESE
Needs no explanation. Kids love it, takes no work, I'm nailing this week!
FRIDAY – LAMB TAGINE
Really this is a casserole, as I'm doing it in the slow cooker because of the Friday ice skating marathon. It's another Nigella Express recipe for lamb tagine, and I'm going to literally throw it in the slow cooker while I reheat my soup for lunch, and leave it till I'm home at 8pm to add some microwave rice. It's an advantage of having teenagers that the ones left at home while I'm out are happy to snack their way to dinnertime and eat late over a couple of episodes of How I Met Your Mother. The downside is that your evenings are never spent alone. The upside is that your evenings are never spent alone.
SATURDAY – THAI RED CHICKEN AND LENTIL CURRY
I've still got the dregs of a jar of Thai red curry paste in my fridge, and in my effort to reduce the number of half jars of just stuff cluttering up the shelves, we are eating Thai red curry again, and I'm having no argument. This time I'm using this Good Housekeeping recipe, some chicken that Sainsbury's sent me as a substitute (how annoying is that?) that isn't enough for 4, and I'm adding some red lentils to bulk it up. They'll never notice.
SUNDAY – ROAST BEEF BRISKET AND APPLE CRUMBLE
Could there be a more English Sunday lunch than beef and apple crumble? This brisket is currently in my freezer, from a shopping trip to Aldi that resulted in many unneeded items landing in my trolley, just because oh my god that's such good value! I've recently discovered Aldi on recommendation from several friends, and they were right. The meat especially is really good quality and crazy good value, so I'm excited to see how this one turns out.
LUNCH IDEAS
Once again I've turned to Nigella for lunches, and this one is going to be good on Saturday. Two eggs, beaten, chucked in a pan, preferred ingredients added (mine will be spinach, the kids will choose cheese, and I'm going to experiment with pea and pesto for Jason), fried flat for a couple of minutes then flipped over to create a thin and crispy frittata-style omelette. Nigella suggests putting these into wraps, which I know my kids will make sarcastic comments about, and then absolutely love. A bit of mayo, iceberg, or sweet chilli sauce will top it off perfectly for me.
What's for dinner in your house this week?
PIN FOR LATER