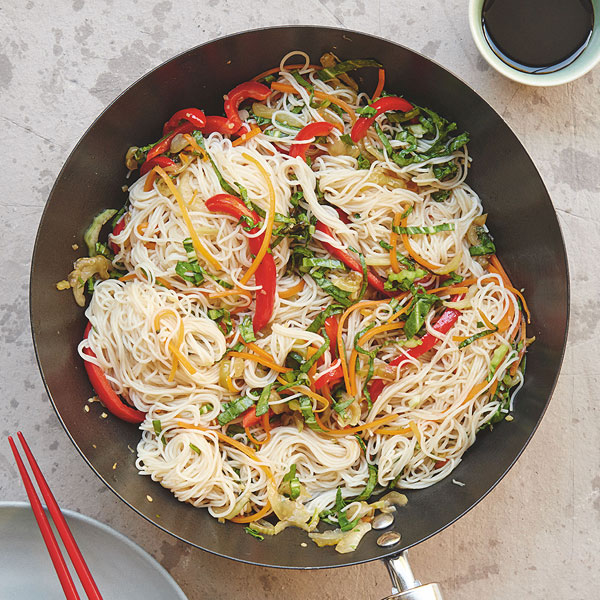 Last week's surprise total hit – veggie stir fry with rice noodles (see this post for the recipe).
We're properly back in the swing of the school routine now. I say properly, but for things to be normal the teens will have to stop making their packed lunches the night before, referring carefully to my list of things that must go in packed lunches list, and instead start getting up, throwing in some breakfast, and throwing cheese, crackers and an apple at a tupperware, and leaving the house by the skin of their teeth. That will probably come next week. For now I'm enjoying watching how absolutely capable my children can be, and taking comfort in the fact that when they leave home in a few short years they will actually be able to survive without me!
MONDAY – MACARONI CHEESE
Macaroni cheese is my own ultimate comfort food. Growing up in the seventies I think my parents went through a phase where we were quite poor. My dad had left his job in a fit of rage over something I never found out about, and set up his own business in our garden shed. He built it to a really good point, but not before we'd had a spell eating meals of rabbit stew full of shot pellets, overcooked liver (because it was good for our iron levels), and fried cod roe. My mum would eat tripe every now and then – the rest of us drew the line at that – and it's only looking back that I realise those were cheap ways of getting protein into us.
Things definitely got better financially, and so did our meals, to the point where my mum started experiemnting. I'll never forget the day my mum made ratatouille with garlic bread, and my dad told her never to do it again! Garlic didn't agree with him apparently. Imagine a life without garlic bread! What would he have made of dough balls..?
Anyway, the nights we got macaroni cheese felt like we'd won the lottery – I mean what's not to LOVE about pasta and cheese? – and it's stuck. My own recipe is much like this one, pretty straightforward with no frills, and that's exactly how it should be in my book. Although I am going to try this one week on a Friday for my slow cooker meal. I'm always a bit skeptical about adding extras to basic recipes that feel perfect as they are, but who doesn't love a bit of cream cheese? Also, my mum used to top her mac and cheese with mashed potato (for extra cheap carbs!) and I loved that so who am I to criticise?
TUESDAY – MUSTARD PORK CHOPS WITH NEW POTATOES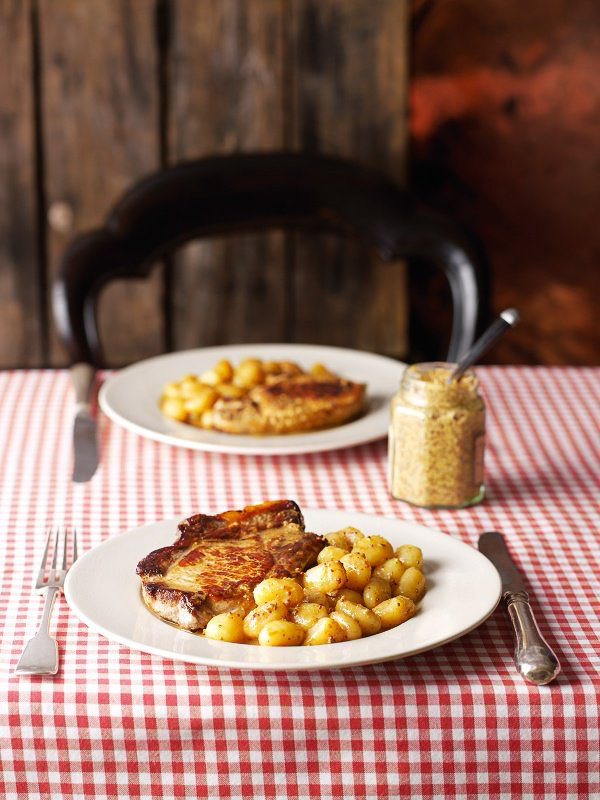 This is another one from my old Nigella Express book. It's super quick and absolutely gorgeous! I add sliced mushrooms because I think it gives the creamy sauce more to work with, but green beans on the side would work just as well. And I serve warm buttered tiny new potatoes with it instead of gnocchi. I leave out the mustard for Evan as it's not his thing, but otherwise everyone loves this.
WEDNESDAY – LEMON SOLE GOUJONS AND LIGHTLY SPICED WEDGES
Wednesday is saxophone lessons and we get in late, so I need something quick and easy. I'm learning that I have a tendency to get over-excited on a Sunday evening and plan glorious menus everyone will fall over themselves to praise me for, then the reality is me rushing around swearning while everyone goes hungry. So Wednesday night is oven food night. I'm going with breaded lemon sole goujons, and adding some wedges that the kids love, with a vague recollection that someone once told me they're a bit healthier than fries… There'll be peas, just in case they're not!
THURSDAY – CHINESE CHICKEN WITH CASHEW NUTS
I never make Chinese food. I've tried on many occasions, and always been disappointed, or it's taken so long I've been too stressed to eat it by the time it's ready. So I stick to the occasional takeaway and have the real thing now. But this chicken and cashew nut recipe has made it through from one very stressful Chinese New Year when I thought it might be nice to 'celebrate' with two young children, and is now one of our staples. It's also mega quick to make, so perfect for a midweek dish.
FRIDAY – SLOW COOKER LAMB CURRY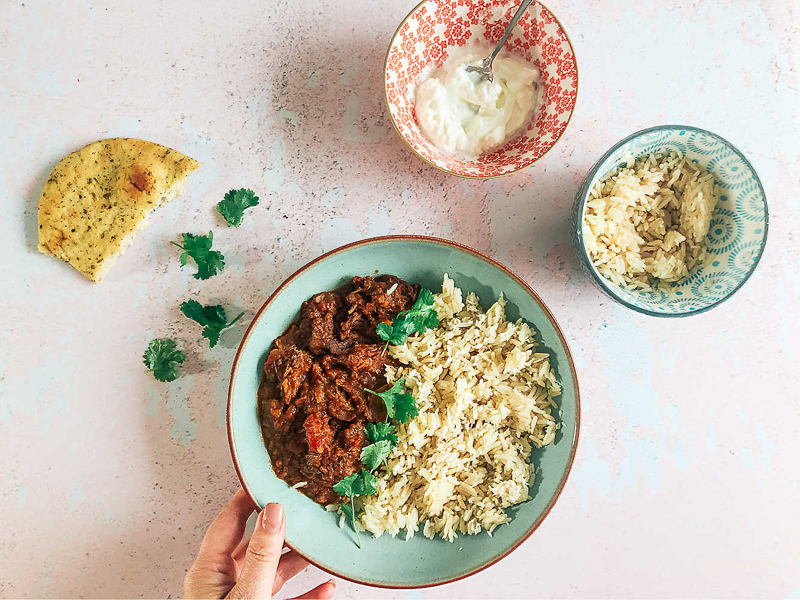 This is Sarah's recipe from Extraordinary Chaos. She's trustworthy, and it looks amazing, so it's going to be the perfect thing to collapse into after the ice rink on Friday. There is never time to cook after skating training, and it's always a late finish so the slow cooker comes into its own, especially in winter. This lamb curry is going to hit the spot with a nice glass of Malbec on Friday night!
SATURDAY – GRIDDLED TUNA WITH BLACK BEANS
This is also in my Nigella Express book but not online, so I'll update with an image once I have one. I'm a recent convert to Aldi, especially their meat and fish, and I am reliably informed that Aldi's frozen tuna steaks are really good, so if I'm honest, Saturday will be a bit of an experiment. Anyway, flash griddled tuna steaks, 2 cans of black beans mixed with soy, lemon and honey (and probably a bit of coriander) with some roasted red peppers on the side. And yes, for those of you wondering if there will ever come a day when your kids will eat stuff like this – they will! I promise you – hang in there!
SUNDAY – PESTO FOCACCIA SANDWICH BREAD
Sunday lunch will be a roast – chicken I think, as that's Evan's favourite – with Jam Roly Poly. I find that after a stodgy pudding and overeating a roast no one really wants food in the evenings, but people do get a bit peckish, so I'm going to ask Maddie to make this lovely focaccia bread stuffed with mozzarella and pesto. She's become quite the expert at getting dough to rise, so bread is now her job, and all of us – stuffed with pudding or not – will eat at least one (or three) squares of this.
LUNCH IDEAS
When it comes to putting two meals on the table in one day, I'm not going to lie, I get overwhelm. So I'll share in these posts anything I come across that makes life easier at the weekend. Here's last week's quick Naan pizza. Just buy a packet of mini naans, let everyone top their own, and stick it in the oven at 200 degrees C for 5 minutes. (It's another Nigella Express recipe – I promise I'll move onto another chef soon. Maybe…)