Apparently people are stockpiling loo roll again in preparation for another lockdown. Not me. Instead I'm merrily emptying my freezer of all the old bits of chilli, and leftover curry, using up the rice I stockpiled myself and haven't eaten yet, and emptying my shelves of random jars of stuff. Do you have weeks like that? Consequently my grocery list this week was much less credit-card bashing, and we're once again using up leftovers.
That said, feeding a teenage family takes calories, especially when all four of us are home again – my youngest has been quarantined at home from school, having been in contact with a student who has since tested positive for Coronavirus, and my eldest is off with one of the migraines that lays her low for days. So yeah, I'm back to 3 meal a day mum!
Here's our family meal plan for 7 days this week:
MONDAY – PULLED PORK PEPPERS AND RISOTTO
One of my favourite things about my Save With Jamie recipe book is the Leftovers recipes he does, based on the assumption that you've had a roast dinner on a Sunday. Which we did. Last Sunday saw us get through an epic amount of pork belly, complete with some gorgeous wine delivered by our local wine merchants – they do free delivery within 24 hours, which I loved this weekend! Ordered at 11.30pm, with me in time to chill and pour for lunch the next day. If you're in the St Albans area do check out Wine Social.
Anyway, this recipe basically advocates chucking your leftover shredded pork into a bowl with some sliced onion, ketchup and vinegar (but I used some BBQ sauce I had hanging around in the fridge instead). Then you just halve some peppers, char them a bit in the oven, stuff them with the pork mix and roast for another 30 minutes. The risotto is the amazing bit though. Roast some chopped up onion in olive oil, then stir in 300g risotto rice and add 900ml boiling water, and bang it back in the oven for a very precise 26 minutes at 180 deg C. And it works. Perfect risotto, and a really super dinner.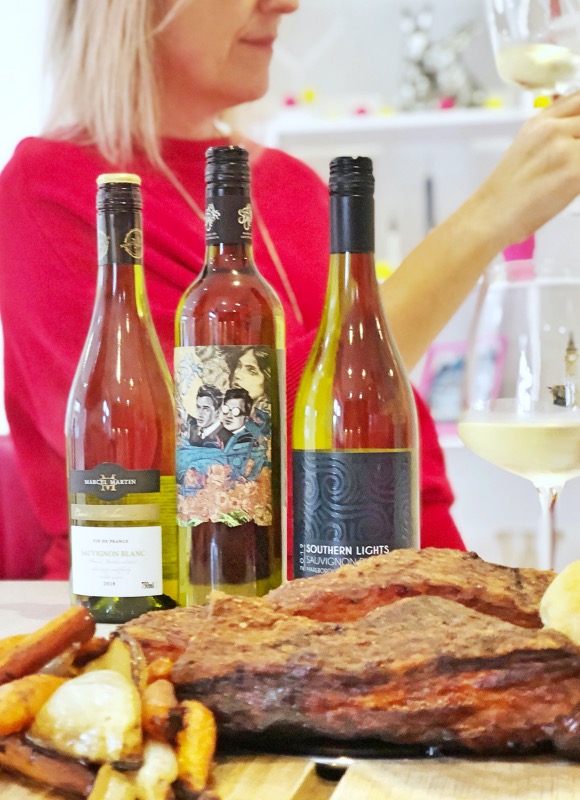 TUESDAY – QUESADILLAS
I've reinstated the rule that each of my children has to cook a meal once a week, and Tuesday is Evan's gig. At 13, his cooking experience is limited, but I want to send him out into a world where future flatmates say things like "Ooh yeah Evan's curries are legendary," and know they can rely on him to fend for himself in the kitchen. I'm starting simple though, with a few chopped peppers and mushrooms and a bit of cheese in a wrap. What could go wrong?
WEDNESDAY – FREEZER STUFF
I'm betting most of us have enough to feed the whole family sitting in our freezer in individual meals? I try to make it seem like a restaurant during Covid, where everyone gets to order what they want in the morning, and we all offer each other tastes of our dishes as we enjoy the atmosphere. In reality it always ends up with one person not getting their choice (usually me) and everone eating separately as their food comes out of the microwive. That would be a pretty poor restaurant! But you can't win them all, and Wednesday nights are busy so needs must. We have two Thai curries – a red and a green – and two leftover Mindful Chef Chilli con Carnes. I'm pretty happy with any one of those.
THURSDAY – SPAGHETTI CARBONARA (AND PEAS)
Thursday is Maddie's turn to cook, and the peas were an afterthought when I reminded her that veg was a requirement! We use this recipe because it's foolproof and gorgeous.
FRIDAY – MOROCCAN LAMB WRAPS
Friday skating continues but the slow cooker is getting a reprieve this week as Jason has offered to cook! I'm so looking forward to flopping on the sofa and diving into Jason's variation on these Ras el Hanout Chicken Wraps after an hour in the cold and a 2 hour drive on the motorway! And maybe a small glass of red…
SATURDAY – CHICKEN TIKKA MASALA
Saturday is often curry night, and I think sometimes in all our ambition to be creative we overlook the simple, straightforward choices. It's ages since I had a chicken tikka, so this is going to be proper comfort food for movie night. We found this one on Pinterest from Cafe Delites.
SUNDAY – ROAST LUNCH AND CHOCOLATE BANANA PECAN TART
Yes, it is all about the pudding here. This is one I tore out of a magazine, but I've since found it online here.
LUNCH IDEAS
Saturday lunch I'm off to Bray for a catch up with my university friends in a lovely restaurant (I know!) so I'm leaving the family some Split Pea Soup that Maddie craves every now and then. It's an old recipe from one of my Delia books, but basically it's a load of green split peas soaked overnight, then boiled up with a good stock, some onions, and bacon (I don't have the energy to make a ham bone stock, and to me this tastes just as good). It's hearty enough not to need bread, but there are a few old croutons hanging around in the cupboard that need using up…
Also I baked these banana butterscotch muffins for the kids to put in their packed lunches – if and when they ever go back to school! I had some old bananas and I can't stand waste, so I just used a basic banana muffin recipe (Nigella's I think) and chucked in a packet of butterscotch chips. You really can't go wrong with a muffin!