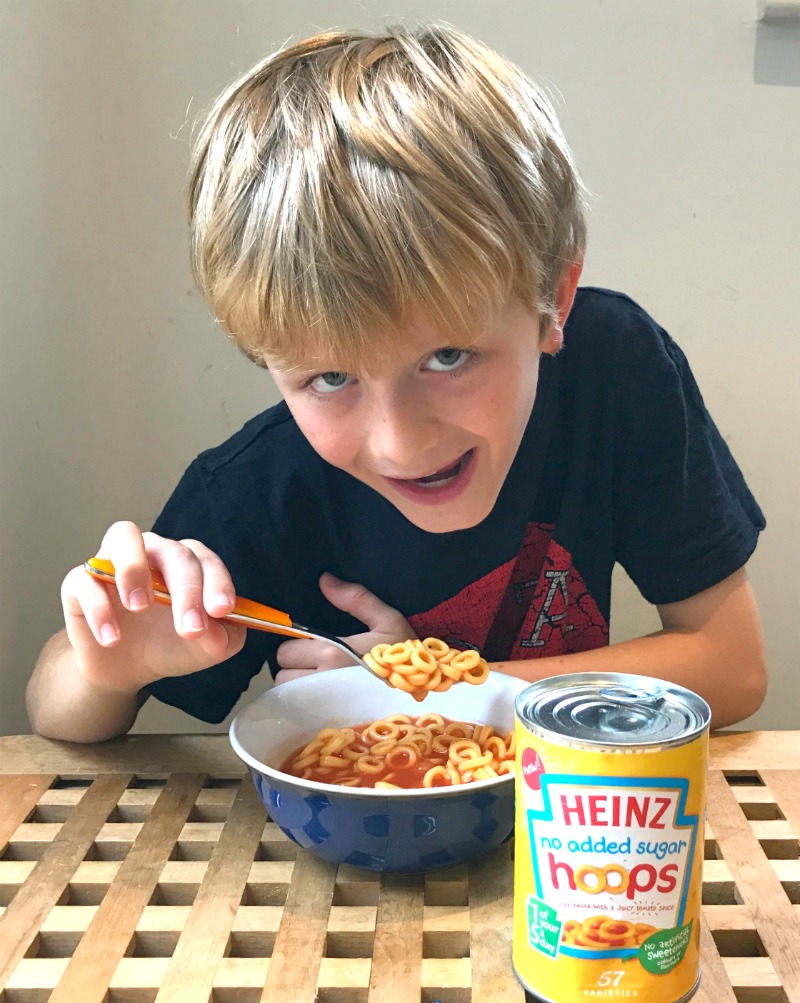 Hands up who sometimes ends up tearing their hair out at teatime? We make fabulous meal plans and have wonderful intentions to feed everybody from scratch, don't we? But inevitably there's going to come a day (or more!) in the week when you're shattered, everyone's hungry right NOW, and you just don't have it in you to put together an elaborate chickpea and soya bean casserole. Am I right?
But you still want to feed your kids something that's nutritious, not full of rubbish, and that they'll actually enjoy. My kids have always been fans of spaghetti hoops (though if I'm honest, their favourite is Alphabetti pasta, or shapes, mixed into a homemade minestrone soup – scroll down for that recipe). And I'm not averse to a bit of spaghetti on toast myself – it's a comfort food on a cold day, even if it does feel as if I'm  muscling in on a secret that's just for kids!
If your kids are the same, I have awesome news. Heinz have just launched No Added Sugar Hoops, which I think is every bit as tasty as the original version, but without the added sugar. Now, I'm all over this kind of innovation. I've always been about healthy eating for my family, and the addition of type 1 diabetes to the mix a few years ago has brought added challenges to keeping my daughter healthy. I'm always at pains to point out that she can still eat anything she wants, as she covers it with insulin, but there's no doubt that a lower sugar content to her diet makes things a bit easier to manage. So I was really interested to try the new Hoops.
But would they pass the taste test? I'd already sneaked a ladleful on toast, but I wanted to see what the kids thought. It's been a while since we've done spaghetti hoops, so when I told them what was for lunch there were cheers, which made me wonder why I haven't done them more often. Both of them devoured their meals, and when I asked them for their opinions on it I got these:
The Bug: They're amazing! I could eat them all day!
His sister (let's remember she's virtually a teenager): They're spaghetti hoops… (quizzical face).
Basically, full-blown enthusiasm from one, and no difference noted at all by the other. Which I think constitutes a win. So how have Heinz managed it? Well, they've used stevia plant extracts to get that classic sweet but savoury taste kids all love. Better still, that means there are no artificial sweeteners, colours or preservatives – which is the alarm bell that immediately goes off for me when I see the term no added sugar. Take a look at all the reduced sugar drinks that have been changed recently – usually there are chemical sweeteners in there to make up for the loss of the sugar, and for me that feels even worse. So Heinz get a big tick from me in being the first to make a no added sugar canned pasta, and from the kids on retaining the delicious flavour.
The new No Added Sugar Hoops have a full portion of veg in a serving, as well as added vitamin D and iron, so there are even more reasons for me to fill up the cupboard with our old favourite. They're great on buttery toast, although mine love to eat them on their own from a bowl, steaming hot, but you can use them as we do to get even more veggies into your kids. Take a look at my minestrone recipe:
Easy Minestrone that Kids Love
Ingredients
1

red pepper

1

peeled carrot

1

1 small onion

1

1 medium potato

100

g

frozen peas

100

g

frozen sweetcorn

1 400

g

tin chopped tomatoes

1

tbsp

tomato purée

1 400

g

tin pasta shapes or hoops in tomato sauce
Instructions
Finely dice the pepper, carrot, onion and potato

Gently fry the diced vegetables in a little olive oil until they begin to soften.

Add the tin of tomatoes, purée, peas and sweetcorn, and bring to a simmer. Simmer for around 5 minutes. You can add a teaspoon of Italian dried herbs, or oregano if you like.

Add the canned pasta shapes, and warm through for a minute or two.

Ladle into bowls and be pleased your kids just got at least two of the 5 a day!
Notes
I bulk cook the vegetables then pop spare portions into the freezer in two's. Then all it takes is a few minutes in the microwave, and a smaller can of pasta mixed in at the end, and I have tea for my kids in no time!
Heinz No Added Sugar Hoops – Good to Know
Heinz new No Added Sugar Hoops comes in 400g and 205g pack sizes and cost 0.75p and 0.55p respectively.
The new recipe contains no artificial sweeteners, colours, flavours or preservatives.
The sweet taste comes from a natural source, and is fortified with vitamin D and iron.
Taste tested by kids means it has the seal of approval from those who love Heinz Hoops the most!
*I'm working with Heinz to promote their new No Added Sugar Hoops product by highlighting how my kids enjoyed it.
Pin for later: