When you think of family dining you're not likely to have Thai food at the top of your list. Children and spices don't make a natural pair, especially if you have traditional eaters. We're unusual, in that the Bug is a huge lover of chilli, and seafood; however Maddie prefers straightforward English dishes – a roast and a crumble is probably her favourite option – and will admit to liking standard children's menu fare.
As parents it can be tricky to find a restaurant that suits your own tastes, but also caters well for (and challenges the taste buds of) your children. But we have found one that does. Jason and I both love asian food, especially Thai. There's no dish that can't be improved – in my opinion – by the addition of some chilli, coriander, and a dash of fish sauce. So we were excited to find that Busaba was coming to St Albans.
First impressions were fab. The site has some outdoor space, which has been made into a lovely decked area, and although it was very cold the night we went, it was great to see outside heaters, and blankets over all the outdoor chairs; I can imagine cool summer evenings or autumn lunches al fresco enjoying crispy squid, and watching the world go by.
I was nervous to see what the children's menu was like. I knew the Bug would find something to enjoy, but would it suit my daughter? The children's menu is actually very accessible though, and when we visited, there were several younger children eating plates of chicken fried rice and pad thai noodles. Satay chicken is a huge favourite with both my children, and it was juicy and plentiful. We ordered the Thai battered chicken fillets with 'little broccoli trees,' which looked tempting, and tasted good too.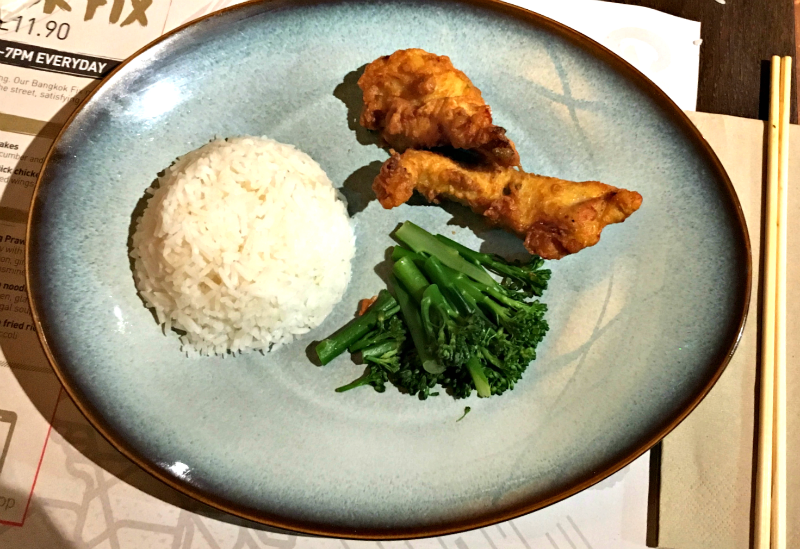 And should even that prove a challenge, it was good to see that children can order very simple 'eggy noodles' to keep them busy while their parents feast on Thai specialities. We had the ginger and green peppercorn calamari, a delicious green chicken curry, and this awesome tamarind duck that even the kids couldn't stop pinching from my plate: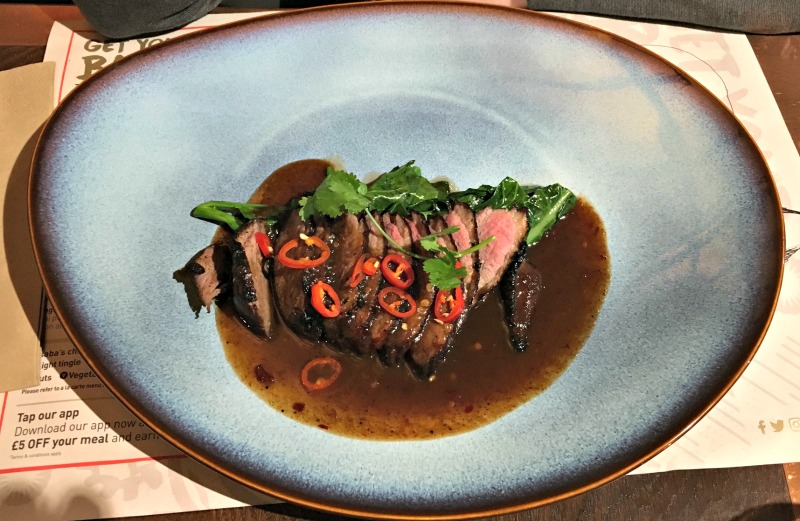 We enjoyed all our meals, especially the Bang Kick prawns – tempura fried, with a thai mayo and mango. My one negative was the temperature of the white wine. I like my wine properly chilled, and even a second glass from the back of the fridge needed an ice cube. I'm not sure what it is about restaurant fridges in our city – I've never managed a cold glass of wine at Jamie's Italian – but it would be the icing on the cake if they could sort it. With starters between £5-7, and main dishes all priced from £10-14, we thought prices were reasonable for a smart restaurant, and hospitality at the St Albans Busaba was really good. Everyone was very friendly, and the atmosphere at 6pm when we were there was pleasantly buzzing. It's a large site, so there's lots of room for diners, though the manager did tell us that the key times get booked up quickly, so it's worth reserving ahead, but that's true of anywhere in St Albans on a weekend.
We loved all the dishes, the kids found plenty so suit them, and they enjoyed the children's pack they were given (which is a feat, with ours being a bit too old for a pot of crayons now). We will definitely be back, and are thrilled to have a new Thai option in St Albans.
*Thanks to Busaba for hosting us for the purposes of this review. All opinion and editorial is our own.