People come in two types. Those who wait for the weekend before Christmas to start celebrating. And those who don't. Guess which one I am? This weekend I could resist it no longer: my Christmas jumper went on, and Spotify switched to the Christmas playlist. I know, I will be bored of Mary's Boy Child by the big day, but who wants to eat leftover mince pies in January? I say bring it on right now!
How to Rock your Christmas Jumper
Advertorial post with Matalan – gifted products.
This year, we got our Christmas Jumpers from Matalan. They have a huge range, at Matalan's usual sensible prices. Whilst I love mine, I'm seriously considering having a second – how could anyone resist a pug wearing a sequinned jacket, that's what I want to know! Anyway, we have a 'sensible' Christmas jumper for the less brave amongst us, a sleek but colourful choice for me, jingle bells, and even a jumper with it's own fairy lights! Watch the video to see how we styled them:
How to get the most out of your Christmas jumper
1. With fluffy cushions and a hot chocolate on the sofa
When you've got flashing fairy lights in your jumper there's no choice but to go the whole hog. Brave it out with complete Christmas overload (see below), but when you're done, snuggle into the sofa with a mug of something lovely to chill out. GG's penguin jumper is the envy of the whole family, for its twinkly lights, with a switch hidden in an inside pocket.
2. With skinny black jeans and sparkly sandals for a night out
Well, why not? The glitter star on my pom-pom jumper is just crying out for some gold accessories, and my skinny jeans have recently become a firm favourite as I've realised I can do skinny, even though I'm 50! I even made the effort to paint my nails for this look, and I reckon I can totally get away with this on a school mums Christmas drinks night.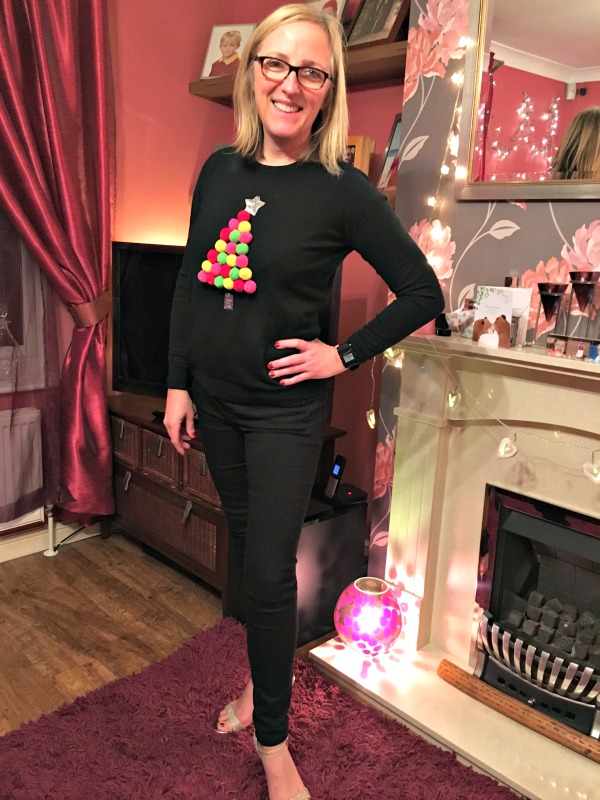 3. Just getting on with the housework
What? It's a very practical option on a chilly day!
4. As a percussion instrument
The Bug is very taken with his Christmas jumper. Not only is it a Christmas tree masquerading as a rock star (whoever dreamed that up has a sense of humour!), it has jingle bells for baubles. Which makes it perfect for dancing along to your favourite Christmas song. For hours on end… Until you're made to stop, and sit down on the sofa.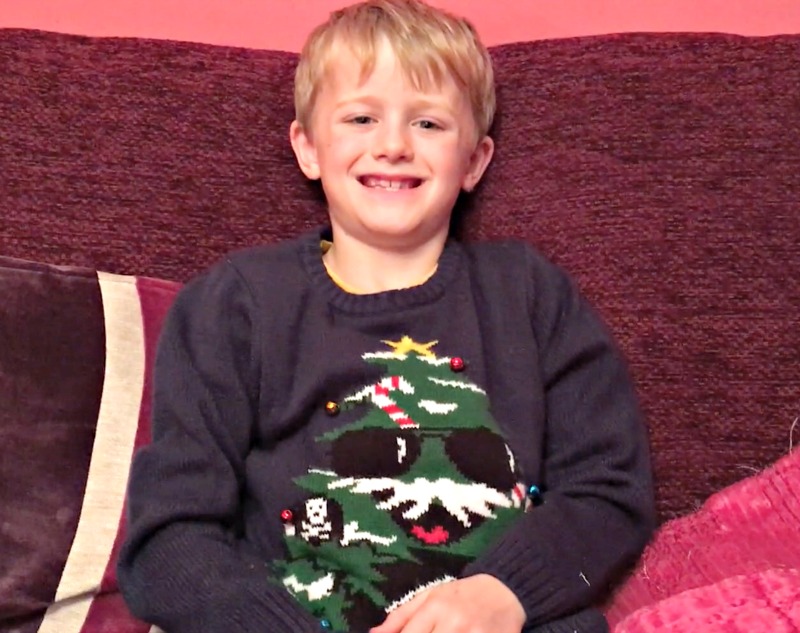 5. Go the whole hog with a Santa hat
Because if you're going to do it, you might as well do it properly. No-one will think you're mad, honest.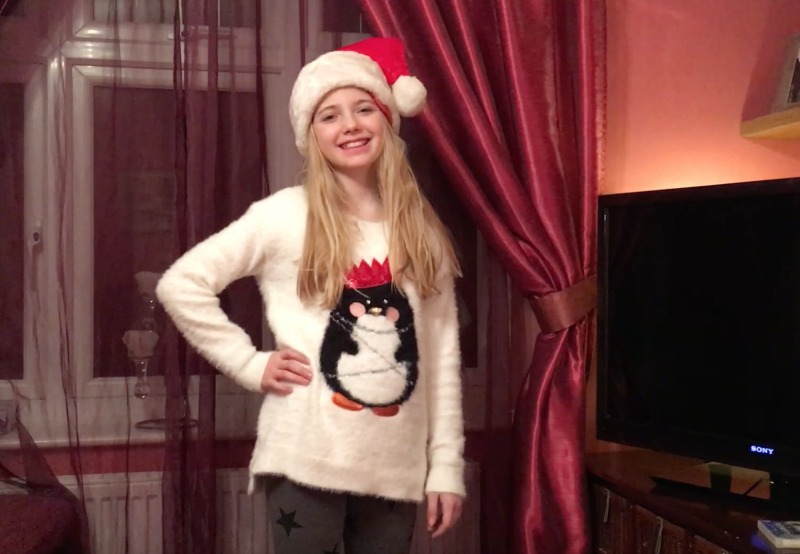 Three more ways to rock your Christmas jumper
Watch the video to see how we made the most of our festive jumpers. Including:
Forget you put it on, and go to the supermarket in it. You'll be surprised at how many friends you make!
As a human torch – that penguin packs some serious wattage in the dark.
With wellies, a bobble hat and a hot cup of tea by the football pitch. If nothing else you'll distract the opposition.
*Our Christmas jumpers were give to us to feature by Matalan. All opinion and imagery is our own. Jason's Snowman Slogan jumper costs £16; my Pompom jumper is £15; the Bug wears a Christmas tree jumper complete with jingle bells, which retails at £12; and Maddie's epic light up penguin jumper is £12-14. I'd be quick – I predict that one will be a sell-out! You can find the full range of Matalan Christmas jumpers on their site.
Pin for later: