If you've followed our social media accounts over the last few weeks it will not have escaped your notice that we've been on holiday. Somewhere rather lovely. Sorry.
Being at Beaches Resorts in Negril, Jamaica is the most wonderfully relaxing experience (they call it coming home). We visited at half term, so we only had one week (and an extra day off school, actually, given my failure to register that leaving the Caribbean on a Sunday didn't mean we'd get back on a Sunday – oops). Normally we'd book any holiday that required a nine hour flight to get to for longer than a week, to make the most of our time there, so we were a bit worried we'd be on our way home before we'd had time to register that we were in Paradise. Not so. Although my cherubs were awake by 3.30am on the first morning (*glares*), it's hard to feel stressed about an early start when the view from your balcony looks like this:
Early starts became the norm once we'd discovered that you can get a great coffee and hot chocolate first thing from Café de Paris, and sit in bed gazing at the bluest sea and whitest sand from your window. And there's nothing better than easing yourself into the day from the vantage point of a quiet sun-lounger in perfect temperatures. No, a week is not long enough in this idyllic place, but it'll do when that's all you've got. It'll definitely do.
When you're travelling so far though, anything which makes the journey easier is welcome, travelling with Virgin Airlines certainly helped. Check-in is easy; we checked in online the night before, so all we had to do was drop off our bags and pick up our boarding cards. It's all very efficient. Security at Gatwick (or any UK airport, come to that) is never fun, and with extra medical kit and a child who can't be put through the detectors, it becomes easily the most stressful part of the journey. That said, the security staff are great; despite having a hugely important job (and probably a very difficult one – I've seen some of the ludicrous items people try to take through!) they try hard to accomodate the needs of individual passengers, and we found them to be very respectful on this trip.
Virgin Airlines v-room
That said, once you're through security, you want to relax. We were booked into the Virgin v-room, and I'm a complete convert. Rather than try to keep tabs of our hand luggage as we queued for breakfast, or took it in turns to visit duty-free, we were found a table for four in Virgin's private lounge, where we camped out until our flight was called. As we hooked up to the fee wi-fi the kids dashed to the windows to watch planes landing and taking off up-close. We hadn't realised beforehand, but if you check into the v-room the night before, you can whizz through Premium Security too. Definitely worth it!
Breakfast by the runway was great, with the kids besotted by this 'make-your-own-pancakes' machine. What's not to like about pancakes on a conveyor belt? So while they sorted themselves out, I was free to order a great cooked breakfast. And a glass of Prosecco. I was on holiday.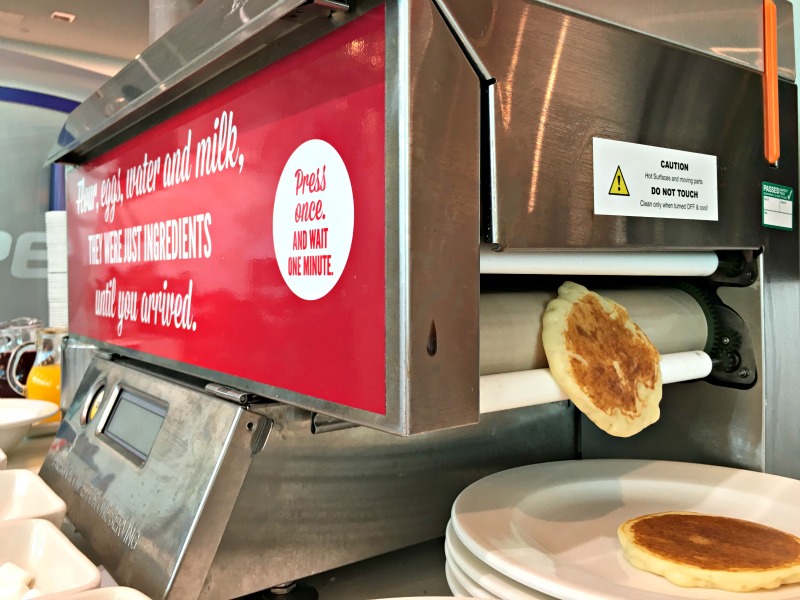 From our base we explored Duty Free – they boys took around twenty minutes to secure some new swim shorts. I finally managed to cajole my daughter away from Accessorise and the nail-polish stand after around an hour. Then we kicked back in the v-room while the kids played table foot ball and video games (there's a playroom for younger children too).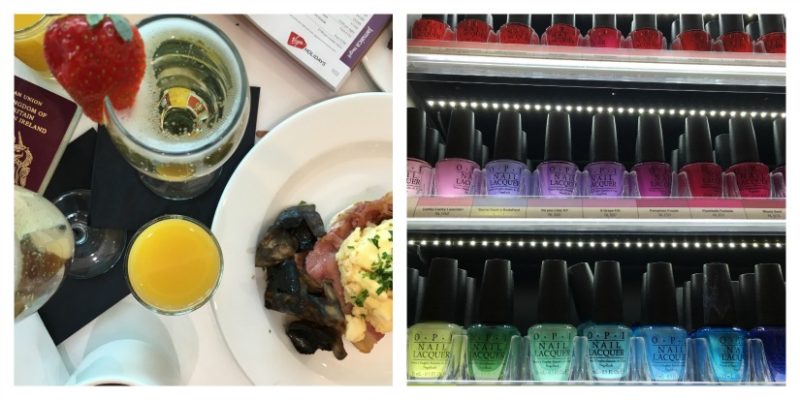 It really made getting through the first part of our journey much more relaxed, and when it came time to board our flight, everyone was still fresh. In fact, the kids were so excited about the trip that they were seated and belted with their pillows and blankets arranged neatly, before you could say place your baggage in the overhead lockers. They all left that bit down to me…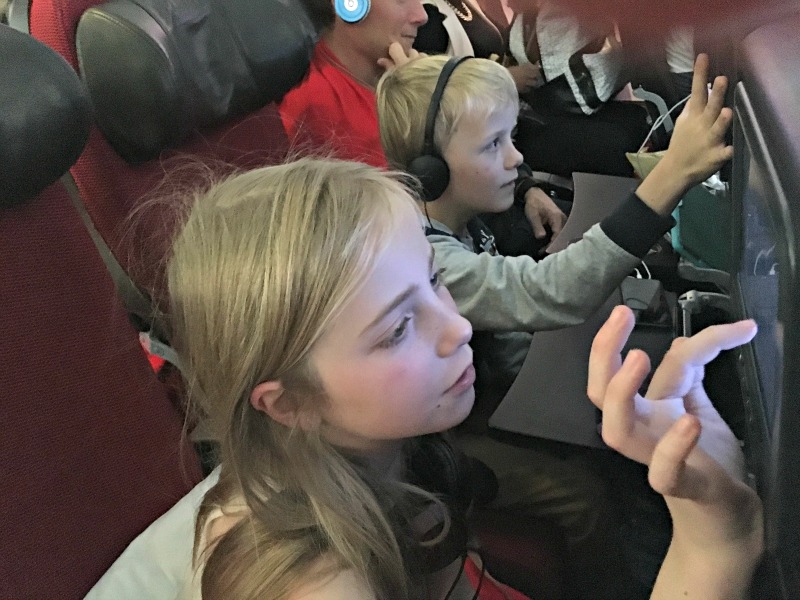 As I started to flick through the Vera brochure and wonder which of the 7 million films I might watch (ok that could be an exaggeration, but there are a lot), they detailed their selections for me. Apparently they'd been online the week before and knew already which of the latest movies were showing. They had it all planned, and were happy for the whole flight. Which left me alone to order more Prosecco. Result.
The one thing Virgin could improve on is the nutritional information provided for their in-flight meals. Whilst there was plenty of allergen information available from their Special Assitance team, they were unable to tell us the carbohydrate content of the meals – which as any diabetic knows, is invaluable information for calculating insulin doses. To be fair to them, they tried quite hard to get it for us, but their catering suppliers wouldn't give it – something I think they need to take them to task over. They did, however, agree to an extra cabin bag for all our medical kit, which was essential – Type 1's don't travel light!
7 nights in Jamaica from £1,555pp
Seven nights in Jamaica with Virgin Holidays, including scheduled flights from London Gatwick direct to Montego Bay, all inclusive accommodation at the Beaches Negril Resort & Spa and transfers starts from £1,555pp. Price is per person based on 2 adults and 2 children travelling and sharing a Negril Deluxe Room and includes all applicable taxes and fuel surcharges which are subject to change. Price is based on a departure on August 24 2016. Start your holiday before you've even taken off in the v-room at Gatwick Airport… adults £24.50, kids from £14. Virgin Holidays is a member of ABTA and is ATOL protected. To book: www.virginholidays.co.uk , 0344 557 3859 or visit one of our 110 stores located in Debenhams and House of Fraser stores nationwide.
We paid press rates for our flights to Montego Bay.