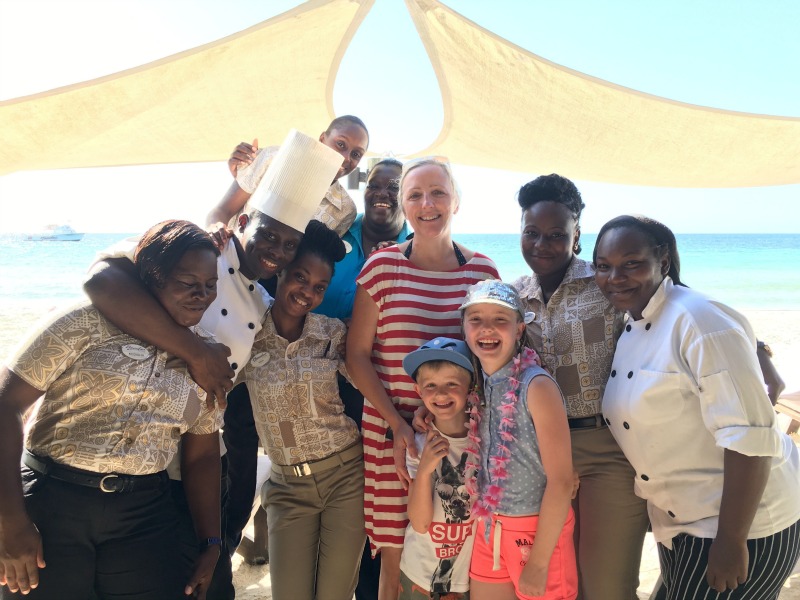 Coming home from Jamaica last week was hard. Not because of the sudden shift in temperature (Jamaica rests at around thirty degrees celsius most of the year – a glorious climate!); not due to the nine hour overnight flight with two children either – that was a breeze with Virgin; nor was it down to mine and my daughter's complete diabetes failure, as both of us exited the plane without her 'sugar bag,' which contains the sugar and insulin she needs round the clock (oops). No, for the first time ever, I left my holiday haven feeling actually homesick.
The Beaches Resorts Negril welcome – it's a family thing
"Welcome home," feels like an odd thing to say to someone who has just arrived at their holiday destination, but this is how the staff at a Beaches resort will greet you; it only takes a few moments for you to give in, and concede that actually, you feel more at home than you have in a long time. We'd planned our trip to Beaches Negril in Jamaica meticulously over the previous six months. When you travel with Type 1 diabetes, you learn to plan, so I had made contact with the resort's concierge team well in advance, to ensure I knew where the local hospitals were, and how to get our brand of insulin should anything go wrong with the enormous haul of emergency supplies I drag everywhere with us. When things go wrong with diabetes on holiday, it's no holiday, so you overprepare.
I'd received several emails from the team there, reassuring me that yes, her insulin was available, as was an in-resort doctor, should we need it, and by the way, was there anything else I might need to know that they could help me with in advance? I don't normally ask (most hotels don't really understand the need to count carbs rigorously in order to dose insulin, and why would they?), but I decided that the Beaches staff seemed so friendly and helpful I'd give them a try. Did their 9 restaurants have any idea of the carbohydrate content of any of their most popular dishes?
Indeed they did:

As I sank into a sofa, and accepted a glass of champagne, the resort's head chef appeared armed with a stack of nutritional information for my perusal at leisure. "Mum, can we have a hot chocolate?" became one of the easiest insulin-dosing decisions I've ever made, and just like that we felt at home. That hot chocolate became a regular fixture every morning as Actually Daddy nipped out to early-opening Café de Paris for proper lattes, and bringing them back with carb-counted pastries to eat in bed as we acclimatised to the time difference.
The kids, though excited for their holiday, had been as practical as ever the week before we left. "But Mum, we're going to miss Halloween!" they worried, when they realised they'd be exchanging a cold night of trudging the streets for sweets, for a day in paradise. They relaxed entirely as we headed through to breakfast that morning and found all the staff busy decorating. And although they hadn't at that point stepped foot inside the kids clubs, they were welcomed warmly and offered dress-up clothes, before being taken trick-or-treating at the handful of unoccupied concierge suites that had been readied for their visits. Word of warning for parents of younger children – they do Halloween very well on that side of the Atlantic. Very realistically. *Taps nose.* It made me want to visit on Christmas day!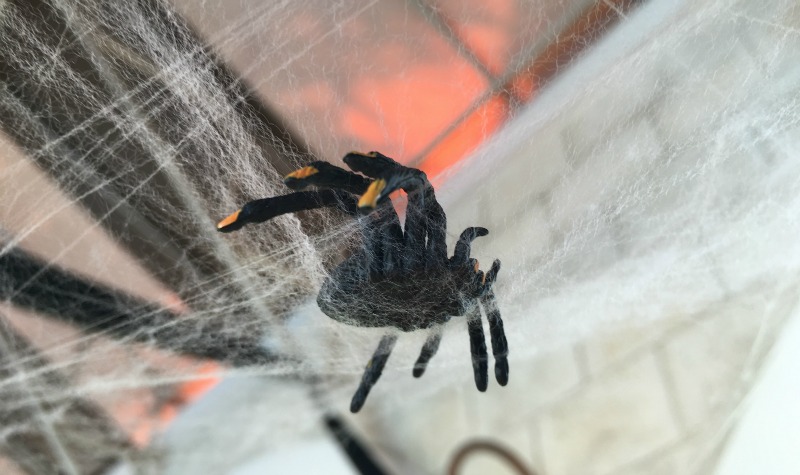 On our last day we dined – as usual – on the beach at Stewfish. More on their wonderful food and beautiful service in another post, but we couldn't leave without a photo of the team, and they were only too happy to oblige. Out came the chef, the bar staff, the servers, and anyone else who happened to be passing at the time wearing a Beaches Resorts uniform. And there are a lot of them; there's always someone to help you out with a drink or a snack when you need it. Or even when you didn't know you needed it! We wanted the picture because after a week in their company, they felt like family – just the particularly generous kind who will do anything for you.
Fellow blogger Sally was at Beaches Ocho Rios and had a similarly warm welcome, despite it having quite a different feel to the Negril resort (you can see more on Ocho Rios in Becky's post).  Beaches is clearly a family thing. And if you can't decide between Negril or Ocho Rios, Trish has a great comparison of the two resorts.
Seven nights' accommodation at Beaches Negril Resort & Spa costs from £5,735 for a family of four (2 adults and 2 children). Price includes Luxury Included (all-inclusive) accommodation in a Negril Premium Double Room, return economy flights from London Gatwick with Virgin Atlantic and return resort transfers. Subject to availability and valid for travel in June 2016. To book or for further information on Beaches Resorts call 0800 597 0002 or visit www.beachesresorts.co.uk.