What do you go on holiday for? Relaxation? A change of scenery, time off from the usual mundane chores of life? Time with family and friends, a suntan, a chance to do something different? Chances are it's all of those things, but shall I tell you what figures high on my list of reasons to leave home for a week or so? Food. As a mum, just not having to plan it, shop for it, cook it, and clear it all away three times a day is a holiday. Food is an essential part of travel for me. Which is just as well, because the restaurants at Beaches Resorts Negril merit – no, demand – full-on attention!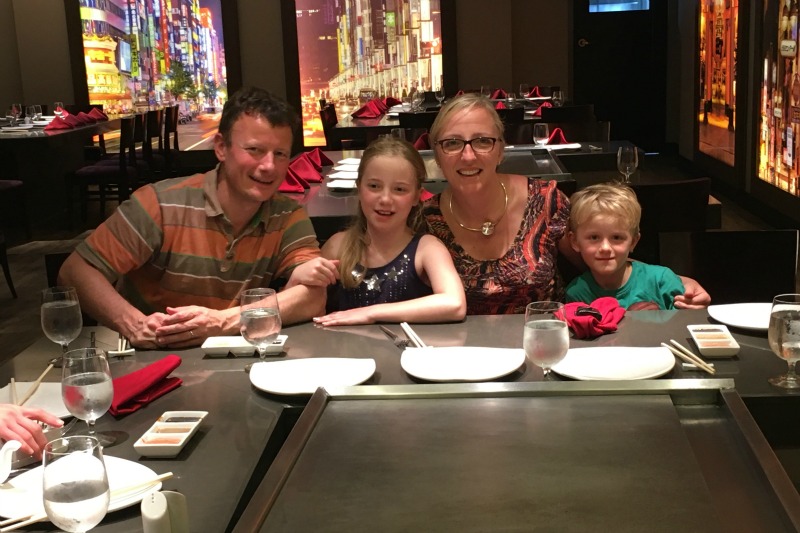 The restaurants at Beaches Resorts Negril
A Beaches Resorts holiday comes with "Luxury Included," and the Beaches version of all-inclusive really is just that. One of the hardest things to get used to as a paying Englishman (but the most welcome when you do), is never having to get your wallet out. Pretty much everything is covered here, and that includes all of the restaurants and bars – even tips. Considering the array of eating establishements at Negril, that's no small thing, and we dined both casually at the pool bar, and in gorgeous modern restaurants worthy of a spot in the smartest districts of any Capital city. Here's what you can expect of them.
Café de Paris
This little coffee shop by the pool was our first discovery at Beaches. Having arrived the evening before too exhausted to conteplate eating (although it wasn't for want of the resort staff trying to coax us with snacks and drinks), we'd gone to bed early. So early that it became clear at 6am the following morning that sleep was no longer an option, and we ventured out in search of breakfast. Open before the other restaurants, at 6.30am, it serves little pastries and muffins, and most importantly, really good coffee. They also do takeaway, and the children took to the creamy hot chocolate so much that they had it every morning, sending Jason out first thing so we could all lounge in bed and wake up gently.
The Mill
The Mill is the largest restaurant at Beaches Negril and enjoys a wonderful position overlooking the stunning pool. Arriving for our first breakfast we were offered Blue Mountain coffee, which was very good, tea, juice, or Mimosas. At this point I have to confess my inexperience with breakfast drinks; I ordered a Mimosa, expecting some wonderful Jamaican herbal tea. I got champagne and orange juice. So excited was I by this mistake that I repeated it every morning for the rest of the holiday.
It turns out Mimosas go very well with pancakes (although these you have to steal from the children's breakfast buffet, which is very accomodatingly placed at a lower height, and also has the best French toast). They're a great accompaniment to fried plantain, starfruit, and crispy bacon, all of which I sampled, along with mini muffins and cinnamon pastries. Then there's the egg station, where you can get perfectly poached or fried eggs, or watch the chef prepare an omelette of your choice while you nibble on banana bread. It's quite possible that I returned to the breakfast buffet three times one morning – I wasn't counting.
We didn't eat at The Mill for lunch or dinner (although fellow bloggers did, and declared the food equally good). Stewfish is the reason why:
Stewfish
We discovered Stewfish on our second day, having been allowed by the children to leave the poolside, with its slides, waterpark, and lazy river, in favour of the glorious beach. We had lunch here every day afterwards, having been won over by the incredible view, the friendly service, and the simple but delicious Jamaican dishes. For lunch we ate beef, lamb or fish tacos, corn cakes, and an incredible jerk burger, all washed down with wine or cocktails from the beach bar. Order wine, and they'll refill your glass before you've noticed. I may have developed an afternoon snooze habit. The children enjoyed fried chicken that looked so good I almost ordered from the children's menu myself.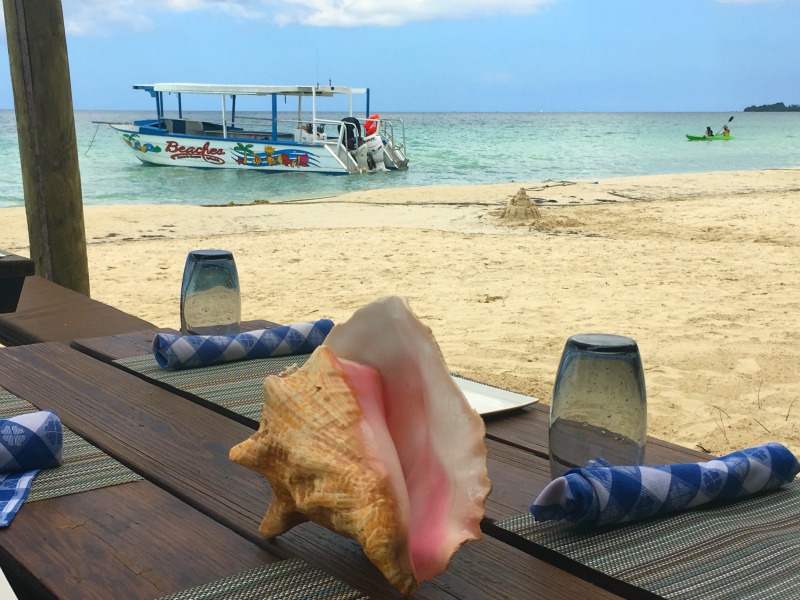 Evenings were even better. Barefoot (although we did dress to dine – turn up in a swimsuit and you'll be asked politely to cover up), we sat with toes in the sand and eyes on the sunset as we devoured shrimp, scallops, and fish in coconut milk, or the traditional Jamaican Brown sauce. The children were welcomed, and were happy with their menu too, the macaroni cheese being so good that I scooped up more than one spoonful from my daughter's dish, while my son chose prawns from the adult menu, sparking delight from our server.
We found it difficult to tear ourselves away from the breakfast buffet at The Mill, but we were glad we had once we'd sampled their Stewfish sticks. Possibly not the best description for the sticks of French toast so sugary and covered in cinnamon, and fried to perfection that we were almost eating doughnuts for breakfast. The Bug thought they ought to be named pieces of heaven. Do it, at least once during your stay there.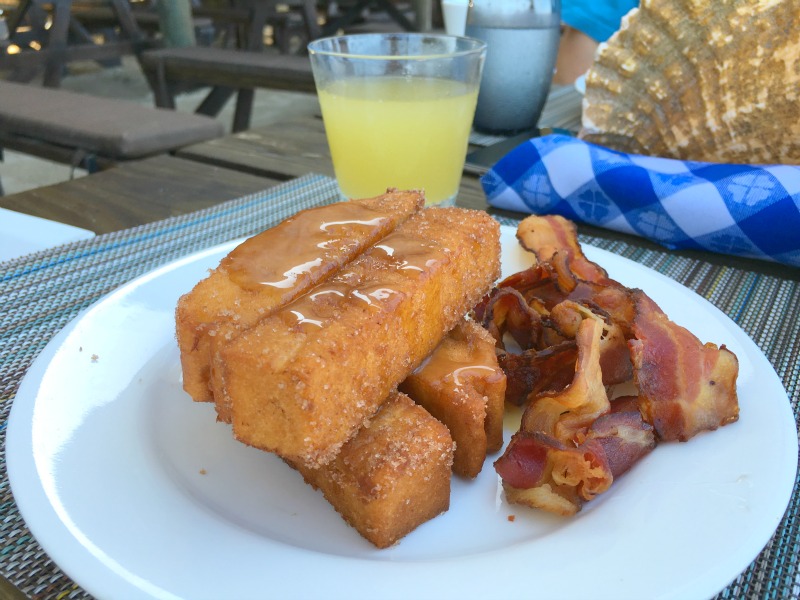 The Venetian
Most of the resort's restaurants ask for 'resort casual' attire; The Venetian is the one exception, where men will need to be in proper shirts and long trousers – even the children. We'd gone prepared, but for the Bug, who enjoyed shopping for a bright Caribbean shirt in the gift shop. This is finer dining, and dressing up was all part of the occasion. Lobster was consumed by my eight-year-old, medium-rare steak by my daughter, and a well prepared chicken parmigiana by the grown-ups. A very classy dinner. You'll need to make reservations here, and if you're staying in a Concierge suite as we were, they'll sort all that out for you.
Kimonos
Another place where you'll need a reservation, our first evening at this Japanese teppanyaki spectacle saw us picking up the phone to book again for the following night! This is not just dinner, it's theatre, with singing chefs, and if you're lucky, your children taking part in the cooking.
You'll be seated in time-slots, and sharing with other guests around a giant hot-plate. At first the kids weren't sure about that idea, but they soon warmed up when our larger-than-life chef appeared and began a rendition of This grill is on fire! As flames leapt from an onion that seemed to serve no other purpose than entertainment, the kids warmed up too, and very soon they were frying eggs, rice and chicken like professionals.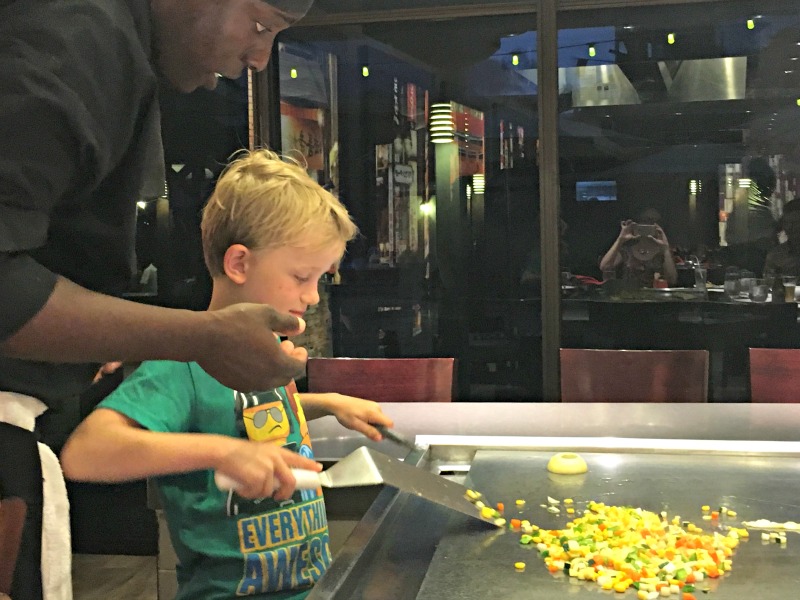 It can get very noisy at Kimonos on later sittings, but go early at 6.30pm and you'll still have all the atmosphere in a slightly more relaxed sitting. Alongside a delicious fried rice made with soy sauce and garlic butter, we ate stir fried vegetables, steak, chicken, prawns and mahi-mahi fish. There's no ordering from the menu (other than for a starter and dessert); everyone eats everything, although of course you can opt out of anything you don't like. We had a shellfish allergy in one of the guests at our table, and chef took care to cook everything else on the grill before getting started on the prawns, to make sure there was no cross-contamination. He even asked us all how we liked our steak, and made sure we all got our choice. Impressive!
Soy
If you like Sushi (or even if you don't) you'll want to spend an evening at Soy. I have the full spectrum of diners in my family, from my daughter, who eats well, but likes to stick to things she knows, to eight-year-old Bug, who will try anything once and is now a confirmed fan of raw fish.
I'm always nervous around Sushi and Sashimi, but at Soy you can tell the fish is so fresh that you can quite simply relax and enjoy the new flavours. And for those who prefer their food fully cooked, there are plenty of options too, with GG ordering crispy tuna, pork, and tempura vegetables to go with a delicious cold Sauvignon Blanc. (Okay that was me, she had Coke)!
Dinos and the Bar-B-Q
Don't worry if your food tastes are less adventurous. We didn't eat at Dino's but we saw plenty of people bringing pizzas back to their sun loungers from this pizzeria on the beach, and they looked good. Try the jerk seafood pizza for something a bit different. The bbq food at Bar-B-Q is perfect for a quick meal if you're hanging out by the kids pool – the chicken is especially good.
Arizona's wasn't open while we were there as it was undergoing renovation, but this looks like a great Tex-Mex option.
As I sit at my desk on this grey, drizzly Autumn day with my cheese toastie, I imagine it to be a mouthwatering Stewfish quesadilla, served by a lady who I'd like to come home with me and be my mum, and accompanied by a glass of nicely chilled wine, on the beach. Is it too early to get the corkscrew out?
Our stay at Beaches Negril was courtesy of Beaches Resorts. Seven nights' accommodation at Beaches Negril Resort & Spa costs from £5,735 for a family of four (2 adults and 2 children). Price includes Luxury Included® (all-inclusive) accommodation in a Negril Premium Double Room, return economy flights from London Gatwick with Virgin Atlantic and return resort transfers. Subject to availability and valid for travel in June 2016. To book or for further information on Beaches Resorts call 0800 597 0002 or visit www.beachesresorts.co.uk.