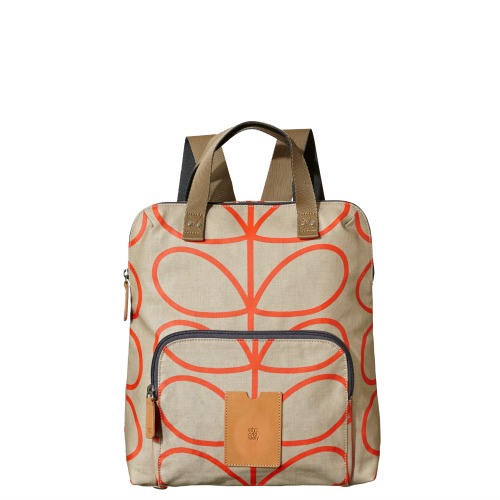 I am not known as a designer bag girl. I have friends whose cupboards are filled with thousands of pounds worth of beautiful bags; who transfer the contents of their handbags daily, so they can sport the perfect tote for their day, or their outfit. Personally, I've never seen the point, when there's so much money to spent on shoes, and holidays, and gorgeous food. Until now…
Orla Kiely backpack review
The Pod Company – possibly spotting a style need in me – offered to send me an Orla Kiely bag to review, and another one to giveaway. Now, I may not covet bags, but since becoming the parent of a child with Type 1 Diabetes, and acquiring all the paraphernalia that has to be taken everywhere with us, I have needed a bigger bag. Bigger bags lead to heavier bags, so for me that means a requirement for comfort. And as we all know, comfort is hard to come by when trying to maintain a modicum of style.
A backpack is the most comfortable bag to carry, but those are usually functional, and boring. High street 'backpack' style bags are usually not sturdy enough to carry all that I need, and die within weeks. So when I spotted the Orla Kiely backpack I was keen to give it a go. I haven't regretted it.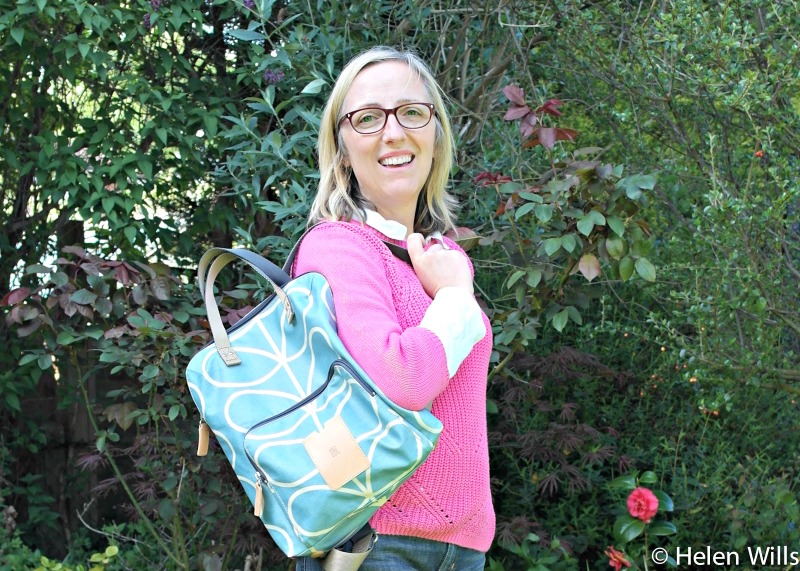 What I love about this Orla Kiely backpack:
It can be carried comfortably in a variety of ways – slung over a shoulder for a run to the car, as a tote when you want easy access, or backpack style when you're on a mission to get somewhere, or have extra hands to hold!
It is spacious! Check out all the junk I have to carry around whenever my children are with me (yes, those are weighing scales). Even when I take giant text b00ks to read on the sidelines of football pitches, it just swallows them up like Mary Poppins' magic bag.
It has slots inside for my phone that actually fit my phone, so I can always lay my ands on it.
The quality – this bag is going to last me. Which is good, because it is now my favourite bag. Which means I don't have to do the handbag transfer thing ever again. It also means I'll always have a bottle of Lucozade on me…
The design – it's gorgeous!
Now, such is my naïvety around the significance of a designer bag, that I wasn't prepared for what happened the first time I took this bag out. I went to a hospital appointment, and the nurse commented on how lovely my bag was. I thought she was just being kind, but the next person to comment on it was the ultrasound doctor. A middle-aged man examined my bag and exclaimed that it would be just perfect as a gift to his daughter, who is going travelling soon, and needs a sturdy but gorgeous bag. Where did I get it? he wanted to know. The nurse decided it would be just right for her daughter, who is starting GCSE year soon and needs a good bag for all her files and books. I sent both of them to The Pod Company, and I have no doubt that they both have very happy daughters right now!
So I'm a convert. It's designer bags all the way for me now. Although I don't think I'll be needing another one for a while…
The Pod Company are giving Actually Mummy readers the chance to win an Orla Kiely backpack in the stone leaf design pictured at the top of this post. For your chance to win, simply complete the options in the form below.
You can also find The Pod Company on Facebook, Pinterest, and Twitter.
THIS GIVEAWAY HAS NOW ENDED
Terms and Conditions
1. By entering this giveaway, the entrants consent to their email address being passed on to the promoter
2. Entry is open to UK residents only, excluding anyone professionally associated with Actually Mummy or the Promoter.
3. One winner will win an Orla Kiely Stone backpack worth £120 from The Pod Company. The prize is non-transferable, non-refundable and there is no cash alternative.
4. The prize draw starts at 12.00am GMT on Monday 11th May 2015 and closes at 12.00am GMT on 25th May 2015.
5. Entry is free and must be made by commenting on this blog post answering: 'What is the name of The Pod Company item that most caught your eye?' Bonus entries can be obtained by sharing the giveaway with your friends, tweeting about the giveaway, visiting The Pod Company on Facebook, visiting Actually Mummy on Facebook, Following The Pod Company on Twitter, Following Actually Mummy on Twitter, and tweeting about the giveaway.
6. The name of the winners will be published on this website within 14 days of the giveaway closing.
7. The winners will be drawn at random using Rafflecopter and they must have commented on this blog post for their entry to count.
8. The winners will be notified by email. They willl have a week to respond, after which time a redraw will take place.
9. In the unlikely event that the prize becomes unavailable the Promoter reserves the right to substitute a prize of equal value.
10. The Promoter's decision on all matters is final and binding on all entrants. No correspondence will be entered into.
11. By taking part in this competition you agree to be bound by the competition terms and conditions.
12. The Promoter reserves the right to disqualify any entrant and / or winner in its discretion and without any notice in accordance with these terms and conditions.
13. The Promoter is: The Pod Company, Pod 24, The Mall, Clifton, Bristol, BS8 4DS
Disclosure: The Pod Company provided me with a bag for the purposes of review, and an admin fee to run this giveaway. All editorial and images are my own.
The MAD Blog Awards are open for nominations. We'd love you to take a moment to nominate us! Click the badge to nominate.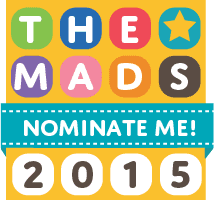 Competitions at ThePrizeFinder – See more at: http://www.theprizefinder.com/content/orla-kiely-backpack#sthash.SZfSQPjH.dpuf