Ok, so not really funee this week, more "aw I'm so proud" moment, as Mummy read (and ignored) my final missive to the Easter Bunny. I have written several, on my own behalf as well as the Bug's, and Mummy claims the Bunny will not be able to keep up with changes. You see, we are gifted so much chocolate by relatives that Mummy goes demented looking at the confectionary counter in our kitchen for the next 3 months. Therefore we ask the Easter Bunny to bring us an alternative gift. Or a voucher:
Don't forget, Bunny, it has to come from Argos!
Click here to enter your link and view this Linky Tools list…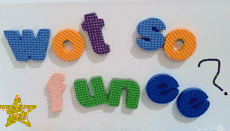 If you're new to this linky and want to find out more, click the badge to be taken to the Wot So Funee? main page, where you will find out more about my daft linguistics!
Grab the badge code from the bottom of the page