What to do and where to stay in London with kids:
"It's really nice here, even though it's a bit posh."
nice  adjective, nic·er, nic·est. 1. pleasing; agreeable; delightful: a nice visit. In other words, kids like it.
posh adjective. sumptuously furnished or appointed; luxurious. A posh place. In other words, adults like it.
You couldn't really get a better recommendation for a family friendly hotel.
Happy kids + happy parent = great weekend.
We're just back from a very cool weekend in London with the kids. Before the children were born, we spent a lot of time in the capital, wining and dining, visiting the sights and soaking up the atmosphere of the fabulous city. We've often wanted to share the London experience with the children, and we've had a few day trips, but we've never really spent time as a family doing the tourist thing. We were always held back by the big question. How do you really do London with kids?
I don't know what we were worried about. The kids relished the city, walked further than we could have hoped, and we saw London through a different set of eyes! Here's a plan for an overnighter in London with the kids:
Day 1:
Arrive at your family-friendly hotel. Take 10 minutes to relax while the kids pounce on their welcome packs, devour a plate of biscuits, and try on their dressing-gowns.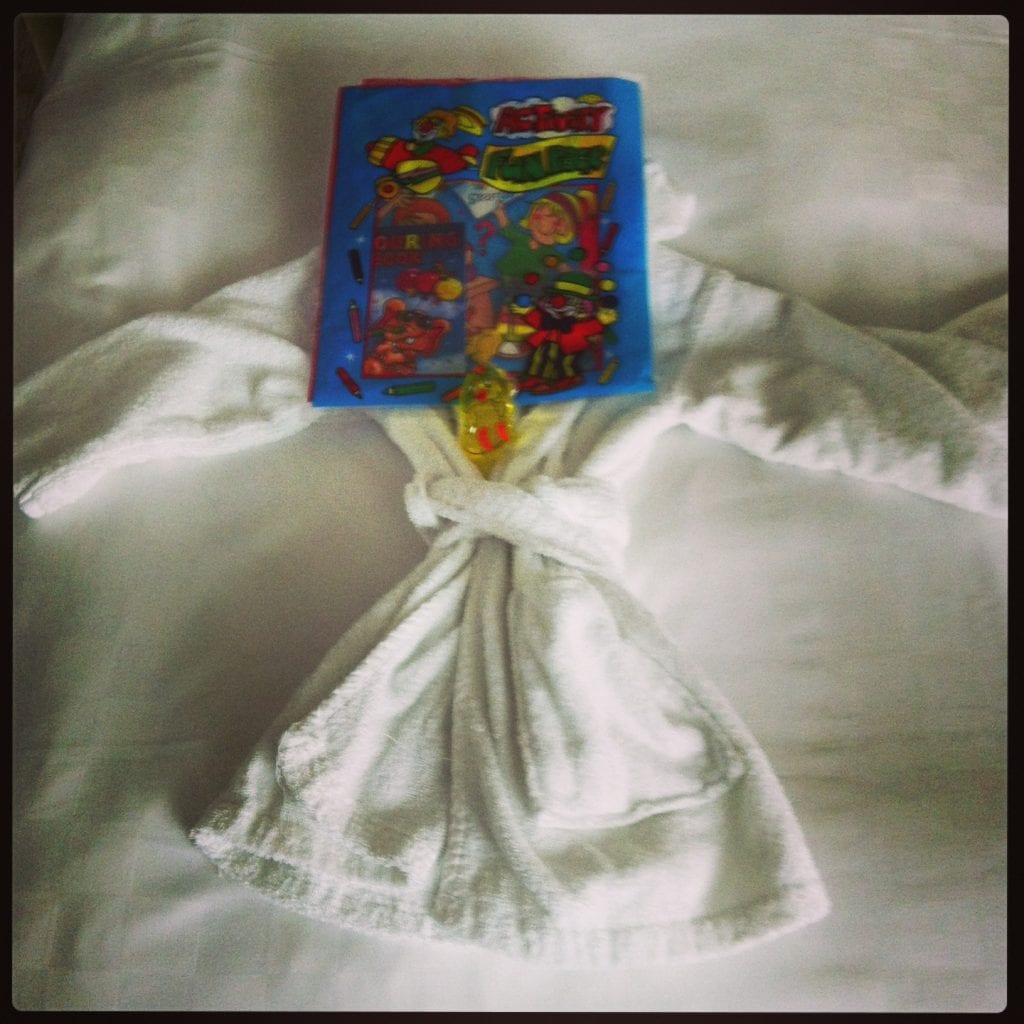 2. Take a walk from your hotel to a cool attraction. In our case, the walk from the Cavendish Hotel in Jermyn Street, to Madame Tussaud's was just manageable for our 8 and 6 year olds. Detour via Bond Street and visit the weird and wonderful Victoria's Secret, where your daughter will be fascinated and appalled, in equal measure, by the jewelled frillies masquerading as underwear. Your son will have no idea where he is.
3. Spend a happy hour or two posing with your favourite celebrities at Tussaud's: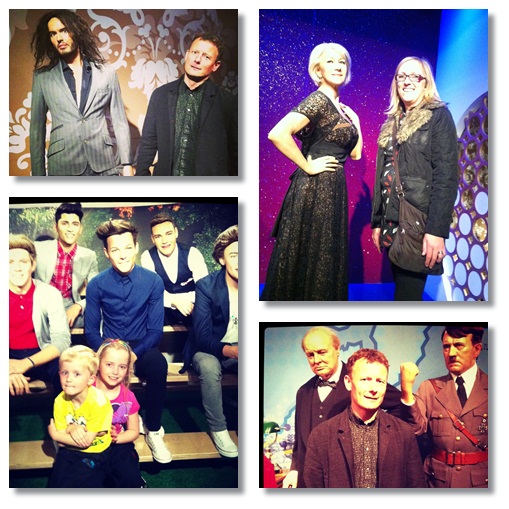 A word of advice, children under 1.2 metres are best not going to Madame Tussaud's on a busy day. People tend not to notice them. Take it from the Bug, who was heard to loudly exclaim:
"Mum! I just got handbagged and bottomed by that man!"
4. Take a trip in a proper London cab, and save your feet the walk back to St. James. If you're lucky you"ll get a proper London cabbie, who will tell you anecdotes about the city – did you know that Nelson looks down the Mall because he's watching over all the ships you can find on every lamp-post?
5. Return for a drink in the Cavendish bar, before donning your best frock for dinner in the Petrichor restaurant. (GG wears her most recent – and coolest – outfit from River Island Girls). You can eat any time from 5.30, which makes this a great dining option for young families, or for a pre-theatre dinner.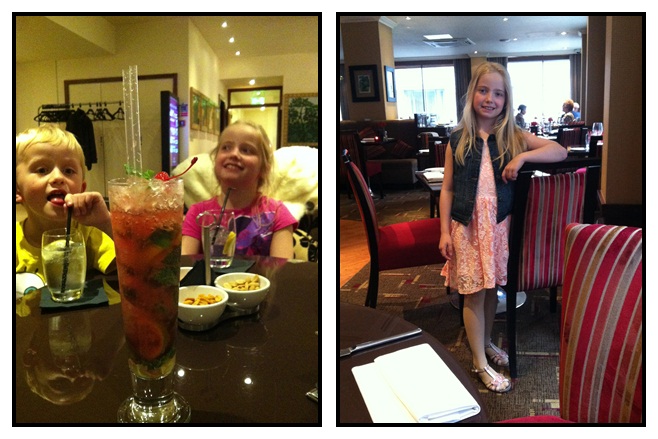 6.  Order from a gorgeous menu – we had Scallops and Duck Salad, followed by a delicious Pork Belly. Our waiter was happy to recommend a sensibly-priced wine, which went really well with our food. He also quickly heard and used the Bug's name, and waited for him to overcome his shyness for the time it took him to make his own order. Not having heard GG's name mentioned, he simply called her Princess. This went down well.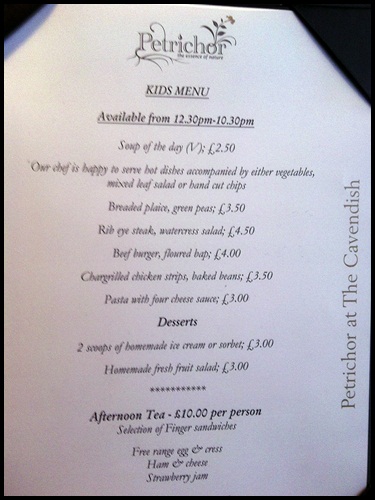 Responses to my tweeting this menu came quickly:
"Good value!"
"Wow never seen steak on a kids menu!"
"How refreshing to see real food offered to children. Just as it should be."
"10.30pm!"
The kids chose rib-eye steak, were offered their choice of vegetables, and additional chips were no problem. The food came quickly and was good. My children are good eaters, so they were done by the time our main courses arrived. "Uh-oh," we wondered – did we need to go back to the room for the Fruit-based electrical entertainment? But before we could leave our chairs our waiter arrived with activity packs to keep them busy. Actually Daddy was soon engrossed in a Spot the Difference…
If I had one criticism, it would be that the children's dessert menu was limited. Ice-cream and fruit are fine for younger children, but GG would have liked to see a chocolate brownie or a sundae. Even a meringue goes down well with us. As it was, the Bug took a fancy to the adult's cheese board, and our waiter was happy to go through cheeses with him to put together a child's equivalent. He's now a firm fan of Brie!
The restaurant wasn't busy when we were there, but it was early on a Saturday evening. It suited us, because we're always conscious of the fact that some guests don't want to be bothered with the natural chatter of a young family, but we needn't have worried. Here is what our waiter thought of our behaviour:
Now, a waiter who takes the time to fill out a form about his guests deserves an accolade of his own, doesn't he?
Finally, retire to your room, dive into the expansive bed, and fall asleep in front of a movie:
Day 2:
Surface to the aroma of the proper coffee Nespresso machine working it's caffeinated (or decaf) magic on the senses. Search everywhere for the milk, until your daughter  follows the instructions and finds it for you.
After a lavish breakfast hop in a taxi down to the Southbank and take a trip on the London Eye. It pays to get there early, as the queues start to grow later in the morning. The ticket includes a 4d cinema experience which the kids enjoyed.
3. Stroll at leisure through Westminster and St. James's park, admiring the pelicans, until you arrive at the Mall. If you time it right you'll catch the end of the Changing of the Guard ceremony. We followed the guard and their band up Marlborough road where we watch them salute and fall out. Only in London…
4. After a quick gander at the food hall in Fortnum and Mason, collect your car from the Cavendish car-park, and head home. Who knew London with kids was so easy? So easy that the Bug felt compelled to exercise his writing hand: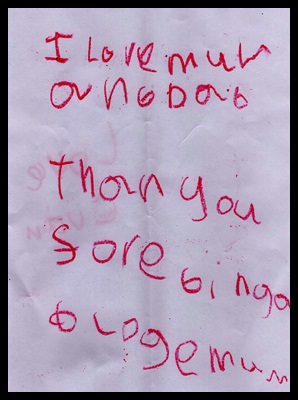 Disclosure: we were guests at the Cavendish hotel. Our room charge and meals were complimentary.