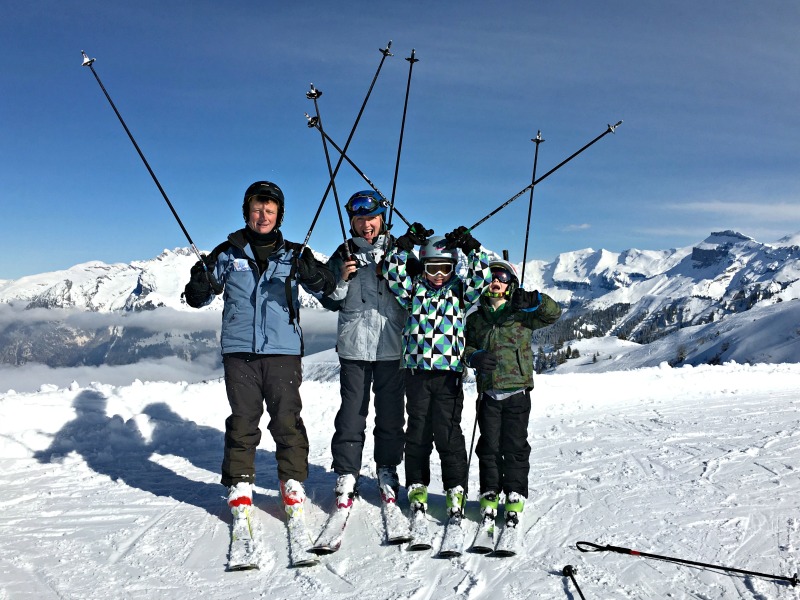 Travelling to the French Alps for a half term ski holiday I was nervous. We'd never skied during the notorious French winter holidays, and the hordes of British number plates squeezing into the Eurotunnel did nothing to ease my apprehension. I'd heard about the mammoth lift queues, the production line canteen food, and the crowded slopes sure to tempt injury. It was all a far cry from the idyllic mountain charm I was used to as a term-time skier.
But we have kids now, and not the kind we can pull out of school for a holiday. Half term holidays are a fact of life.
A Family Ski Resort in the French Alps
We'd driven to Les Carroz d'Araches in convoy with friends (read our comparison of flying versus driving to a ski resort on Space In Your Case), stopping off in Dijon to break the journey for the night. It's a resort you might initially overlook, heading past to its larger neighbour, Chamonix. First impressions as a resort for families were good.
For starters, les Carroz is just a few short zig-zags up the mountain from Geneva airport (good for a weekend trip), eliminating the long slow climb to destination you often endure with higher resorts, when you really feel like you should have arrived already. A huge plus if yours are the children who suffer from motion sickness.
At 1,140 metres, you should theoretically run the risk of limited snow in a poor season, but despite the altitude Les Carroz has a decent snow record due to its positioning in the Grand Massif. And unlike Chamonix, it's less sought-after, which lends a more chilled atmosphere to the small town that's well suited to families.
A pit stop turns into a snowball fight on the slopes.
Self catering apartments at Les Fermes du Soleil
It's small enough to walk around, with most of the accommodation situated nearby. We stayed at the Fermes du Soleil residences, a complex of self-catering apartments grouped in traditional style chalets around an outdoor ice-rink. It was the perfect set-up for families travelling together, giving us all privacy, with the option to meet up and share meals or games in the evenings. Though very compact, apartments have all the amenities you'd expect, and there's the advantage of in-building parking at an extra cost.
Another great feature of the Fermes du Soleil is the pool and spa (though the pool was a little too cold for me, the kids managed some time in there), and games area in the main building. Skiing with children is different from skiing in your twenties. Where we used to be out on the first lift and home on the last – via an après-ski detour – we've learned that the kids can sometimes only handle the slopes in shorter bursts.
Making the most of your day
I'd advise booking morning lessons, to force you out of your beds (no easy task by day three, when legs are more likely to complain about further attempts at exercise); some afternoons the kids were keen to carry on skiing, others we swapped piste for pool, or hanging out with friends and a movie. There's a nice area around the chalets for generally larking about in the snow, and of course, if they still have energy, skating is an option. We didn't use the rink, but it was pleasantly busy until late every evening.
 Playing in the snow.
What to eat
The handful of restaurants were busy for the holidays, but there was no problem fitting us in and there's a good choice of traditional French, Pizza, and grills. In the past we've often stayed in catered chalets, but we found that self-catering with a couple of nights out was a really flexible option that suited the kids well, especially if you want a more affordable option. Try Aux Petits Oignons just up from the main reception for traditional, meaty Savoie cuisine served with a sense of humour; L'Agora, in the main square served pizza to keep the kids happy while we feasted on a mushroom-infused cheese fondue. Prices in both were sensible, bearing in mind this was the French Alps during peak season.
The Casino supermarket in the centre of town is walkable and stocks most of your staples, and there are some good options for charcuterie and cheeses, as well as Desvignes, serving takeaway portions of the traditional French tartiflette, confit duck, and andouillette if you fancy trying out the local foods in the comfort of your own apartment.
Food on the Piste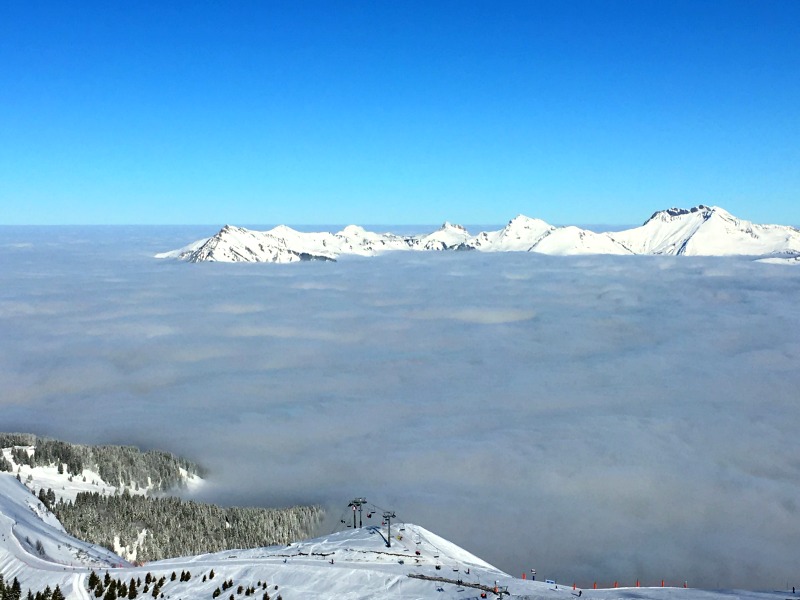 At the top of the télécabine lies this wonderful view. It's also probably the best spot for lunch, especially if you're meeting friends skiing in other groups. The K restaurant boasts a large sunny deck, and a good-sized indoor area with efficient bar staff and a decent range of meal options, from a plate of chips, to a hearty tartiflette (for the uninitiated, this is heaven made of potatoes and cheese). It's ideally situated for non-skiers to ride up and meet the rest of their group for a good lunch. It's also at the bottom of a nice easy green slope, welcoming the beginners in. Should you want something more substantial, the plats du jour are a good way to sample local specialities, and the classic steak frites is always on the menu. It does get busy, so an early or late lunch is a good idea, but it's by far the most convenient place to stop.
As an alternative there's also a great indoor picnic area just next door, where you can sit and eat packed lunches, or warm up during a snack break. And dotted around the mountain you'll find various pit stops where you can pause for a crêpe, a beer, or an indulgent hot chocolate. All are good. Finally, if you plan your route, you can make a full day of skiing, with a stop at the idyllically placed Chalet des Molliets to feast on raclette, or fondue savoyarde, before rolling back down the hill.
The Skiing
As you'd expect for a smaller resort, the ski terrain is less copious, but what it lacks in volume it more than makes up for in variety. We're a mixed group of skiers: I like to challenge myself, but not too much, and whilst there's plenty at Les Carroz for beginners, the kids are quickly catching up with me, conquering their first red runs on this trip.
The beginner's slope at the bottom of the resort.
For beginners there's a lovely ski area by the main télécabine, complete with covered conveyor belt lift to transfer your tiny learners back up for another run. Once they've mastered the basics, they can take the telecabine up to the next level, where a fun zone tranquille lets them practice their skills and experience the fun of a 'rollercoaster' run of small bumps made specially for them.
I'm always anxious to ensure enough thrills for the black runner in our family, and Les Carroz just about managed a tick from Actually Daddy on that front. But what's good to know is that he considers it would be top notch in a really good season, due to the variety and quality of the off-piste skiing. We did suffer a couple of complete white-outs that saw me heading in for a vin chaud, but he threw himself happily into the powder, returning with descriptions of open bowls and couloirs.
Some in our group love the scenic experience of cross country skiing, mixed with their downhill. They took the lift over to Flaine a couple of times, enjoying a leisurely day and making it back to Les Carroz easily in time for an après-ski Genepi (the local herb turned liquer) with the rest of us.
Splitting off to visit Flaine and Samoens.
The crowds I was dreading didn't really materialise – although it's a good idea to avoid Perce Neige just after lunch, when it becomes a bit of a bottle neck, and Les Molliets lift had an astronomical queue just before lunchtime. But most of the time it wasn't as busy as I expected, and although the lift system isn't modern (which probably helps to keep the hordes away), even most of the hefty-looking queues didn't take too long to get through (tip: queue close to the ski school channel – you'll often be able to squeeze onto a chair if there are no students at that time).
The runs back into town vary in difficulty, and though there is a lovely long blue, we skied it in full-one cloud on our first day and literally couldn't see each other from turn to turn. Scary when you have children with you – this is where I'd recommend kitting them out in something bright and colourful. Have a look at our review of their
ski gear on Space In Your Case
. If your children are just starting out, then it's comforting to know that it's just as easy to get the
télécabine
 back into town, avoiding stress at the end of the day. We started out that way a couple of times, but by the end of the week we were ready for our first family red run.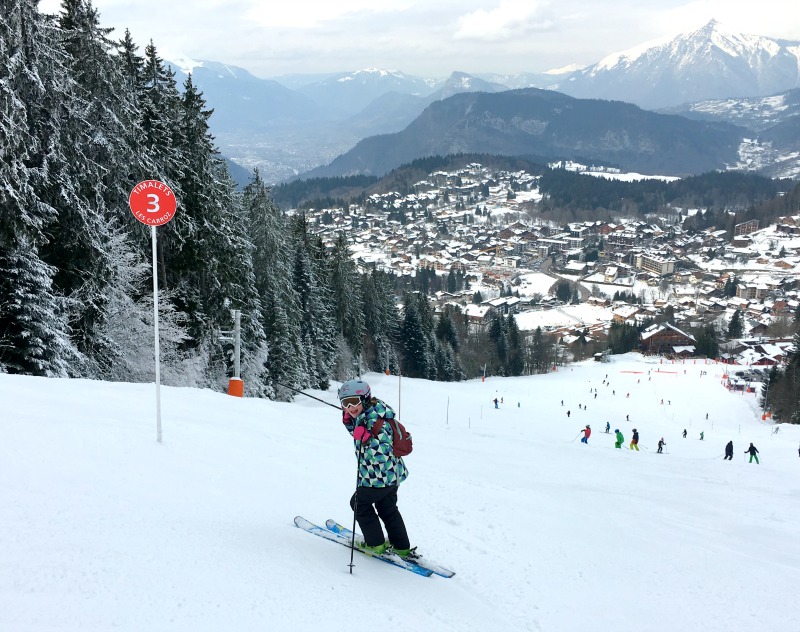 .
All in all we'd definitely recommend Les Carroz for a family feel, especially for first-time or newer skiers. If you'd like some more ideas on ski resorts good for families, read about our trip to
Val d'Isère
, or come back next week when I'll be telling you about Val Thorens, the highest ski resort in France, where you can ski all summer long!
More great family ski resorts you might like