If you followed our Instagram feed over the summer, you'll have seen all our holiday spam – sorry. Actually, I'm not – it was so good! We spent two weeks on an adventure family holiday in Cambodia, taking in all the highlights, from temples to local villager's homes, and we absolutely loved it. If you're even vaguely considering taking your family to Southeast Asia, this post will tell you what you need to plan the best itinerary for a family holiday in Cambodia.
Cambodia family holiday travel itinerary
A typical itinerary for a family trip to Cambodia takes in the capital Phnom Penh, the laid back town of Battambang, and the temples of Siem Reap. We decided to add on a beach resort at the end of our organised tour, so we spent three nights in the popular resort of Sihanoukville. Here's what we did in each location.
Best things to do in Phnom Penh
Ride the Tuk-Tuks
The minute you step foot outside in Phnom Penh, eleventy billion tuk-tuk drivers will offer to take you somewhere – a restaurant, the river, the killing fields. It's very tempting to say no, and spend your entire holiday in a state of perpetual irritation at the intrusion. It doesn't take long though to realise that saying yes is both cheap, and convenient. Cambodian pavements are not a leisurely stroll, laden as they are with bikes, mopeds, café tables and even barbeques. The weather in Phnom Penh is unpredictable too, and downpours of rain soon saw us seeking shelter under a tuk-tuk canopy. After our first attempt at immersing ourselves in street life, we happily coughed up a dollar or two to be taken to whichever pedestrianised area was intended for such perambulatory pursuits. (Although we did miss the random adoption of small cute dogs that tended to follow us around town whenever we walked anywhere!)
We also realised that it's much cooler, in the muggy heat of the rainy season, to catch a breeze in a tuk-tuk. Plus, the competition for a fare is stiff, and we enjoyed the happiness we provoked whenever a driver managed to elicit a yes from us. Tuk-tuk drivers are just so cheerful! And they seem to love children, especially of the blonde variety. We had one man stationed not far from our hotel, and by the end of our time there, he had quite a rapport going with Evan – I still feel bad that we never rode in his tuk-tuk!
Watching the sun go down
It gets dark very quickly in Cambodia. We spent most of our evenings – after a day of sightseeing, and a quick dip in our hotel pool – gazing out across the landscape with a beer. Everywhere we went, bartenders served little dishes of sweet and spicy peanuts, with fried lime leaves or chilli, which the children adored. It became an evening treat to devour them as we watched the dragonflies dancing, until we could no longer see the sun.
Learn about Cambodian history
This was one of the best aspects of taking an organised tour. Ours was a family tour run by the Family Adventure Company (now part of Intrepid Travel) and we had the same guide with us for the duration of the trip. Although we had flexibility to eat most evenings under our own steam, we chose to stay with the group – as everyone did – for so many reasons. For starters, our guide Dika knew the best places to eat! But it was over meals, as well as on transfer drives, that we had the opportunity to ask him about his country. He told us how his parents, a nurse and a policeman, had been arrested by the Khmer Rouge when he was very young. He never saw them again, but the likelihood is that as educated people, they were taken to S-21 prison, where they were tortured and killed.
I couldn't reconcile what my life had been like at the time, when this systematic eradication of a whole generation was happening in Cambodia. Dika told us that 85% of families have a similar story – if they were educated, they were killed; the poor died of starvation and disease, as the communist model failed, and the country's rice production stagnated. It was so evident once we really looked – there really aren't many people in Cambodia over the age of 60. A whole generation is missing.
Shopping!
Shopping in Cambodia's many markets is more or less mandatory, and it's one of the reasons why I wouldn't recommend taking much in the way of clothes. For one thing, we in the UK don't tend to own the kind of lightweight clothing that works well in the Southeast Asian heat. For another, you'll find all you need at the markets there, for prices that make you want to avoid bartering – although barter, you must. They'll think you're crazy if you pay the asking price!
We rode a Cyclo Tour to the Central Market in Phnom Penh, and I'd recommend leaving yourself plenty of time there. Just wandering around is fascinating, but you're sure to buy something eventually, whether it's a 'branded' t-shirt, or the beautiful elephant design harem pants that are perfect for the weather.
Visit the Killing Fields
Are the Killing Fields appropriate for children? We asked ourselves this question over and over in Phnom Penh before we decided against the optional visit. A family in our group did go with their 10 year old, and said he coped well and was glad to have seen this relic of the tyranny and massacre Cambodian people endured. I think it depends on your child. I think my kids would have found this difficult. As it was they filtered the information our tour guide gave, and learned what they wanted to retain. I think though that they came home with an awareness of quite how lucky they are, and that's no bad thing.
Eat in a training restaurant
Our very first meal in Cambodia was on our guide's recommendation. The Tree Alliance is an organisation that runs training restaurants, designed to help kids from the streets, and other marginalised young adults. Not only do they give their trainees a profession, a skill, a future, they also provide really high class food and fantastic service. Tourists and locals alike fill the tables every night, and it's easy to understand why. Reasonably priced, we ate at the three restaurants in Phnom Penh, Battambang and Siem Reap, all on the recommendation of local people, as well as our guide, and the travel books.
Make fabric on a silk farm
One of our best afternoons was spent at a silk farm on Mekong Island just over the river from Phnom Penh. I'd always imagined thousands of tiny worms making reels of thread, but of course, it's not like that at all.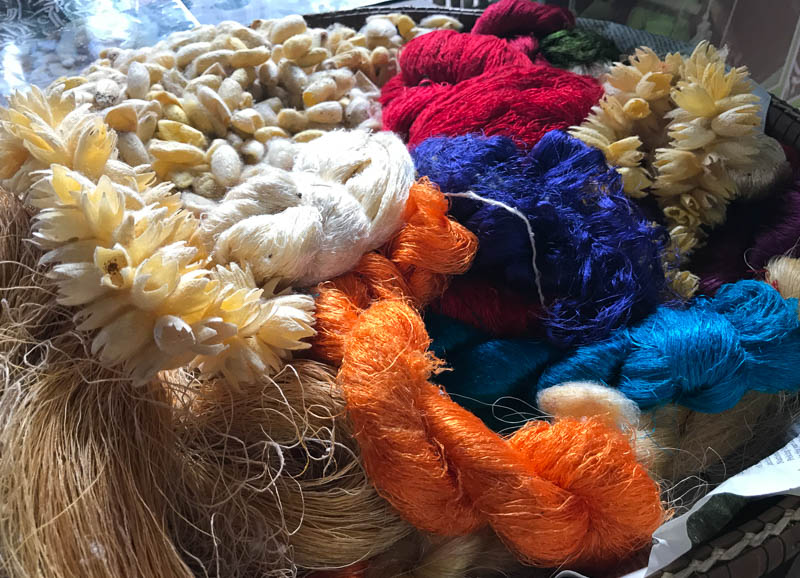 We were shown the silk, in its various stages, as well as the moths, cocoons and larvae of the silkworms. The children were fascinated, especially when they were given the opportunity to weave some of the silk on the looms.
Our hosts were so lovely, once again demonstrating the hospitality of the Cambodian people. Once we'd finished looking around, we were treated to the most amazing table of fruit – things we'd never seen before – and certainly not something I imagine we could find in a UK supermarket!
These were just the leftovers, but they still looked pretty. The white spotted fruit is a dragonfruit, which we ate a lot of while we were there. Below is our new favourite fruit, that we still haven't found back home – a mangosteen: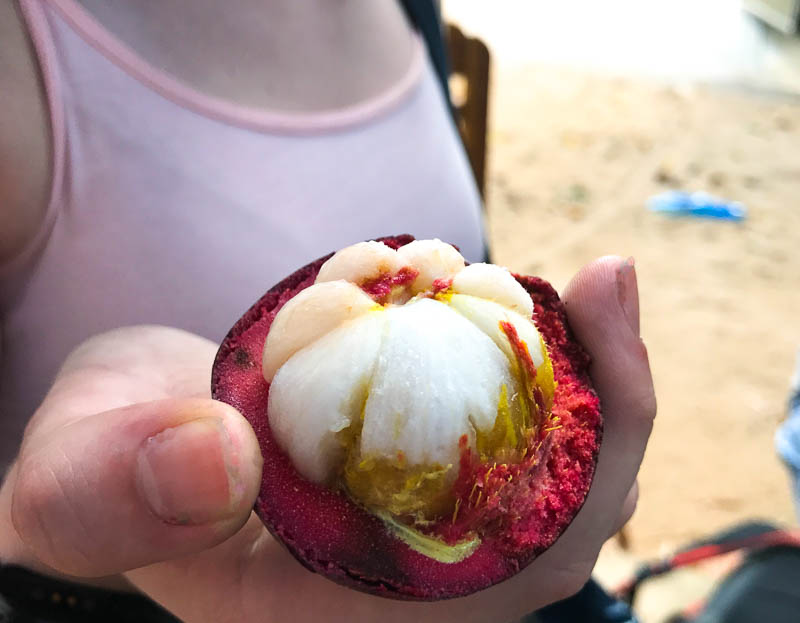 What to do in Battambang
Have a family dinner in Battambang
One of our biggest surprises was how the children took to the food in Cambodia. Not the most adventurous, my daughter blew us away by deciding that Cambodian beef soup was something I needed to find a recipe for when we got home. Spicy, yet sharp with lemongrass and tamarind, she chose it again and again on menus. And when we had dinner one evening in the home of 'Batman,' a Battambang resident, my smuggled in cereal bars were totally superfluous to the kids needs. They devoured a beef and pineapple stir fry, a sweet and coconutty vegetable curry, and fish amok, a traditional dish steamed in coconut milk.
After dinner, Batman taught my son to whistle on a leaf (remember that? We used to do it with a blade of grass), while he told us more about life for the real people in today's Cambodia. It was one of the many learning curves of our trip, as I reconciled what my life was like 30 years ago (privileged if I'm honest), compared to the people under the Pol Pot régime (frankly, terrifying).
Ride the Bamboo Train
Without a doubt, this was my favourite part of the whole holiday. I wasn't expecting much, from the description in the guide books, but it was just so cool to do. The Bamboo Train is difficult to describe – think large fencing panel made of bamboo, balanced on 4 wheels, attached to an engine. It feels more sturdy than it sounds, and as we raced along the single track through the Cambodian countryside, we all had fits of the giggles about how bizarre it all was.
At one several points along the 15 minute route, we went head to head with another train coming in the opposite direction. The rule is, whichever train has the most passengers on it has to be dismantled to let the other one pass. Luckily for us, there were way more monks taking selfies on this one, so we got to stay on board!
Have a look at this video of our time in Cambodia to see just how much fun riding the Bamboo Train was:
,
What to do in Siem Reap as a family
Temple Run!
With three days to spend in Siem Reap, the historical capital of Cambodia, I was worried that the kids might get bored with visiting the temples. I needn't have worried. Dika had spent enough time with the children in the group to know what interested them, and he was able to tailor his narrative to suit everyone.
In any case, I'd challenge anyone to be bored at Ta Prohm temple! Famous for its use as set in the film Tomb Raider, it has to be one of the most surreal places on earth! Giant tree roots grow down over the roofs of this ancient building, and in through the cracks. It's hard to imagine the lives of those who built it for their King, ten thousand years ago, but the thought of that enchanted the children.
Ta Prohm was probably my favourite of all the temples we saw, but of course we had to visit the giant Angkor Wat, where the kids were also happy, thanks to lots of green, open spaces – sometimes including cheeky monkeys – while the adults settled to the serious business of getting the perfect photo of Lonely Planet's number one must-see destination in the world.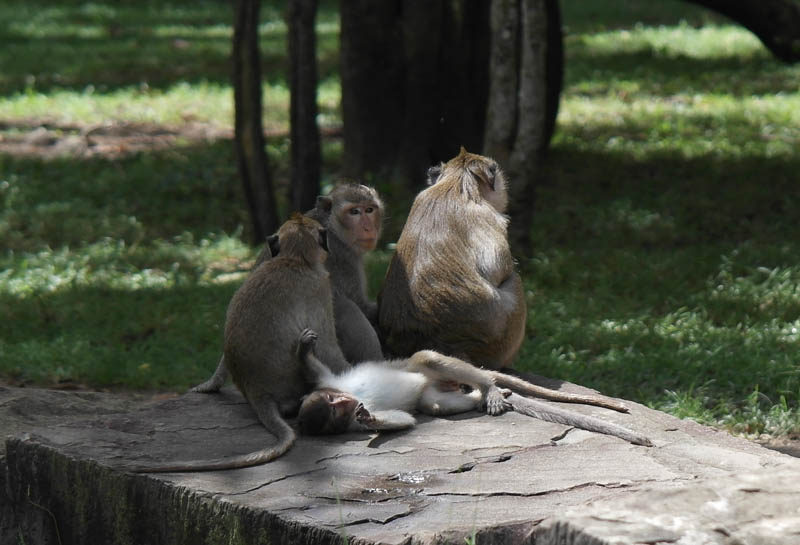 Is there a dress code for the temples in Siem Reap?
We'd read that we needed to be modestly dressed for the temples, but in reality we could have easily got away with shorts. Although it is requested that visitors cover their shoulders and upper legs, the atmosphere at Ankor Wat is very relaxed, even down to a young Buddhist monk giving away blessings, complete with a smirk whenever he managed to splash someone with the holy water.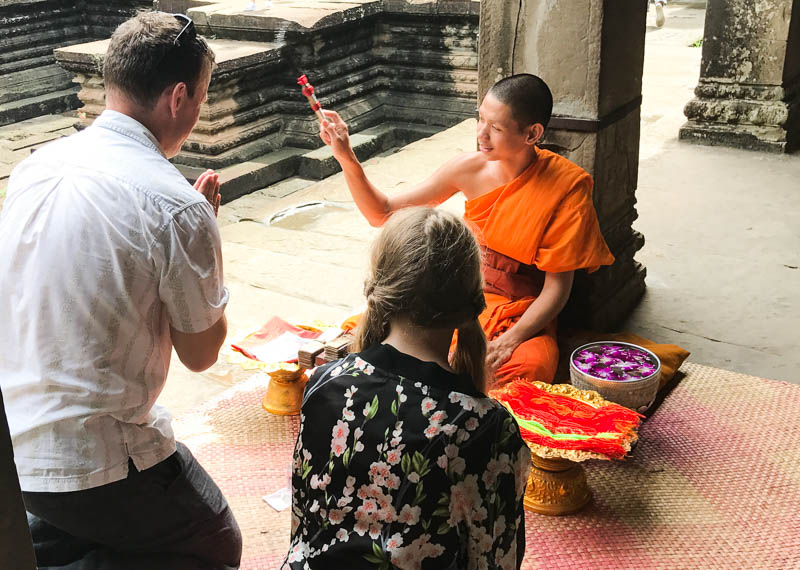 Plus, there were ohhh so many amazing photo opportunities, you know, for my Instagram account…
In all, we saw three temples during our time in Siem Reap, and it was enough for the children, without tiring them out (though it's recommended to buy a 3 day pass for Angkor Wat, especially if you're interested to learn more about the history of the region in general).
Float through Kompong Kleng floating village
We'd read about floating villages in Cambodia, and wondered if they were just a tourist attraction. They were far from it, though there were plenty of boats for visitors to take a trip upstream in Tonlé Sap. This was an entire fishing community, anchored along the mangroves, complete with schools, churches and restaurants. We were told that villagers live here until the flood waters of the rainy season subside, when they move further into the lake to continue their trade until it rains again.
This far north, just outside Siem Reap, we also became aware of a Vietnamese influence – though by all accounts there is no love lost between the Cambodian people and the Vietnamese. I loved this lady and her sales boat though!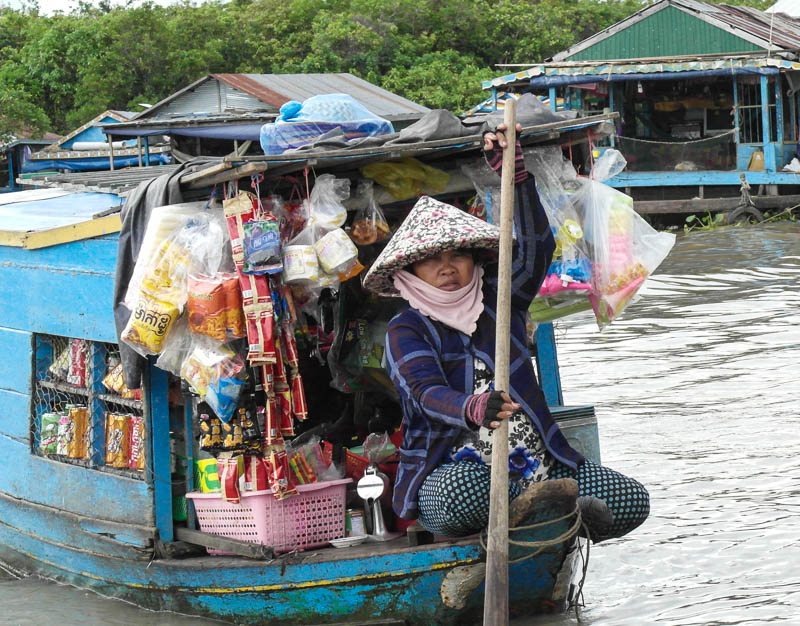 Visit the ACCB Nature Reserve
We spent a morning at the ACCB animal rescue centre. Initially, I'd thought this might be the kind of visit that would be nice, but wouldn't really enhance my understanding of the country I was visiting. I was wrong! Not only was it a sure fire winner with the kids – what's not to love about getting up close with the monkeys? – it was also yet another opportunity for me to learn. And I'm damned if people aren't the same the world over, despite what pigeon holes we might slot our stereotypes into!
Our guide explained how the Cambodian people are concerned with protecting and preserving the natural world. Monkeys, gibbons and eagles have all been rescued from tourist spots (we saw some tourist attractions ourselves, but it is frowned on now), to be rehabilitated, and in some cases, where they have become too tame, looked after for life. Oh, and we ran into one or two giant spiders as we walked!
Luxury family downtime on the beaches of Sihanoukville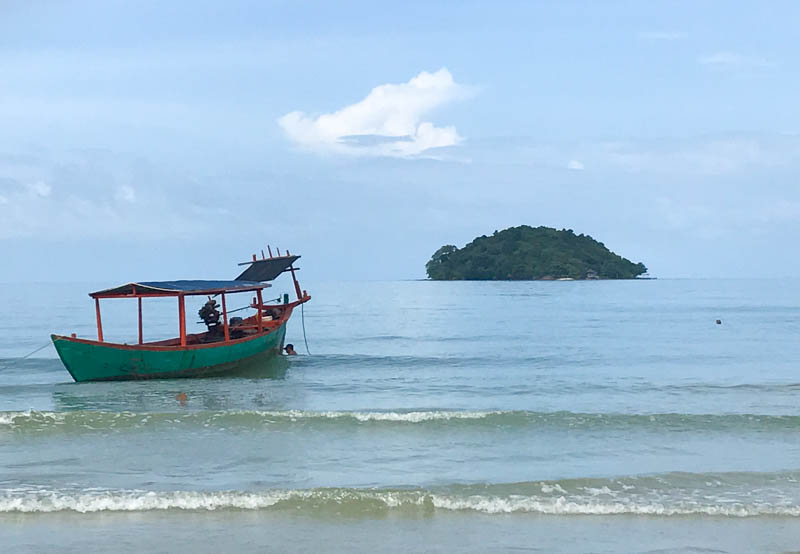 Whilst touring the highlights of Cambodia with children is absolutely manageable – and fascinating for kids as well as adults – it is fast paced, so a few days of downtime on the beach is a welcome end to the trip. We flew to Sihanoukville after our tour, an area renowned for beautiful beaches, and we weren't disappointed. We stayed for three days at the White Boutique Hotel in Otres beach, because the reviews of Sihanoukville told us it was the most laid back area of a very popular tourist resort. It really was as pretty as this photo makes it look, and definitely very chilled out. And there was literally nothing to do but sit on the beach and drink cocktails. It was bliss!
Is Cambodia safe for families?
Current government advice on visiting Cambodia is reassuring provided travellers take basic precautions. Petty crime like mugging does happen, but we found that Cambodia is safe for families. In fact, wherever we went we were approached with smiles, and the children in particular were given nothing but friendly attention and respect. If you can get past the in-your-face nature of the tuk-tuk drivers – who are just trying to make a living – you can feel totally relaxed as long as you stick with official tours and experiences.
I hope this summary has given you a good idea of what to expect from a family holiday to Cambodia, and even convinced you to give it a try. You won't regret it if you do. Let me know what you think, if you have plans to go, or if you've already been. And do feel free to ask questions – I'll try and answer them honestly, to help you make up your minds! If you're still deciding, have a look at this post about the most bizarre but wonderful things we saw on our Cambodia family holiday.
We were guests of the Family Adventure Company, who are now Intrepid Travel. Choose Cambodia Family Holiday with Teenagers for the trip we did. The tour we did is replicated there as . As ever, all opinions and images are my own.
More on our Cambodia family holiday: