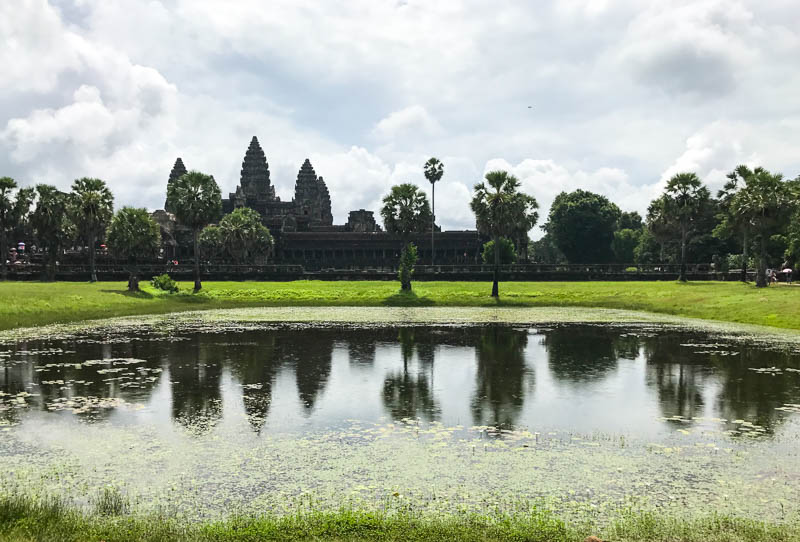 This summer we took a family holiday to Cambodia. I'll write about our experiences soon, but as an appetiser (a crispy fried spring roll, if you like), I'm going to tell you about some of the weirdest things we saw. The incongruities of life in Southeast Asia, compared to life as we know it in the UK were quite honestly mindblowing, and I want to remember those moments when we stood open-mouthed and stared, or simply got fits of the giggles together. Because those are the stand out moments you remember about your holidays, right?
10 Weird but Wonderful Cambodia must see sights
The contrast between the new and the old is startling. The bright yellow gold turrets of palaces and temples stand garishly side by side with the construction cranes of modern skyscrapers. Cambodia is a country in such enormous transition. Three decades of Khmer Rouge rule pretty much decimated the cities and laid waste to the agriculture. We travelled on an organised tour with the Family Adventure Company, and our guide pointed out that a whole generation of people is missing – you don't see many people over the age of 50 – thanks to the régime's habit of killing anyone with an education, and starving everyone else with their failure to maintain the country's rice production.
They have had it rough, the Cambodian people, and yet they are constantly cheerful, with an optimism and resilience that can only come as a result of getting through the worst, and finding that you're still here. They are just getting on with life, building the new, and restoring the old.
Trees growing on the roof. If you lived in Cambodia in the 12th century, you might have been tickled to know that nine thousand years later, your carefully constructed temple would be smothered by tree roots. But that's what has happened at Ta Prohm, the temple made famous for its starring role in the 2001 film, Tomb Raider. Fig, Banyan and Kapok trees have mercilessly spread their roots down through stone walls, as the silt of the ground has risen, poking into crevices, and taking ownership of what was once painstakingly crafted for a King. It's a surreal experience to stand at the base of a tree and know that a civilisation is now below the current ground level.
Villages floating on water. On the edges of the Tonlé Sap mangroves are entire villages – including schools, churches, and restaurants – floating on boats and platforms. The residents fish for  their livings, moving seasonally when the waters recede, and again for the rainy season.
Whole families on a moped. On our first afternoon in Cambodia we laughed a lot about the things we saw travelling by moped or bicycle. By the end of our trip we didn't bat an eyelid – we'd seen it all. Tiny babies, animals, multiple sacks of rice, and once, 7 people sandwiched onto one moped. This is one thing you simply must see in Cambodia!
Pedestrians sharing the road with cars. You need nerves of steel to cross the road in Cambodia. We found a crossing point with a green man once, and waited for the traffic to stop for us. It didn't. To stop traffic you just have to keep walking. Step out into the road, and everyone slows down to let you walk out. After the first time you barely even think about it. And it's not just crossing the road that puts you in with the mopeds as a pedestrian. It's near impossible to walk along the pavement, because every square inch is often filled with tables, barbeques, bikes, and merchandise. It can get irritating, until you remember that UK bureaucracy means that no one is allowed to stand outside their favourite pub on a summer's evening.
Prawn pagodas. Pagodas and temples are everywhere in Cambodia, and their statues and shrines don't always have the most obvious icons (to westerners). We saw this frankly giant Buddha, as well as a huge model of a prawn outside one of the pagodas in Phnom Penh province.
Shrine superstores. Given their commitment to their religion, it shouldn't be surprising, but I did find it amusing to see huge stores – like our DIY retail park outlets – full of Buddhist shrines dotted all along the major highways. You know, in case you fancied picking up a giant Buddha on your way to lunch. On the back of your moped.
Birds on a bike. On the streets of Phnom Penh it's not unusual to see a cage full to brimming with small birds, travelling on a moped. At first we worried they may be headed for a deep fat fryer – after all, a box of skinned frogs is a common delicacy at the food markets! But no, these birds were headed to one of the many pagodas, to be released to attract good luck. They were going too fast for me to get photo!
Monks on mopeds. You'll see monks everywhere in Cambodia, not just in the temples. We saw a monk using a mobile phone as he rode his moped, and monks taking selfies on the Bamboo Train. Although they are considered holy (they must not be touched by a woman) many of the monks you see going about their day to day life are actually there for an education. Our guide explained that when a family can't afford to send their son to college, they will instead send him to be a monk, where in return for his work in the temple he will be given a free education, before returning to secular life. It's accepted practice that monks will go out round their village collecting alms, and people donate what they have willingly, for the upkeep of the temple, and these young men.
Cars full of fish. Not kidding, if the Cambodian people want to transport a product, they will find a way. We spotted this car, its passenger seats piled high with fish, ready to go to market!
Rain so heavy that young men will take a shower in it – complete with shampoo and shower gel!
We were guests of the Family Adventure Company this summer on a family tour of Cambodia. All views are my own, and if you're considering seeing Cambodia, their Cambodia family holiday is a great way to do it.
Read the full rundown of highlights from our trip to Cambodia here.
Pin for later