My kids love swimming. Don't most? Of course, when I say they love swimming, what I actually mean is they love larking about in the water. Ducking, diving, floating, handstanding – there's just something about water that is irresistible to children. So it's logical that the first place they wanted to check out when we toured our local David Lloyd club was the huge pool.
We've been invited to review a six month membership at David Lloyd, to see how their family offer measures up. On the day, my two were straight into the water, but I was exhausted, and really couldn't face a swim. I was grateful to see that there was a row of lounge seats on the far side of the pool, and immediately headed over to relax while swimming lessons were taking place. I hadn't banked on there being a huge hot tub though, and I didn't last long before I was immersed in bubble jets, easing away some of the aches of my week. I could see the kids from my heavenly vantage point, and they even came to chat to me from the warm toddler pool next to mine, so I was completely relaxed for the next 20 minutes.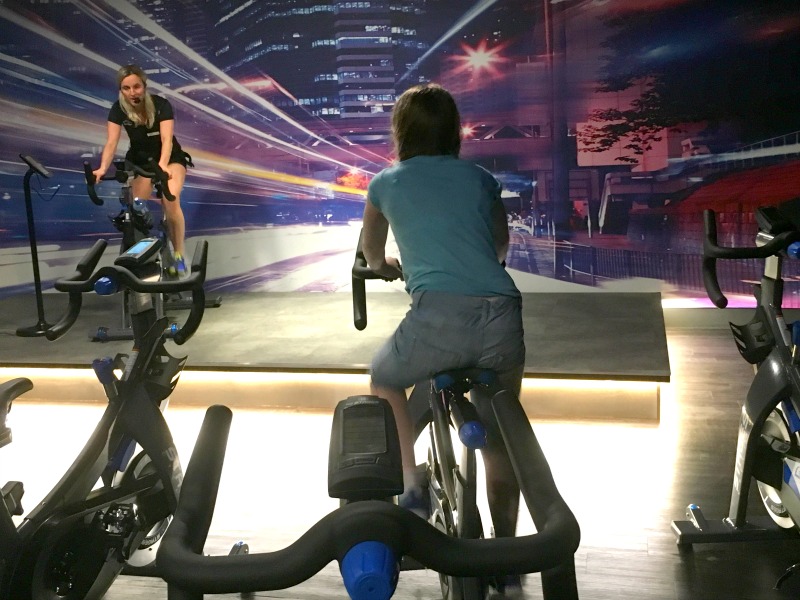 My blissed out hour continued with a manicure in the club's salon. Whilst I had some much-needed me time, the children were occupied in the kids club, but this was no standard 'babysitting' facility. Once I'd signed them in, my daughter was off to a spinning class in the very smart new studio there. This had her buzzing with excitement. She's recently become a fan of box for fitness, thanks to a teacher who enjoys the sport. At 11, she has often bemoaned the fact that she's not old enough in most clubs to join the adult classes, or use the gym equipment. At David Lloyd, children can take proper exercise classes with their own age group, from the age of eight.
I love the fact that when I'm using the gym, or having a spa treatment, my kids aren't sitting around watching TV or playing games in a stuffy room; they're actually involved in physical activities appropriate to their age, and learning about what it is to use a health club. I don't feel like I'm fobbing them off while I do something for me; instead, they're considered full members, with their own activities and goals. Of course, what this means is that instead of me dragging them to the gym, it is them begging to go every time we have a free afternoon. My daughter has browsed the list of classes and insisted on being booked in for a gym induction. It looks as though I'll be achieving my fitness goals sooner than I thought!
The club felt so relaxed that once we'd finished our activities, we decided to hang out there a bit longer and have our dinner. The food was very good, so I ordered a glass of wine to go with it and watched some tennis lessons, while the kids played on the computers in the lounge area. There's also a quiet area for adults, and I can imagine going in to finish some writing work while the kids are spinning, or getting in some football coaching.
What really impresses me is that the whole family is catered for at David Lloyd. They don't just want to look after my kids so I'll spend more time using the facilities. They want all of us to enjoy time together, time doing our own thing, or time just hanging out in a relaxed place that isn't home, with all its attendant chores and to-do lists. I rather think we might be spending much of our weekend at the club over the next few months. I even think we might opt for dinner at the club on a 'can't be bothered to cook' night, rather than using restaurants or ready meals.
I'll keep you posted on how our family time changes over the next few months.
*My family have received a six month membership at David Lloyd in return for sharing our views with readers. All editorial and imagery is my own. Swimming pool image courtesy of David Lloyd.