Arriving at Congham Hall Hotel felt like going home for Christmas (if your family happen to have a beautiful old house in lovely grounds, in peaceful countryside). Quiet, and twinkly with Christmas lights, it was far removed from our usual chaotic life, despite being only a 2 hour drive from our home in Hertfordshire. The peace dazed us for a moment, before we crunched up the gravel driveway into the bright and festive – yet still strangely calm – reception hall.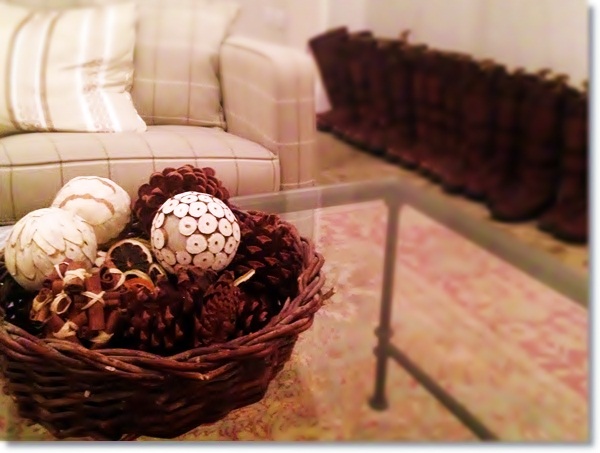 We were soon installed in our comfy room which had everything I personally need – superkingsize bed (Actually Daddy is a fidget – I'm a light sleeper!), deep bath, and quiet. The hotel has rooms in the main building but we were in a garden room, situated in a peaceful courtyard, with kitchen gardens beyond:
Although it was December, and the gardens weren't flourishing, there was a fascinating variety of herbs I'd never heard of. Hand's up who's eaten pineapple mint?! I'd love to see the garden in springtime.
With no password for the wifi, we were connected in moments – not quite ready to leave it all behind and switch off THAT extensively! We sipped our champagne, attempted to empty our busy heads, and wondered how we might make the most of the free phone calls – even international calls are covered. Alas, there was no-one we needed to speak to. So we went back to our sipping, and waited for pre-Christmas frenzy to eventually ebb away.
Food
I'm giving this a simple title, because the tastefully-decorated bar and restaurant serve dishes which, despite achieving delicious flavour combinations, have a simplicity designed to showcase the locally sourced fresh produce, and homegrown vegetables. We dined on scallops and pumpkin gnocchi, pork belly and a trio of pheasant, though it was a dilemma for me, and I was sorely tempted by the fish, which is unusual for me. Flavours were rich but balanced, and nothing disappointed, and a slightly bland pannacotta was more than compensated for by the best citrus sorbet I've ever tasted.
What fascinated us most was the interactive wine list, presented to us on a tablet complete with images, descriptions and recommendations by country, grape variety and drinking style. Our helpful host explained that this allowed them to keep a small quantity of a wide range of wines, and update the wine list daily with what is currently in the cellar. Check out how it works in the video clip below:
We were sans kiddos for only the second time in 10 years, courtesy of our lovely friend Steph, but we couldn't resist a peek at the children's menu. It was exactly what our kids would have eaten, and not too expensive.
Coffee and petits fours gave us an excuse to soak up the peace in the library. Then it was back to our room in time to catch the results of the X Factor final on the +1 channel before kicking back with the DVD we'd borrowed – Love Actually watched, we were ready for Christmas!
The Secret Garden Spa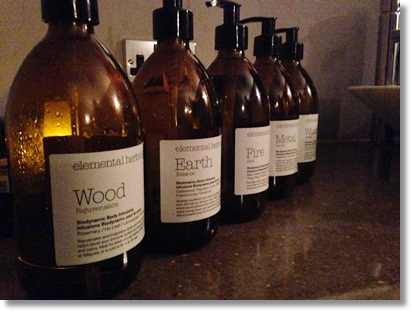 After a lavish breakfast (think black pudding and fat sausages), I ambled over to the spa. We'd spent a happy hour there the evening before. It has one of those gorgeous pools with hydro-jets that either pummel your shoulder muscles into a less rigid state than they arrived in, or tickle your lower back with delicious bubbles. Two saunas and a steam room, set off by the kind of shower experience that left me wanting to refit my own bathroom with jets, sprays, mists, and tropical birds on Actually Daddy's new Sonos system.
One thing you must do is visit after dark; lit from beneath, the pool is impressive, lending elegance and sophistication to the occasion. And who doesn't want to languish in an outdoor hot tub in the dark – although this was my one negative, the experience being more champagne fizz than vigorous whirlpool, but that's just personal preference.
Secret Garden Spa at Congham Hall Hotel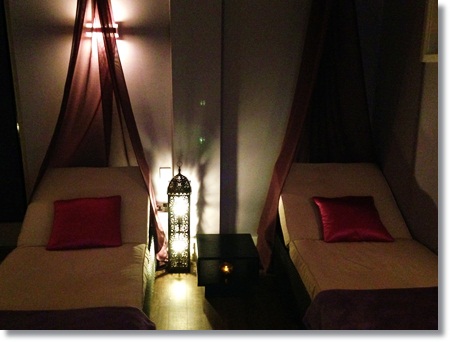 This morning's visit though was to the serenity of the treatment rooms for the Essential Quick Fix massage – 45 minutes of hands on therapy personalised to your own specific stress points, complete with hot stones, heated towels and an electric blanket. Ask for Terri, she has magic thumbs that managed to make inroads into the rocks that have set up home in my shoulder muscles. Lovely choice of oils too from Elemental Herbology, depending on whether you want detox, balance, vitality, or simply to relax. At £40, this is great value, and I came away determined to spend an hour a month being kind to myself, to balance out the constant focus on everyone else who needs my attention.
We lingered as long as we could, all ideas of visiting the Norfolk coast abandoned as we became more focused on relaxing, but we couldn't put off our departure any longer. As we left and headed out to the car we were met with this little note:
How nice is that?
Disclosure: our stay at Congham Hall Hotel, including meals and spa treatments, was complimentary for the purpose of this review. All editorial copy and opinions are our own.