This was me on Saturday afternoon. Well, kind of. I'm sure I didn't look this elegant, but in my blissed-out dreams I totally rocked that treatment room. Let me tell you why all parents need a weekend away in a beautiful spa hotel – on their own! 
Careys Manor Hotel and Spa Review
For Christmas, I'd asked my husband for an overnight stay in a spa hotel, by myself. Odd request, you may think, but as a busy working mum I craved time alone; not work time, or time in my house, where the distractions of the internet, deadlines, and the endless pile of dirty washing would inevitably suck me away from my peace; I wanted actual enforced time away from everything, to just sit, watch a film, read a book, eat something I hadn't cooked myself, and not clear up afterwards. Then the lovely team at Careys Manor hotel and spa in Hampshire offered to host me, and I didn't need time to think about it.
Saturday morning, I woke to some unhappy news. Not huge, in the scheme of things, and not unpredictable, but it upset me more than I thought it would. I wanted to stay home and cocoon with my family; instead I was headed west, to the beautiful New Forest, for 24 hours of what I expected to be overthinking and stressing, with only myself for company. I stewed in my own thoughts on the drive to Lyndhurst, wondering how I was going to switch off and enjoy being alone.
Then I saw this:
I was booked on a spa upgrade package, which meant that I had the use of this beautiful hydrotherapy pool from 9am that day right through till the end of Sunday. The hotel checked me in and kept hold of my bag, while I registered with the spa, then I was straight into the warm water of this beauty. I bubbled away in the jacuzzi for a while, before pummelling my tense shoulders into submission under the water jets, and the worries back home began to take second place on my agenda.
I briefly tried to get lost in my book, but still couldn't completely settle. I suspect it had something to do with the prospect of lunch. Very often, the food in a spa is not the biggest selling point, and sometimes feels a little bit conveyor belt. Plus it's healthy! I know, I know, you're supposed to purify mind and body, but as far as I'm concerned, a spa experience is all about indulgence. I can go through the pain of a detox at home any time I like, but when I'm away, I want good food, and not to be tutted at if I order wine.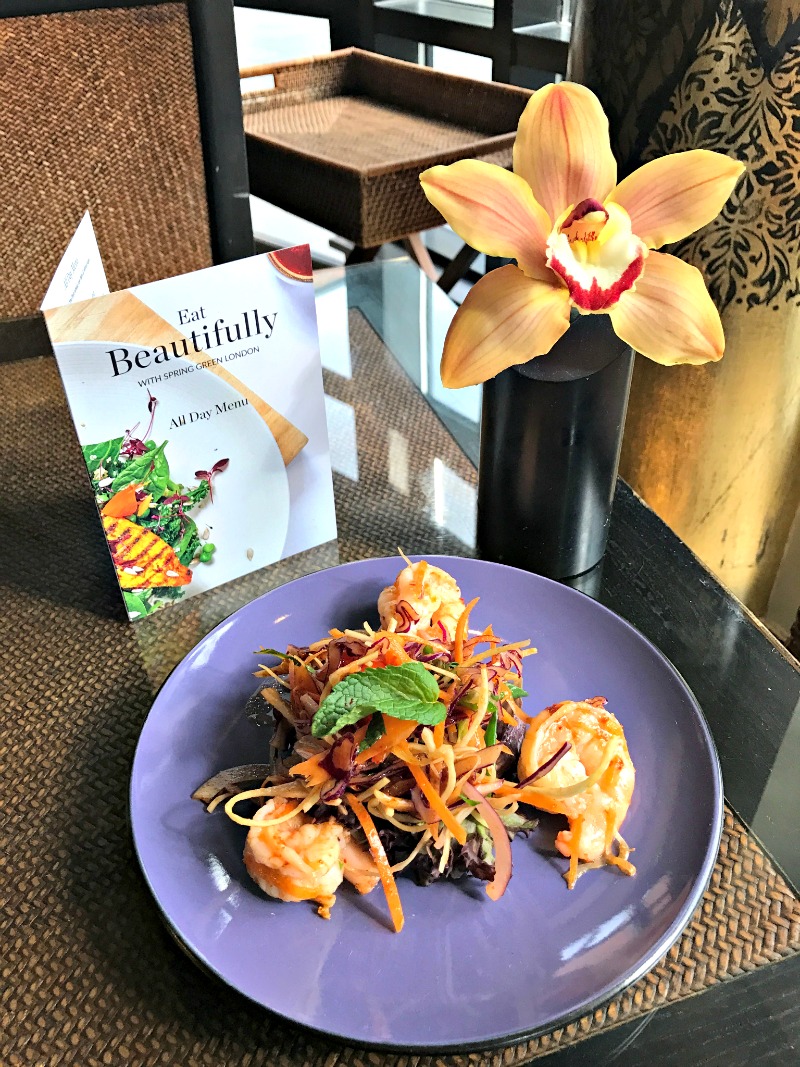 When you book a spa package at Senspa, a two course à la carte lunch in the Zen Garden Thai restaurant is included, and I was waited on with a deliciously fiery and sharp prawn salad, and a wonderful pad thai. Far from disapproval, I was almost encouraged to choose something from the extensive wine list, and was even tempted by the mouthwatering indulgent ice cream shakes on the menu. Even the detox smoothie sounded amazing at Zen Garden, with banana, orange, basil and pineapple – not a spirulina spoon in sight (though you could have added that had you wished).
Instead, as I gazed out over the main pool, I sipped a Strawberry, Watermelon and Mint Crush, and promptly sent myself an email as a reminder to make it for my family when I got home.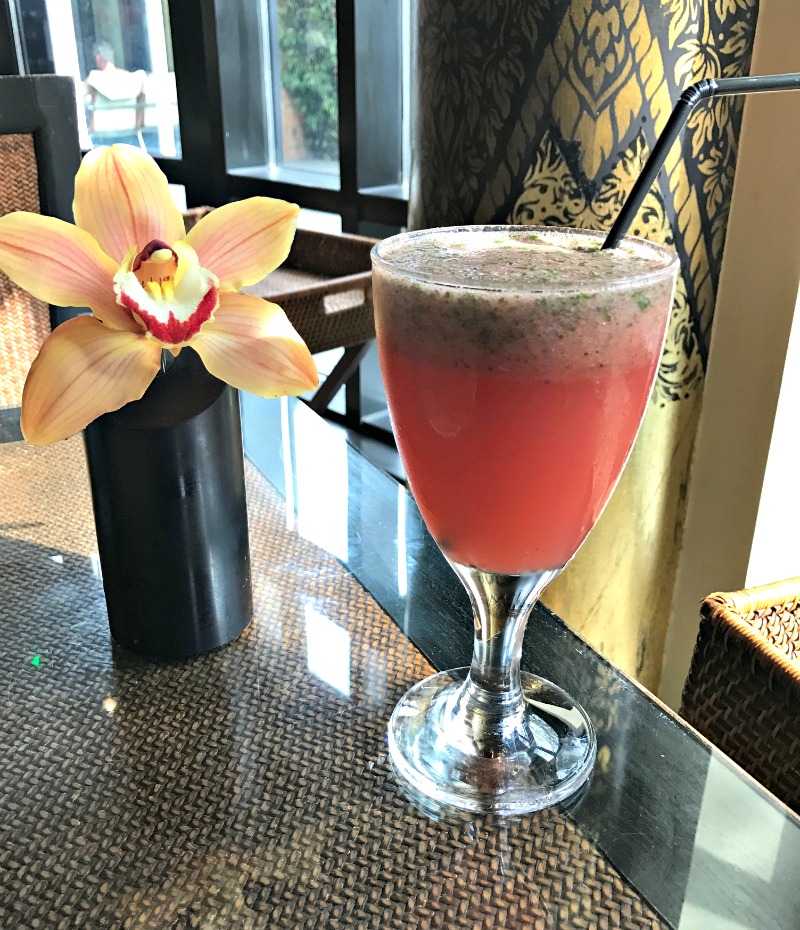 Next came the two hours of complete heaven that finally made me realise why I had wanted a break from home in the first place. The Alphasphere Deluxe is something I'd never experienced before; as you settle onto the moulded, glowing blue bed behind sheer curtains, you feel like you're entering something from a sci-fi film. Passengers came to mind, but as my therapist left me to my heated pod, and a series of low vibrations and sounds carried me into the coloured lights above my head, I almost drifted off, such was the extent of my relaxation. I really can't describe it beyond that, but I'd do it again in a flash.
There followed a delicious facial where I was cocooned in warm towels and massaged, in a heady scent of bergamot and manuka honey. I was finally ready for my book, and took myself off to the quiet room to enjoy a really good coffee (yes, coffee – I told you, there is nothing puritanical about SenSpa)!
By this time, I was so well and truly relaxed that I swerved the evening meal included in my package (though you can read about that in this review – it sounds amazing); instead I headed up to my room for some room service, Saturday Night Takeaway whilst texting the kids (a mother never really switches off, does she?), and an early night.
I did briefly entertain the notion of taking a class in the spa's studio the next morning, but instead I indulged in a gorgeous breakfast, before exploring the various steam, shower and ice rooms in the hydrotherapy rooms. Stunning scents invade your senses to relax or revitalise, depending on your mood; I'll confess, I almost drifted off again gazing at the twinkling stars on the roof of the tepidarium! Mission relax was well and truly accomplished.
As I drove home, I looked forward to reconnecting with my family. I'd missed them. Did I completely switch off from the chaos of family life? Of course not. But I did have time to reflect, away from the never-ending to-do list, and I was ready to re-engage in the busy, and often stressful business of supporting kids and teenagers through their challenges. I considered it a reboot, and I've tackled the week with renewed enthusiasm and strength. Sometimes it's not about switching off, but finding the space to move forward.
It's never easy being a parent, is it? Which is why places like Careys Manor will always be in demand!
Carey's Manor SenSpa invited me to review the one-night Zen Spa Escape Break, which costs from £180 per person. Click the link to find out more about what's included, and book.
Pin for later