Which is better, do you think? The surround sound and big screen epic experience of the cinema, and a big night out? Or cosying up on a comfy sofa with your family and plate of your favourite food? I'll admit that as I've got older, and now we have kids, I do love a Saturday night on the sofa, snuggling up together after home-cooked fajitas. The perfect TV dinner, the perfect company, and a great family movie. But there's something about the atmosphere of the cinema that really makes a film, and delivers a more memorable evening. Such a hard choice!
But what if you didn't have to choose? On our recent trip to New York, we spent an amazing evening at the iPic Theater in Fulton Market, at the southernmost tip of Manhattan. Just below Brooklyn Bridge, the Seaport District is a newly renovated area of premium shops and restaurants, where we spent a happy afternoon browsing. The kids were particularly taken by this incredible sweet shop.
IT'SUGAR has giant versions of everything you could think of, and it was all I could do to persuade my children that they didn't need the world's biggest gummy bear!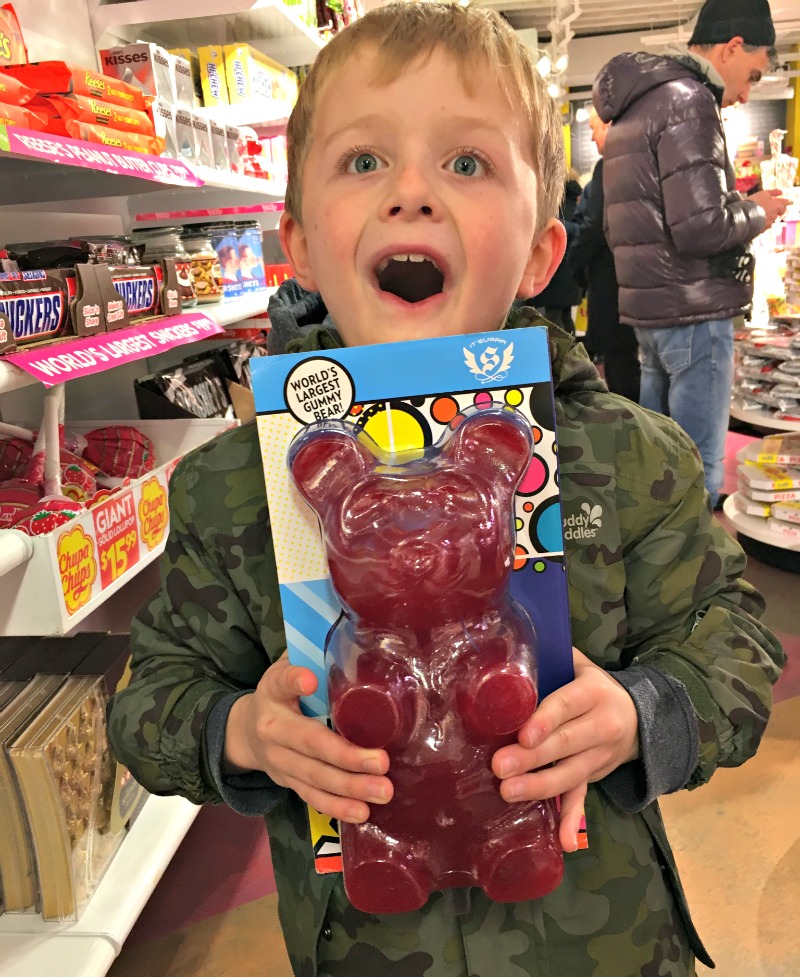 There are cool clothes and book shops, and a museum that was showing the Taylor Swift experience when we were there, and we spent a happy hour at Ambrose Beer and Lobster soaking up the atmosphere whilst munching on lobster grilled cheese.
But we were intent on saving our appetites, because we were off to the cinema, and we knew it would be no ordinary film night. For starters, when you walk into an iPic, you feel like you're entering an entertainment venue, not just a cinema. You're greeted at a reception, where you'll be directed to your venue for the evening, be it a cinema screen or the incredible-looking restaurant upstairs. Everything about the iPic screams classy – even the toilets feel like they belong in a top club, with spectacular lighting and facilities.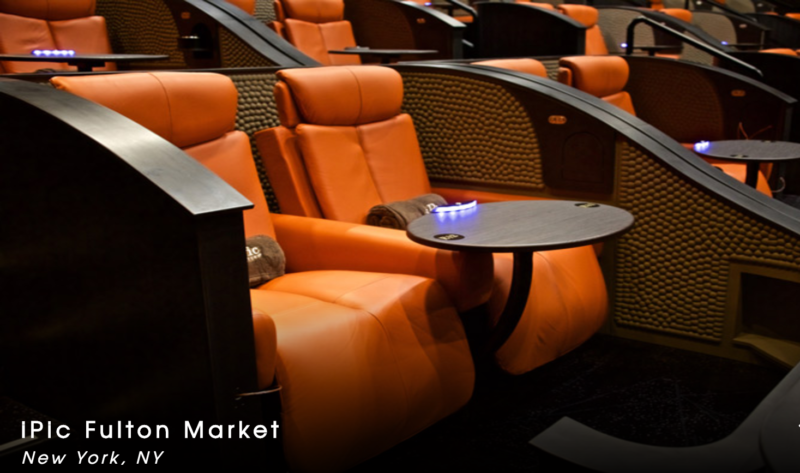 But we were headed to see Passengers, and our base for the night was this plush cinema. Once we were installed in super-comfy recliner seats, complete with pillows and blankets, we had a waiter with us in no time to take orders for drinks. And we're not talking oversized cups of Coke and Sprite. There was a full wine and beer list, plus plenty of cocktail choice, and I was busy sipping a very good Mojito before you could say relax. Next we perused a menu designed to be easy to eat in our seats – perfect screen food. We chose a selection of fried calamari, pulled pork sliders, and buttermilk chicken with maple bacon syrup and oh my god, it was amazing. All the menus at iPic are managed by the in-house chef, so it's not a surprise that the food is better than your average cinema fare. There's even gourmet popcorn and sweet treats served direct to your table.
Once the film began, my very British sense of protocol almost prevented me from calling a waiter for more consumables. However, pressing the little button on our table was just too easy, and the space around my seat meant that my request disturbed no one, so of course, a second cocktail was almost obligatory! As the movie ends, your bill for the evening arrives discreetly on your table, to pay at the end, just as you would in a top restaurant.
In the cab home my kids declared it the best film they'd ever seen. I suspect that had more to do with the ginger beer, the funky seats, and luxury of food to their seats than with Chris Pratt and Jennifer Lawrence's acting talents. Though it is a good movie. Just make sure you see it at the iPic!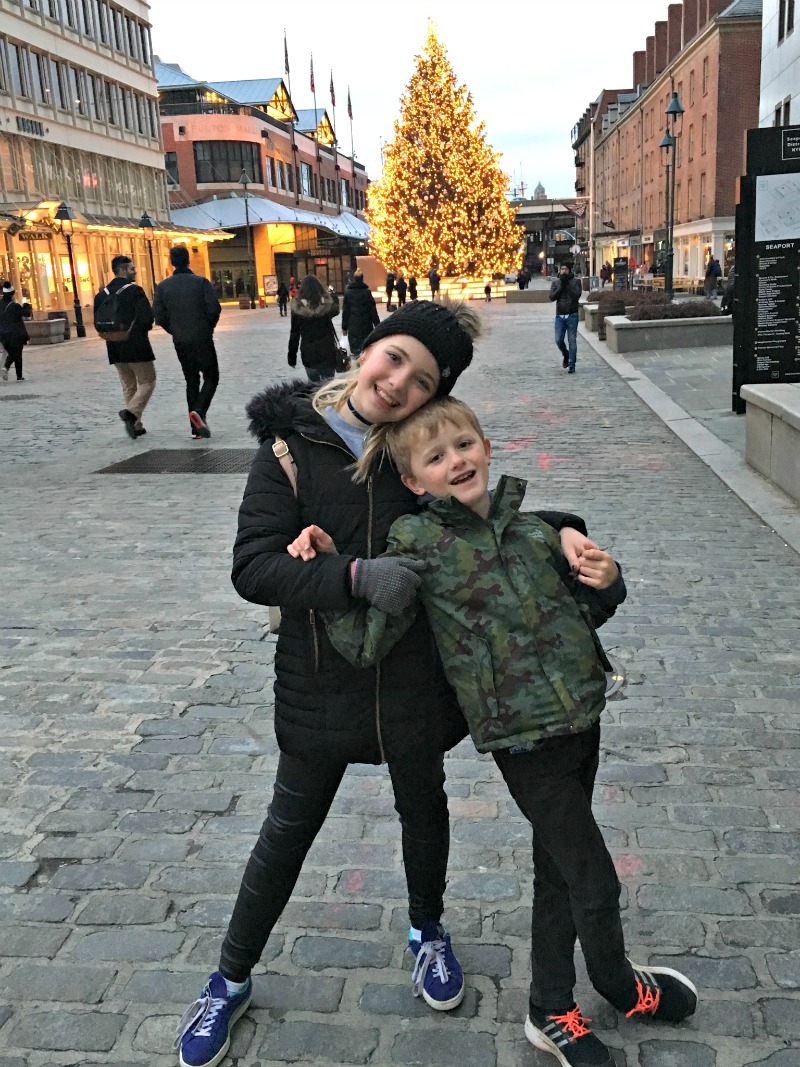 iPic Theater good to know
Thanks to the iPic Theater Fulton Street for our complimentary tickets for the purposes of review.
iPic Entertainment has 15 cinemas across the USA, where moviegoers can recline in oversized leather chairs with unlimited popcorn, pillows and blankets and be waited on by ninja-like servers who deliver signature dishes by acclaimed Chef Sherry Yard, three time James Beard Award winner and chef for Wolfgang Puck's empire for nearly 20 years, and signature cocktails.
The new theaters opening this year include Premium Plus Seating Pods that provide a new level of intimacy and technology in luxury movie watching comfort.
iPic also streamlines the entire guest experience through the iPic Theaters app that allows guests to purchase tickets and order food and drinks ahead of time via their smartphones.
Visit the iPic Theatre website for more details, or follow on Twitter or Instagram. Check out the Seaport District website for more on what to do on a visit to the area.