This post is indeed exactly what the title would imply – a review of our Center Parcs holiday at Elveden Forest, and some tips on how to make the most of a holiday at any of the Center Parcs resorts. However, I couldn't not also make it my Wot so Funee? post this week, due to the following image: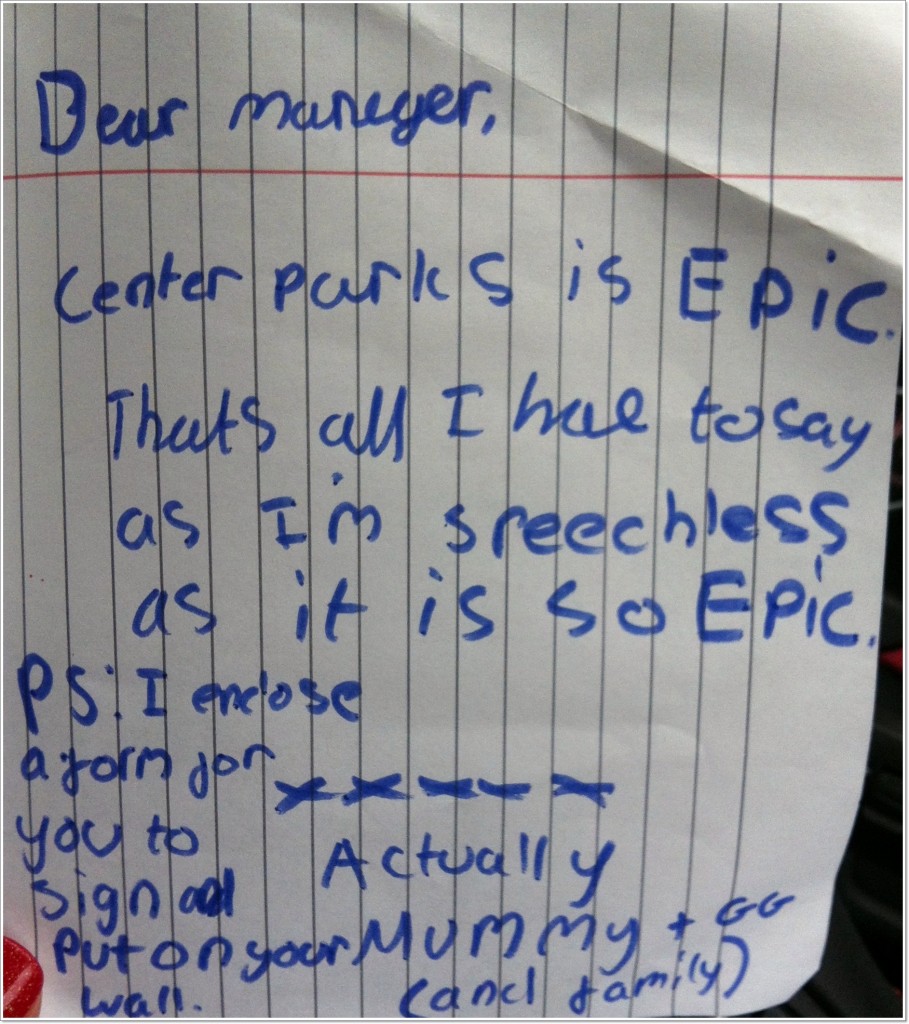 My daughter does actually do this; similar certificates have been presented to the Alex restaurant in Felixstowe, and a rather lovely villa we once stayed at in Corsica. However, the amusing aspect of this letter is that she wrote it in the car, on the way there. In fact, she was intending to be so impressed that she even made them a certificate of excellence to put on their wall, all before we actually arrived!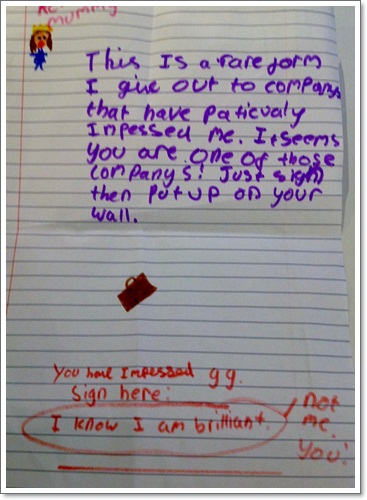 So, was she actually as impressed as she expected to be? This is our experience, along with our best tips on how to make the most of your own Center Parcs holiday:
Arrival at Center Parcs
Arrival and check-in at Center Parcs couldn't have been easier. The reception staff were lovely, and we didn't even need to leave the car to check in. But, this was because we knew that the process is made that much quicker by checking in online before arrival, so make sure you do that; it's easy, but be warned – they do require your bra size and your dental records to set you up. (I'm joking, but they do want a lot of detail about your party). The handing out of a pack of Haribo along with the keys made for a happy start in the back of the car.
Center Parcs bike hire
If you have your own bicycles and bike rack, it's worth the hassle of taking them, because it will save you a fair amount, and means you don't have to faff around at the cycle center when what you really want is to pop a cork and settle in. That said, picking up our pre-ordered and pre-paid bikes was easy, and the guys at the center  couldn't have been more helpful. We changed our minds about the Bug's bike half way through the process, and again after our first journey became so stressful that we decided to avoid the whole issue and put him on a tagalong instead. (If you have a reluctant or newbie cycler, a tagalong is a good idea, as you're likely to do quite a lot of cycling while you're on the parcs).
We also had words over who was going to carry the wine in which we'd rashly invested during our trip to the village square, and went back to swap one bike for an equivalent with a baby trailer – for the shopping! There was no smirking from the hire staff, and no impatience at my bike-related ill-humour, just a happy exchange and an invite to return in the morning if we still weren't satisfied. All I can say is they must have seen a fair bit of familial disharmony and are well-used to keeping cheerful and polite in the face of stress! Take my tip, and stock up on whatever you plan to eat or drink in your lodge before you arrive.
Costs (Correct for 2013 season):
Adult bikes – £25 each
Children's bikes – £18 each
Trailers – £25 each
Tagalong – £42 each
What to pack, and what to buy at Center Parcs
We had a welcome pack on arrival, and I would definitely recommend ordering this, just to make life easier on your first night. Often we drag all sorts of guff with us on holiday only to find that what we take is not what we need when we get there. This pack was great. It contained loo roll, tea bags, instant coffee, milk, squash, fruit, Pepsi, jam, marmalade, eggs, chocolate biscuits, bacon, sausages, butter, bread, brown sauce, ketchup, olive oil, dishwasher tablets, washing up liquid, a multipack of kids cereal, wine, crisps and chocolates! Everything we needed for our first night and a fry-up breakfast. Cost £49 – there are lots of options so pick the one that suits you best. The only thing missing was salt and pepper, so take your own. Some other recommendations would be:
Take something for a family meal on your first evening. Our holiday friends had pizzas with them, but we hadn't thought ahead. There is the option to order a takeaway pizza/indian/chinese, but the time delay between ordering and getting it to us on a Friday night was far too long, so if you're going with this option, it pays to order in advance, and they do have this facility.
Take as much wine and beer as you think you'll need. The supermarket on site has pretty much everything you could want, but it is expensive, plus you won't have your car to ship everything back to your accommodation. A case of wine does nothing for your balance when it's hanging off your bicycle handlebars!
If you plan to barbeque – and you should, the brick-built BBQ's are clean, and a good size – you'll need either coals or trays. Again, it pays to take your own, though you can buy them on site. The same is not true of the lovely log fireplace in the Woodland Lodges – you're only allowed to burn the logs on sale in the supermarket. Take matches! And you absolutely MUST buy the bags of oversized marshmallows they sell too – a complete hit with the children.
Take some friends with you too. Ours were in our NCT class, and we hadn't seen them all since they moved away several years ago. But with similarly aged kids and a vague recollection of having got on quite well during the gritty-eyed days of early parenthood, we decided it could be fun to go together. We weren't wrong; the children immediately occupied each other with a DVD (take some with you, there's a good TV and DVD player in the Woodland Lodges), whilst the adults downed fizz, then white, then red, oblivious to the stern shushing of our offspring when they couldn't hear Willy Wonka miniaturizing Mike TV.
The beds at Center Parcs
We do a lot of mobile home holidays and we've come to expect that the beds are pretty basic. Functional, but you go home with stiff hips. Not so the beds on a Centre Parcs holiday. These are really comfy. Our friends said it was the best nights sleep in ages, and I didn't have to turf Actually Daddy out onto the sofa, which is high recommendation given that we're used to sleeping in the bed equivalent of ambrosia at home (don't ask, it's super-king, super-soft, super-prettymucheverything)! Parents of bedwetters will also be glad to know that the mattresses have a waterproof sheet over them (the decent kind that doesn't rustle or get sweaty), and that housekeeping couldn't be more delightful about requests for a sheet exchange.
Which Center Parcs activities to choose?
Where activities are concerned, do your research and book before you go. There is so much to do on a Center Parcs holiday, and the children really weren't ready to come home when we did. I'm told that it's difficult to find a free slot sometimes in peak season, so it's well worth booking in advance, which you can do easily online. Another good reason for doing this is that if you are with a party of families staying in separate lodges, you all know where to be, and when. Which is handy (see communication, below). My advice is to try something new – we booked Geocaching, and we're now completely hooked! At £16 for a team of 4, we thought this was good value, although our friends' younger children struggled with the walking, so it's probably best for children aged 6 and over. Read this post for more personal experiences of other Center Parcs activities.
I wasn't sure what to expect of this "real-world outdoor treasure hunt," but armed with my latte from the lakeside Starbucks I was ready to be convinced. I left the GPS management with Actually Daddy, but it wasn't long before GG had firmly taken over and had us marching along, counting down the metres to our next geocache (a hidden container housing part of a combination padlock code). About halfway round, the Bug began to complain of sore feet, but quickly forgot them once he had the GPS in his mitts.
And so we scoured the park. This in itself was a useful activity – the park layout at Elveden is not at all intuitive, and we were finding it difficult to get our bearings. Once we had walked 5km I can tell you we pretty much  knew our way around! Being the competitive folk they are, my family nailed the code in less than 90 minutes and practically sprinted back to the start to see if we were in time for a winning stash. What better way to make your kids (not to mention a husband who has been quoted as saying he'll only go for a walk if there's a pub at the end of it) rack up a few miles and work up an appetite for dinner?!
Where to eat at Center Parcs
Again, this is something that you'll want to book in advance if you need to know when you're going to be eating. We chose Hucks, and it was a great choice for families. Again, the staff were excellent, the food was good, and when the kids got bored with adults who lingered too long over food and wine, there was soft-play and a bank of iMacs to keep them occupied! There's even microwave, bottle-warmer and choice of baby food for those who need it.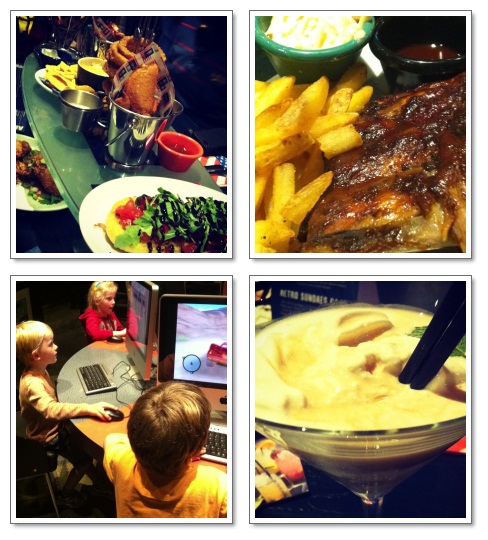 The adults shared a platter of different starters  which arrived looking very impressive, and didn't disappoint, while 3 of the children chose the kids buffet, and went off to help themselves. I was impressed that as an alternative, children were able to order half portions of anything on the menu, which was extensive. Mine know what they like, and ordered a rib-eye steak and pork ribs respectively. Every bit as good as the adult versions, my only slight complaint is that they didn't arrive with our starters, so while everyone else ate, my kids turned grumpy. That said, once we'd asked our waiter to speed them up, they arrived within minutes – more great service. A Toblerone dessert cocktail – don't ask – topped the evening off perfectly and we rolled home to bed!
Aqua Sana spa at Center Parcs
This you do not want to miss! I could write a whole post about what a lush afternoon I spent here, but I will leave it to the slides below (click to move forward) to give you a flavour of just why you should take advantage of this tiny piece of heaven.
Having attended a couple of obligatory spa days on the odd hen-night I was expecting to be back with the boys, who were playing 10-pin bowling with the kids, within the hour. I eventually found them 3 hours later, having reluctantly left my water-bed snooze and heavenly scented steam room behind. This is no kidney-shaped pool-plus-hot-tub-and-sauna combo. This is a stunning place, with beds in the garden, 7 different steam/relaxation rooms (try the Japanese salt steam bath – the best smell I've ever experienced!) and a pool with myriad different ways of massaging your muscles. I couldn't stop myself from Instagramming, though it's quite possible myself and Alison were the first visitors to tweet from the steam room!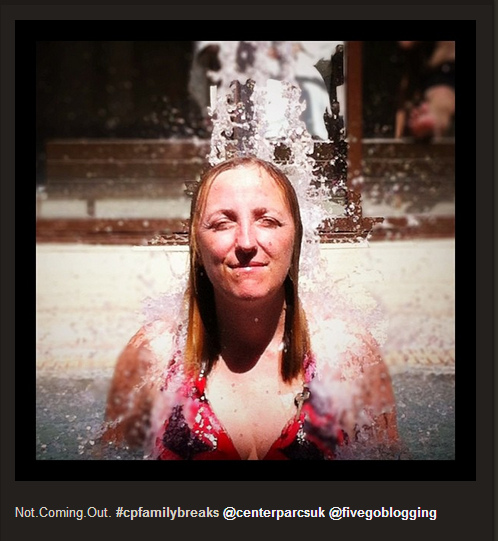 If I had one recommendation for the team at Aqua Sana, it would be to stick some kind of timer on the water-beds. Most of them were occupied by the same people the whole time we were there – fast asleep! At £42 for 3 hours I thought this was good value, and far better than my 20 minute massage which cost £44!
Center Parcs swimming pool complex
So much to talk about here, so I'll limit it to some practical recommendations, and let you discover for yourself:
Bring beach towels; you can hire towels at the pool, but they are £2 each so if you can fit them in bring your own.
You'll need a £1 coin for the lockers.
Do take a waterproof pack with some cash or a card through to the pool area as there are cafés where you can buy food and drinks.
Buoyancy jackets are provided free of charge, so you won't need to take your own, though they do allow some inflatables, and sell them at the pool-side.
The Tropical Cyclone (new in 2013) has quite long queues so pick your times carefully. We found that first thing in the morning, and towards the end of the afternoon was the best time to try it. GG loved it, but actually preferred the outdoor Rapids.
Finally a few more pointers you won't have thought of:
Bugs and stings: take insect repellent. The beauty of being in a woodland lodge is BBQ dinners on the patio while the children roam through the trees building dens. The downside is there are lots of mozzies around, and plentiful nettles. Take long trousers and sleeves, then you won't have to feel inadequate that your friend knows how to plait grass, and your daughter is innovative enough to use it for tying on dock leaf armour!
Things that go bump in the night: Peaceful as it is, it's safe to say that nature gets a bit noisy in the early hours of the morning. I got up several times to help the children find their way back to bed after I'd heard them running to the bathroom, only to find them fast asleep in their beds. Confused, I peered out into the early dawn light, just in time to spot a small deer scarpering off into the woods. I listened to his mate crow yell his good mornings to the rest of the forest, and then dozed off again, awaking finally to what sounded like a bunch of squirrels chucking their nuts at the skylight. Still you can't complain when you surface to a view like this – just take earplugs:
Communication: in your accommodation you will find notifications telling you what numbers to phone for housekeeping/takeaways/in an emergency. The only problem is that there isn't a phone, and you're unlikely to get reception on your smartphone. Much as my enforced internet down-time undoubtedly contributed to our relaxing weekend, I did get fidgety fingers and 329 emails on my return home, so for me, this is something that needs improving. (UPDATE: Wifi is now in all lodges at Elveden Forest as of 2015).
Chill out: on the plus side, lack of wifi makes unwinding here a total dream. In fact, given how much there is to do on a Center Parcs holiday, it's tempting to fill your days with activities, but I can't stress how important it is just to take time to be around your lodge. What could be better than a sausage butty while your children make camp?
Our Center Parcs holiday: the verdict.
So, did our Center Parcs holiday live up to GG's expectations? Well, she carefully folded up her paperwork and addressed it to the general manager before she reluctantly climbed into the car for the homeward journey, so that would be a yes. From my own point of view, we had a lovely weekend: discovering new activities that we will continue with now we're home, hanging out with friends, enjoying the peace and beauty of the forest. Parts of the development are a bit tired, but there are improvement works going on, and it was clean and safe – in fact the pool complex was the cleanest public pool facility I've seen.
The overwhelming plus of Elveden Forest is without doubt the staff, and levels of service. I can honestly say that they all seemed delighted to help us with anything we asked about, and were generally cheerful, even the lifeguards seemed happy. I've worked as a lifeguard, and for me it's the most soul-destroyingly dull job in the world! Having worked in a service industry, I know how difficult consistently good service is to achieve, so I was impressed. Whatever their secret is, I wish they'd share it with the rest of the UK's service sector!
So, General Manager of Center Parcs Elveden Forest, back to that certificate we gave you. Is it on your wall yet…? 😉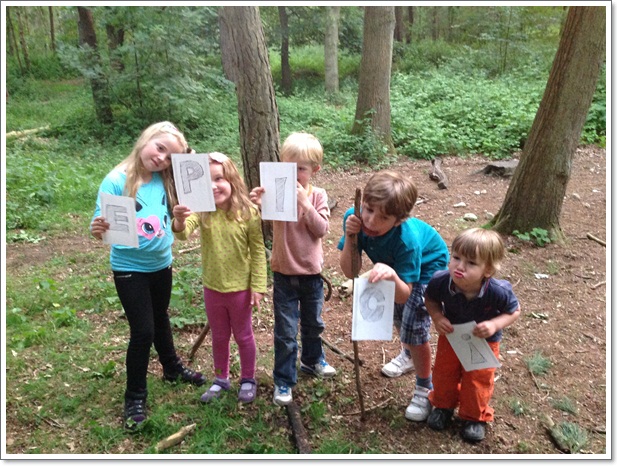 *Disclosure: our stay at Center Parcs was complimentary, for the purpose of review. All opinions and editorial copy are my own.
THANK YOU FOR READING
If you've enjoyed this post and found it useful here are some ways you can say thanks and support Actually Mummy:
Click here to buy me a virtual coffee.
Join our Teenage Kicks Facebook group which includes lots of advice and support for parents of teenagers. You can post your own problems and advice here too.
Click here to leave a review of the Teenage Kicks podcast.
Click here to sign up to our newsletter packed with tips, ideas and support for parents of teens.
Share this post with your friends.
More on getting the most out of a Center Parcs stay
Pin for later