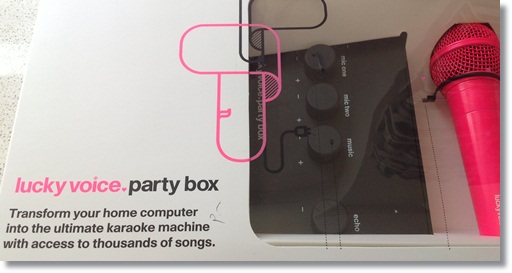 Did you read that? What it says on the box? Oh, yes! Mummy is never going to get access to her laptop ever again! 
Because this karaoke party kit arrived last week from Lucky Voice, and now I've got the hang of it, I'm planning to exercise my vocal chords every opportunity I get. Lucky Voice have a chain of upmarket Karaoke bars across the country, but this is the first time they have ventured into our homes online. My Mum is rubbish with technology, so she had a bit of a faff trying to set the party kit up, but once it was done, we were able to log into an online karaoke account (cost £6.99 per month, or you can buy a 48 hour Party Pass for a one-off £9.99) and sing from the lyrics on the computer. You'll see the practice sessions at the beginning of the video below – be warned, my Mum is an average singer, and Daddy likes really weird songs!
Now, coincidentally, Money Supermarket also contacted us that week about their Big Night In competition. They gave us £50 to spend as we like, and prove that staying in is the new going out. Bring it on, thought Mummy, and we invited over 2 of my best friends, plus their Mums and Dads. The rest, as they say, is history – 8.26 minutes of it, to be precise, but stick with it, it gets funnier and dafter along the way…
Online Karaoke at home!

Now, the Lucky Voice karaoke party kit costs £49.95, and comes with a code for a free trial of the online song library, so you could just spend your £50 on this. As you can see in the video, you can have so much fun that nothing else is required. Mummy was celebrating winning a Brilliance in Blogging Award though, so there was champagne and wine from our friends, and we ordered in pizzas. You could also include in your spend an atrocious packet of Bertie Botts JellyBelly beans, which include flavours like vomit, rotten egg, and earthworm, just like the original beans in Harry Potter. Being a smart girl, I picked out all the best flavours and left the vomit and earwax out in a bowl overnight. Daddy has been known to steal our sweets when we're asleep, you see…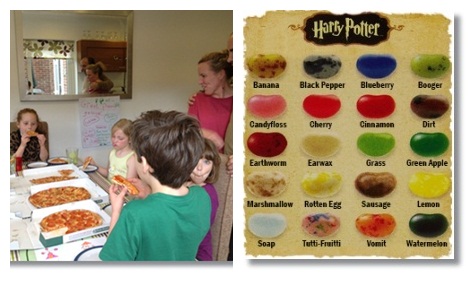 I think there will be many more nights in round our house, and I'm beginning to see that my "playdates" are more for the benefit of Mummy and her friends than they are for me. I've heard her practicing Celine Dion after lights out…
Now, if you have a few more moments to spare, here's the video inspiration for "Dave's" epic performance above: Midnight Train to Georgia, with Jack Black, Ben Stiller and Robert Downey Junior:
To see how other people have spent their Big Night In, go over to Annie's blog, who has linked to lots of them!