I know that's a sensationalist title, but I'm not kidding. I get approached by a lot of brands who want me to review their products, and I only pick the things I really like the sound of, or that I think will resonate with the people who read this blog. Let me tell you, when Bacofoil® asked me if I'd like to try their new bin liners, I think the reply I sent was one of the most excited responses to a brand approach I've ever composed (including the one where we were sent on an all-expenses paid ski holiday)! Here's why:
ADVERTISEMENT FEATURE
I was sent a roll of Bacofoil®'s Elasti-Fit® Bin Liners free of charge for the purposes of review, and I have been paid for my time in creating this post. All opinion, video content and imagery is my own.
5 ways Bacofoil® Elasti-Fit® Bin Liners will change your life
In my house, emptying the bin is a massive bone of contention. I loathe it so much that I've previously abandoned the task entirely and left it to my husband. He doesn't seem to mind, so we're all good, right? Well, not as much as you'd think. First, we argue about when it needs changing; I think it's full, he's got other things he'd rather do, so he reaches in, squashes everything down, creates a bit of space, and tells me it can wait. Until it looks full again, and so the cycle continues.
1. They actually fit!
The trouble is, the crushing manoeuvre generally means the liner slides down inside the bin. You know when you put a new liner into your bin, and you have to do that strange fiddle and twist thing with the top to make it stay in place? And then every time you add more than a yoghurt pot foil, the bin liner slips down into the depths of the bin, where it hides, sliding more and more gunk down its outsides until someone comes home with a stomach strong enough to retrieve it and twist it back on again? (Yeah, not my job.) The Bacofoil® Elasti-Fit® Bin Liners have an elasticated top, which means they fit any bin (make sure you get the right size – they come in 30L and 50L) snugly, and don't dislodge when you add rubbish. I mean, elastic – it's so simple I can't believe no one has thought of it before!
Take a look at my video to see the Bacofoil® Elasti-Fit® Bin Liners in action:
2. The tops don't break easily
All my husband's pushing and crushing also stretches the bin liner, so that when he does eventually drag it out of the bin, it splits at the top, and we end up either with rubbish all over the floor, or a bag that we can't tie up, because the top is missing. If you've ever found yourself at midnight before bin day tipping the contents of one bin liner into another fresh one, you'll know exactly where I'm going with this, and the kind of arguments we have because of it. The Elasti-Fit® Bin Liners are ultra durable and tear resistant, so even with my husband's crushing, they don't break when we pull them out of the bin. Which makes bin night language a lot less feisty in our house!
3. They don't leak
There's one job that's even worse than changing the bin liner, in my opinion. Cleaning. The. Bin. There's only one thing I hate more, and that's scrubbing limescale out of the toilet rim (I KNOW my life is all glamour). What even is all that slime that accumulates at the bottom, and how does it get there? Unless you put nothing but cotton wool into your bin, most bin liners leak, in my experience. Bacofoil® Elasti-Fit® Bin Liners don't, thanks to a triple layer of thickness that keeps it all well and truly in place.
4. They don't split
Right, this might just be me (or more to the point, Jason) but we get through a fair amount of crockery in our house. Something about the cupboards being too narrow, or the tap being in just the wrong place for how the cup was being held at that moment in time… Anyway, I've never known what to do with broken crockery (can you recycle it – does anyone know?), so it goes in the bin. Even without that though, a full bin liner gets heavy, and we've had many moments when lifting ours out results in a split bottom, and a mini-landfill mountain on the kitchen floor. Bacofoil® Elasti-Fit® Bin Liners have their seams down the sides, rather than across the bottom, so the weight isn't pressing against a bottom seam. More genius.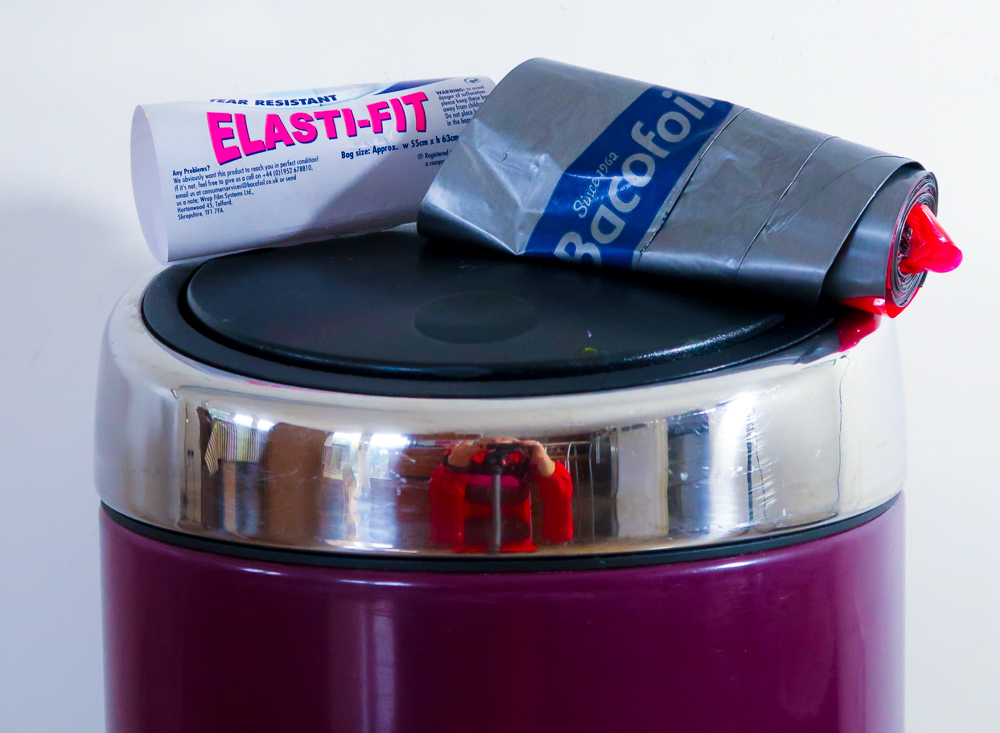 5. They're easy to seal and carry
As well as the elasticated top (have I mentioned how awesome that is?) the drawstring at the top of the bin liner is really strong, so tying up the bag and carrying it outside is a doddle. No drips, no splits, no tears, no stretching, no fingers covered in questionable germ colonies. There is nothing I don't love about this bin liner. It's almost as good as a ski holiday!
Good to know: