Are you struggling as parents to hang onto quality time now your children are teenagers? If so you're not alone. A straw poll of my friends and parenting groups tells me that our ongoing battle to make our teenagers hang out with us is a pretty common one.
Where once they begged to be allowed to stay up past 8pm for movie night, we're now lucky to get 20 minutes of a Netflix show before they're off to their rooms to do much more important things by themselves, or online with their friends.
I don't blame them – I know I would have been the same. But what if there was a way to end the weekly argument over what to watch, and get your teens to spend a bit more time on the sofa with their mum and dad? I've canvassed all the mum friends I know for what they're watching, and compiled a list of the best TV shows to watch with teens.
TV shows to watch with teens
I've added the ratings according the platform, and included ratings from Common Sense Media where they have it. If you're not sure of a show's suitability for your child, check CSM out first. I've found they usually err on the side of caution, and reviewers will tell you exactly what to expect so you can decide if it's right for your family.
If you don't have a subscription to Amazon Prime you can sign up for a 30 day free trial using my affiliate link. And if you're looking for the perfect night in with teens you'll need pizza! Check out our Roccbox pizza oven review to see how easy it is to create the best pizzas you've ever had – even more to tempt the teenagers with.
Post contains affiliate links. 
Family TV shows to watch with  teens and tweens
The Middle
Prime 7+ | Common Sense Media 12+
American sitcom about a middle class family living in Indiana. Parents will identify with a story of facing the day-to-day struggles of home life, work, and raising children.
Wanda Vision
Disney + | Common Sense Media 11+
Fans of the MCU will love WandaVision. This spin-off TV series focuses on Wanda and Vision as they live out their lives in Westview. But there's something not quite true-to-life about their set-up, as the original Marvel characters slowly begin to discover.
We're currently so hooked on WandaVision that we're not even waiting for the series to end so we can binge watch. Friday nights are WandaVision nights for the foreseeable future.
Modern Family
Netflix 12+ | Common Sense Media 13+
Modern Family is another US sitcom featuring the adventures of three families. as they juggle modern life in Los Angeles. The characters are irresistible and very lovable – you'll be hooked before you know it
The Good Place
Netflix 15+ | Common Sense Media 12+
Silly, funny, no swearing (you can't swear in 'Heaven') and some very clever story twists. The Good Place can make one very self-reflective, and makes it one of the top TV shows to watch with teens.
Once Upon a Time
Netflix 12+ | Common Sense Media 12+
A young woman is drawn to a small town where she discovers that she's part of a fairy tale maze. The daughter of Snow White and Prince Charming gets drawn into saving the town from a wicked curse.
Superstore
Netflix 12+ | Common Sense Media 14+
A workplace comedy starring Ugly Betty's America Ferrera , Superstore follows a group of employees working at "Cloud 9", similar to the American chain Target. From awkward staff meetings to shop floor antics with customers, we quickly get attached to the characters as the storyline develops.
Although Superstore gets points for diversity, race and class references, Common Sense media warns that there is lots of sexual humour, hence the higher age rating.
Two Doors Down
Prime 12+ 
I had Two Doors Down described to me as a Scottish version of Friday Night Dinner. Wikipedia has this to say about the BBC sitcom that's now filming its 5th series:
Two Doors Down focuses on neighbours living side by side in a typical Glasgow suburb. BBC Scotland describes the characters as "not so happily living together" – the neighbours are constantly visiting uninvited, and overstaying their welcome, at Beth and Eric Baird's house. Beth is often taken advantage of by her neighbours, frequently having to make tea, pour drinks and prepare food, while the remaining characters chat in the living room. Eric and Beth therefore try and avoid their neighbours as much as possible so they can enjoy some peace and quiet in their own home.
I'm going to get mind to give it a go once they've made up their minds about Schitt's Creek.
Anne With an E
Netflix 12+ | Common Sense Media 12+
I remember watching Anne of Green Gables as a child myself and loving it (yes that's how old I am)! Anne with an E is based on the original premise of an orphan girl being sent to the country, where she takes on all the challenges you'd expect – not fitting in at school, bullying and letting the world know that girls can do anything boys can.
Outnumbered
Netflix 12+ | Common Sense Media 14+
Another one that doesn't ever seem to age, Outnumbered follows the lives of a family of 5 with 3 very quirky kids and 2 world-weary parents. Ours watched this from as young as 9 and found it hilarious. We're currently debating whether to go again for a second time. Like I said, it never ages.
Brooklyn 99
Netflix 12+ | Common Sense Media 14+
I must admit that both my kids have watched this without me, but I know they were addicted to the point of needing to find time immediately a new episode landed. They watched much of it together and it frequently became the topic of conversation between them – #bonding.
I've had it recommended to me by several parents though so I'm including it here as an easy watch. The show follows the lives of detectives in Brooklyn both crime-fighting and co-existing in the workplace. It's been applauded for showcasing good gender equality and positive role models for race and sexuality, so it's a good one to start conversations with your teens.
Lost in Space
Netflix 12+ | Common Sense Media 11+
For fans of sci-fi this looks fantastic. I've watched the trailer and already I know that my Star Wars loving family will all be hooked pretty quickly. A family crash lands on an alien planet and fight against the odds to survive and escape. There are two seasons, with another due to land soon, so this will keep us going for a while.
Life in Pieces (Amazon Prime)
Prime 12+ | Common Sense Media 14+
This American sitcom chronicles the lives of three generations of the Short family as they go about their daily lives in Los Angeles County. Each episode is told as four short stories, each told from a different point of view. It's a good cast with Colin Hanks (son of Tom), James Brolin and Diane Wiest. Each episode lasts 20 minutes and the funny, offbeat stories mean it's an easy watch when you have half a slice of pizza to finish and antsy teenagers who want to get back to their friends/games/whatever else they'd rather be doing without their parents.
Most of the action discusses common family dilemmas, so this is a good one to provoke conversations around bodily functions (ahem), sex, prostitution, and more with less embarrassment than if you tried to do it across the kitchen table. Not one for squeamish tween boys!
Friends
Netflix 12+ | Common Sense Media 14+
I don't think Friends needs any introduction and it's just as good watching it second time round with your teens as it was originally. It has aged a little, in that some of the scenarios and jokes are less socially acceptable than they were twenty years ago – and with good reason. But that makes for interesting discussion points with your kids, and ours found it as amusing and addictive as we did.
TV shows to watch with Teenagers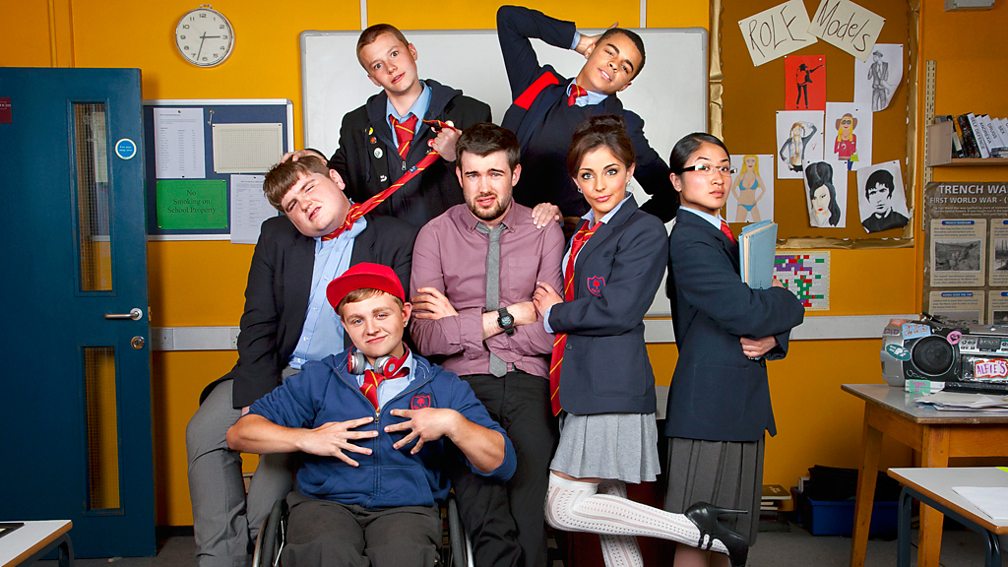 In addition to the ideas below, there's also a list of TV shows to help you talk about racial injustice with your teens here. 
Schitt's Creek
Netflix 15+ | Common Sense Media 14+
I've heard SO many good things about Schitt's Creek. It's never easy for me to get the whole family signed up to a TV series, and this one is more difficult than most. A rich family lose everything in bankruptcy, except for a small town that they now have to call home. It's witty but dry as humour goes, so if sarcasm runs in your family you will probably love it.
Universally people seem to agree that the first four episodes are actually Schitt, so I've arm-twisted my clan into at least those. After that – I'm told – it gets addictive and hilarious. I'll let you know…
Stranger Things
Netflix 15+ | Common Sense Media 13+
When a young boy goes missing his family and friends set out to find out where he is. They uncover an underworld of the supernatural as they work to bring him back home.
It's interesting how the age ratings vary here. My 16 year-old daughter won't watch it because she doesn't like horror. My son who's 13 isn't phased by the gore because he says it's so unbelievable he doesn't dwell on the possibility. Whilst I love it, it does leave me with crawly skin for a while after I've watched it! I guess it depends on your child.
Gotham
Netflix 15+ | Common Sense Media 14+
Batman's backstory. After Bruce Wayne's parents are killed, the detective on the case starts to uncover Gotham City's dark side. Great for all families who love the DC movies.
Parks and Recreation
Netflix 15+ | Common Sense Media 13+
Who comes up with the ideas for TV shows?? This one is inconceivable but hilarious. A local government department of – wait for it – parks and recreation – attempts to restore a playground, but they can't agree on anything. Goofy comedy.
Shadow Hunters
Netflix 15+ 
This fantasy thriller starts with a typical teenager, but twists as she discovers that she's part of a race of humans who hunt demons. A supernatural thriller based on the book series The Mortal Instruments by Cassandra Clare.
The Big Bang Theory
Netflix 15+ | Common Sense Media 14+
The Big Bang Theory is a sitcom featuring the hilarious happenings of four socially awkward scientists and and their gorgeous neighbour Penny – who's way out of their league. The series is one of very few to successfully introduce new characters (girlfriends!), who become as loveable as the original gang.
The Chilling Tales of Sabrina
Netflix 15+ 
Teenagers who didn't love the original series might find this one a bit cheesy, but it's still an easy watch with family. I'd challenge a lot of Dads to be happy watching it for too long though, so this might be one for the teens to binge-watch by themselves.
Friday Night Dinner
Netflix 15+ | Common Sense Media 15+
A sitcom about a family whose grown up children come home every Friday night for a traditional dinner. Cringeworthy but priceless humour.
Gavin and Stacey
Prime 15+ | Common Sense Media 16+
A similar sense of humour to Friday Night Dinner, but I'm going to agree with Common Sense Media that it's for slightly older teens due to the sex scenes. The action follows the romance between Gavin and Stacey, and their extended families, with genius comedy moments from Uncle Bryn and Gavin's mum Pam (Alison Steadman).
Bad Education
Netflix 15+ | Common Sense Media 17+
Another one that both my teenagers watched without me, before I'd even heard of it. Actually I got it confused with Sex Education – which, by the way, I think all teenagers over the age of 15 should be compelled to watch. Just not with anyone else in the room!
Bad Education is a British secondary school comedy that's all about the inappropriate. Think Grange Hill but for grown ups. I do think the CSM rating is a bit prudish though. There is a lot of bad language and all the sex references, but kids aged 15 have heard it all before, whether we like it or not, and at least the show provides plenty of discussion points.
Derry Girls
Netflix 15+ | Common Sense Media 15+
Another high school comedy, this one is set in Northern Ireland in the 1990s, against a backdrop of the IRA conflict. Some standout comedy lines and the frustrations of growing up that teenagers and parents will be able to relate to.
Cobra Kai
Netflix 15+ | Common Sense Media 15+
Sequel to the Karate Kid films, with two of the original stars, Cobra Kai is gritty but showcases the value of perseverance and showing up to do the work to get where you want to be in life.
How I Met Your Mother
Netflix 15+ | Common Sense Media 14+
Another US sitcom in a similar vein, but this time focusing on a group of twenty-something friends living in New York. If it sounds a lot like Friends, it is, but it's a lot more irreverent. We watched it with a 16 and 13 year old and I did wince a little at some of the sexual references. My youngest assured me, however, that he'd heard it all before, and found the whole thing highly entertaining.
The Crown 
Netflix 15+ | Common Sense Media 15+
Just joyful to watch and a complete revelation to me (if you take some of it with a pinch of salt). Teenagers who've enjoyed Downton Abbey will also love The Crown, and it has the benefit of teaching them just a little about the Monarchy and Britain's history. The makers have been very keen to stress that The Crown is a work of fiction based on real events though, so it's definitely worth reminding your teen of that when they start researching conspiracy theories!
Not Going Out
iPlayer 15+ | Common Sense Media 14+
Sitcom following British comedian Lee Mack's fictional character as he attempts to make something of his life, particularly his efforts to gain a girlfriend.
Father Ted
All 4 15+ | Common Sense Media 16+
An award-winning Irish sitcom that pokes fun at Catholicism through alcoholic priests and nuns. Sex, smoking and swearing are not off-limits, but if your teen is old enough to know about these then this one is fun to watch as a family.
Blackadder
iPlayer 15+ 
One of the very few from parents' own teenage viewing that still works with today's teens – provided they have a quirky sense of humour. Very clever, and an insight for your teenager into what mum and dad find funny.
This is Us
Prime 15+ | Common Sense Media 14+
Personally I could watch This is Us all day every day. The series (now in season 5) is based on one family's lives told through the eyes of the main couple and their triplets, one of whom is adopted (it makes sense when you watch it).
I hadn't considered it as a show for teens, but if your family loves a drama, and is old enough to cope with flashbacks and future glimpses I totally recommend it. It explores relationships, growing up and parenting in such a beautiful way.
Afterlife
Prime 15+ | Horror
We haven't started this yet, but have had it recommended. The story centres around a young girl who has  woken up to find her body being prepared for her funeral after a car accident. Christina Ricci is the star, with Liam Neeson as the funeral director who claims he can talk to the dead.
Both my kids hate horror but love Mr Neeson so I'm guessing they will stick with me on this one for a good few episodes. Which us a chance of getting in deep enough to see it through!
Outer Banks
Netflix 15+ | Common Sense Media 15+
Outer Banks came to Netflix in 2020 and a second season is planned. A group of working-class teenagers on an island of rich versus poor embark on a mission to find out what happened when one of their dads went missing with a vast fortune.
The Night Manager
Prime 15+ | Common Sense Media 15+
Based on John Le Carres novel of the same name, this is a drama thriller as the main character tracks a notorious arms dealer.
Black Mirror
Netflix 18+ | Common Sense Media 17+
A British sci-fi thriller that looks like an ominously possible version of our near-future. Definitely one to watch with older teens or young adults, and not one if your teenager (or you!) suffers from anxiety.
And if you've exhausted this list and haven't watched all of the Marvel films yet I'd say this is your best bet for keeping your teens on the sofa with you at the weekend. The only argument you'll get from them is what order to watch them all in! (We almost came to blows over it).
How can I get my teenager to be more active after all this TV?
I really hope this list helps you find something to keep your teenager on the sofa with you at least one evening a week! If you manage that, and you're keen for them to nurture their brains or their bodies without TV and online games next, have a look at this list of activities for bored teenagers.
THANK YOU FOR READING
If you've enjoyed this post and found it useful here are some ways you can say thanks and support Actually Mummy:
Click here to buy me a virtual coffee.
Join our Teenage Kicks Facebook group which includes lots of advice and support for parents of teenagers. You can post your own problems and advice here too.
Click here to leave a review of the Teenage Kicks podcast.
Click here to sign up to our newsletter packed with tips, ideas and support for parents of teens.
Share this post with your friends.
You might also like these Netflix hacks while you're bingeing box sets!