I have good news, and really good news. The good news is, it's officially Waffle Day today. There is a day for pretty much everything now, including puppy day (who knew, but what an awesome idea)! Sandwich puppy day into the same week as waffle day, and I'm thinking you have pretty much the perfect week, right there? And the really good news? You can make the best waffles you'll ever taste, in your own home, in five minutes flat.
Happy Waffle Day!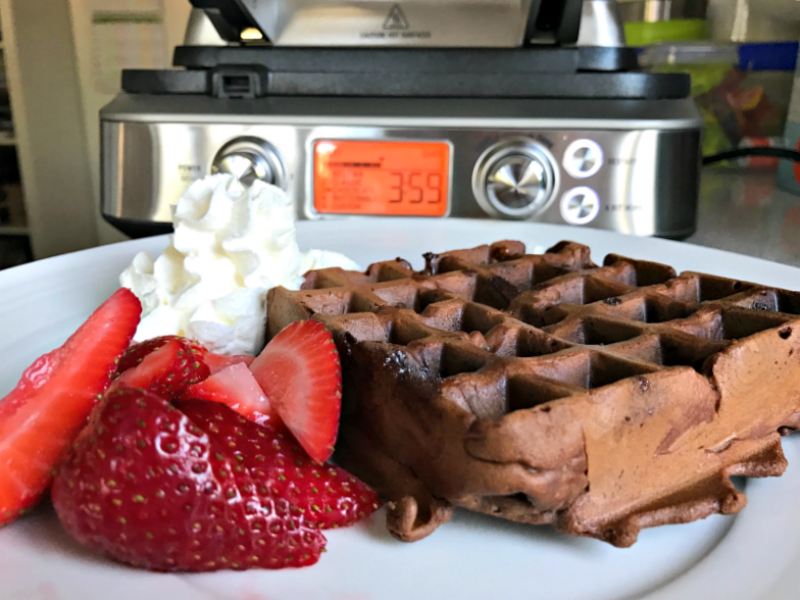 The secret is the Sage Smart Waffle. I've wanted one of these ever since I saw my friend Tanya reviewing it a couple of years ago. This week, Sage finally made my kids dreams come true by asking me to review the Smart Waffle machine, and as today is waffle day, I wasted no time in putting it through its paces.
Sage Smart Waffle Maker Review
The first thing to note is that it is EASY! I'll admit I was nervous. We have a super busy day today, and I needed to cook, photograph, and write about a new piece of kitchen equipment all before 11am. So I set my alarm and got up early to become domestic goddess. As I leafed through the Smart Waffle instructions, it quickly became apparent that this was going to be a doddle. In fact, just plugging in the machine told me everything I needed to know.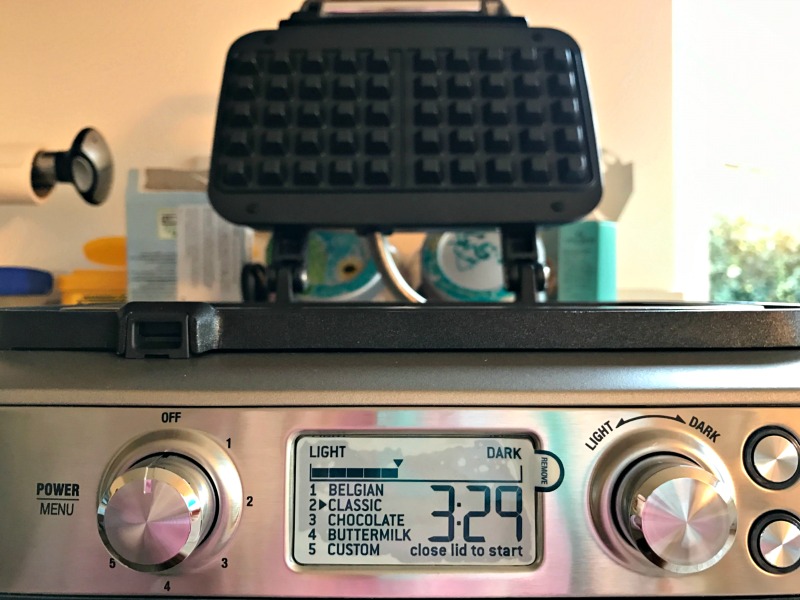 Basically, you switch on the Smart Waffle, select a programme (I chose chocolate) and turn the dial to determine how light, golden, or dark the waffle comes out. You can then choose from one of the starter recipes that Sage give you in the handbook – which I recommend for your first few goes – and get cooking!
Chocolate chip waffles
I followed the instructions for the chocolate waffles, adding 120g of white chocolate chips to my mix as a surprise for the kids. I'm always apprehensive when I make additions to recipes, but this worked perfectly, and I had light, fluffy, and oh so thick waffles, dotted with chunks of white chocolate. Perfect to serve with strawberries and cream. So successful was my first attempt at waffles, I will certainly venture into the realms of adding blueberries to a basic mix, or even peanut butter! Tanya went so far as to make her own cherry kirsch sauce, and I'm betting the Sage waffles would make an incredible dinner party dessert.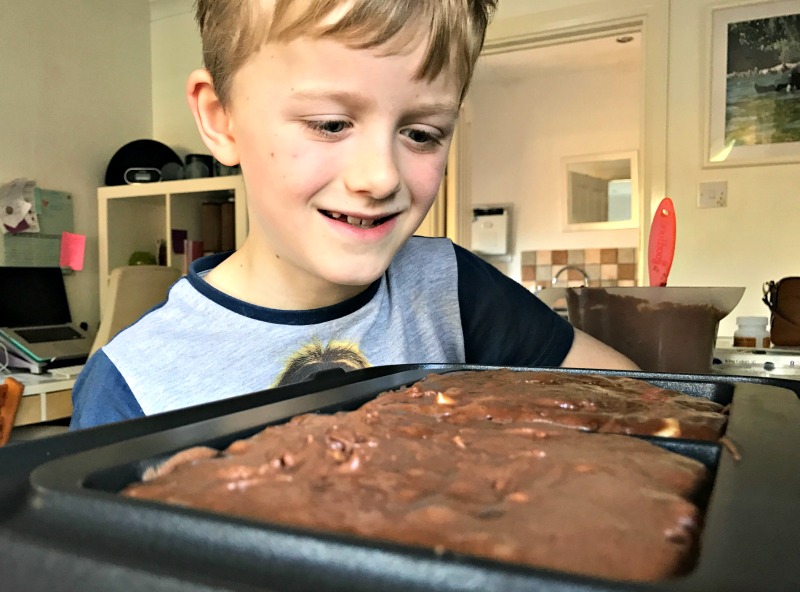 The Smart Waffle takes your settings, and calculates the right amount of time and temperature to cook the perfect waffle each time, resulting in a waffle that's crisp on the outside, with just the right amount of chewy and light on the inside. Hence the 'smart.' It took about 10 minutes for me to make the mix, and just five to cook two big fat fluffy waffles, so I had breakfast on the table for the whole family in twenty minutes, with time to spare to create a good latte for me, to go with it. This is the Sage recipe, with my additions, in case you fancy trying it at home:

White chocolate chip waffles
Author:
Actually Mummy...
Ingredients
150g dark 70% chocolate
90g butter
2 eggs
375ml milk
1 tsp vanilla extract
300g plain flour
165g caster sugar
25g cocoa powder
1 tsp baking powder
1 tsp salt
100g white chocolate chips
Instructions
Microwave the dark chocolate and butter for 30 seconds at a time, stirring each time, until melted and smooth. Set aside to cool slightly
Whisk eggs, milk and vanilla, and stir through cooled chocolate mixture until smooth
Sift flour, sugar, cocoa powder, baking powder and salt together in a large mixing bowl, and make a well in the centre
Pour in egg mixture and whisk until mostly smooth
Stir through white chocolate chips and cook in your waffle iron
Makes 8 large waffles
Serve with berries and whipped cream
About the Sage Smart Waffle
The Smart Waffle retails at £169.95. The machine's technology calculates the correct time to cook your waffle based on a number of variable, so you get the perfect waffle every time. The non-stick plates are super easy to clean, and because of the 'moat' around the outside, excess batter cooks and is easy to snap off, leaving the waffle itself exactly right.
I was given a Smart Waffle for the purposes of review. All opinion, editorial and imagery is my own.
Read our other Sage Appliances reviews: