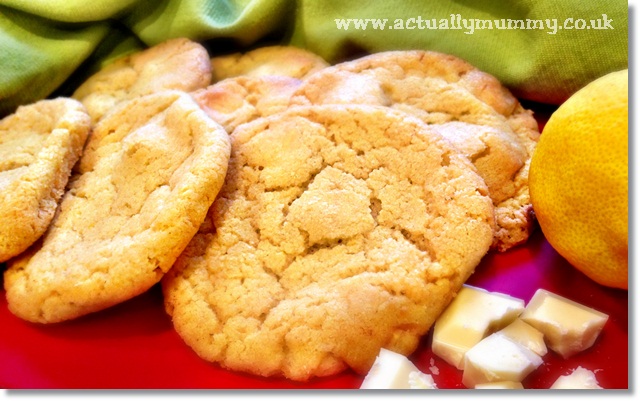 This is a basic cookie recipe I have used for many years, and it's a great way of using up leftover egg yolks when you've made a meringue. Really simple, very quick, and you can jazz it up with pretty much anything. This recipe makes the kind of cookies that bend rather than snap, the kind that are chewy in the middle, the kind I love the most!
Lemon and White Chocolate Egg Yolk Cookies
Lemon and White Chocolate Egg Yolk Cookies (recipe)
A delicious chewy cookie that's great for using up leftover egg yolks.
Author:
Actually Mummy...
Ingredients
225g butter, softened
400g granulated sugar
3 egg yolks (any size is fine)
tsp vanilla essence
zest of 1 lemon
150g white chocolate, chopped into rough chunks
320g plain flour
1 tsp bicarbonate of soda
1 tsp cream of tartar
½ tsp salt
Instructions
Cream the butter and sugar together until pale
Add the egg yolks and beat into the mix one at a time
Mix in the vanilla, lemon zest and chocolate chunks
In a separate bowl mix together the dry ingredients, then combine with the butter mix until you have a nice soft dough.
Take about a dessert spoonful of the dough and roll in your hands to form a ball.
Flatten slightly, then place on a baking sheet lined with baking parchment
Repeat with the rest of the dough, leaving about 3cm between each cookie.
Bake in a preheated oven at 180deg C (160 for fan ovens) for around 12 minutes, or until the edges have just begun to crisp, but not brown across the cookies.
Remove from the oven and leave to cool.
Enjoy!
Alternatives:
Try adding juicy raisins instead of the chocolate
Chopped hazelnuts with milk chocolate chips
Chopped dates and some toasted walnuts
Cranberries and white chocolate
Leave out the lemon in the last 3 suggestions, or substitute with orange zest.
Once again we've taken the challenge of the of the Great Bloggers Bake Off. Inspired by the Great British Bake Off, Jenny and Helen – pudding and cake bloggers extraordinaires – have set a challenge to bloggers who enjoy #GBBO. Each week we will commit to creating an item on the theme of that week's Great British Bake Off. I've skipped a couple of weeks, because pastry and me do not see eye to eye, but ask me for a biscuit and I'm all over it. I blame decades of watching my Mum make the same ginger fairings week in week out. She'll be 82 in December and she still does it. Fairings – now there's a word you don't hear very often these days… 😉 Click the badge for more biscuit ideas.