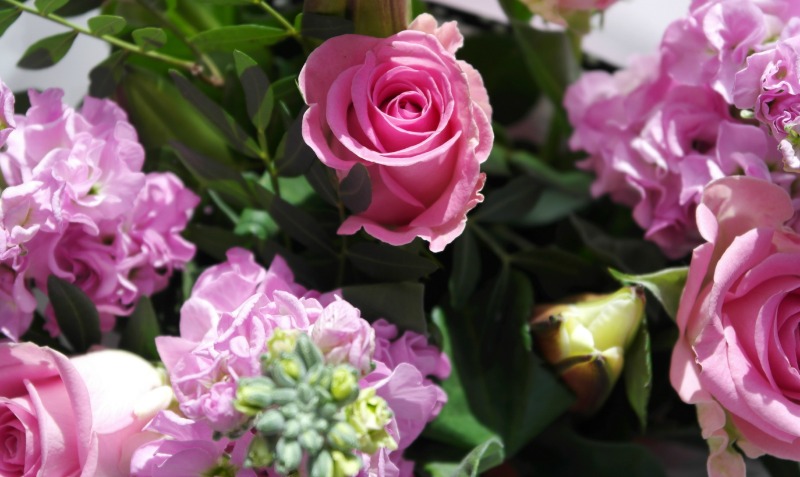 Have you sorted your Mother's Day gift yet? If not, don't panic; you're not alone, and I have a suggestion for you. Apparently, more than half a million Brits leave it until an hour before midday on the Sunday to shop for Mother's Day gifts! As someone who has been victim of a 'whatever's at the petrol station' present, I'm urging you not to leave it that late, but even if you do, help is at hand.
Mother's Day gift inspiration
Supermarket giant Tesco have some research that suggests that 22 per cent of us have no idea what to get for our mothers, usually relying on a last-minute flower dash on our way to Mother's Day lunch. One in ten mums admit they've been gifted something they didn't want, and almost twenty per cent of us have gifted our mothers a kitchen gadget. Now I know what I'd do with a kitchen gadget were I to receive one on Mother's Day, and I certainly wouldn't be using it to baste a roast dinner, so I'm going to encourage you to give it a bit more thought.
What I want for Mother's Day
I'll admit, my own mum took a bit of a back seat in the attention stakes once I became a mother myself. After all, new mums are knackered, and deserve a day off, right? A two hour drive to pamper my own mother became an impossibility when compared with the opportunity to catch up on some sleep, and have someone else cook dinner for me. I'm afraid I found it so enticing that Actually Daddy and I went with this formula for the next several years, our own mothers receiving rather extravagant flower bouquets in compensation for the lack of our physical presence.
What us mums really want is time to relax with our families, so personally, thoughtful gifting is much more important than how much is spent on me. On my very first Mother's Day I had a huge row with my husband, who was still resolutely heading off to play football every Sunday, despite the fact that I'd been up all night with a colicky baby. I remember declaring that just on this one day, he might be prepared to stay home and give me a break. He wasn't, but the miniature chocolate box on my breakfast tray turned out to contain an eternity ring, which rather took the wind out of my indignant sails.
Subsequent Mother's Days saw increasing levels of input from my children, beginning with plant pots from nursery, and various pasta-based jewellery items, flourishing of late into a surprisingly sophisticated talent perfume selection. All of which I have loved – where mums are concerned, it really is the thought that counts. My kids know me well, and are prepared to put their father through his paces on shopping trips, never once forgetting the pink "popping wine" with my breakfast. My absolute favourite blog post of all time is this gorgeous shopping list my then 4 year old insisted on fulfilling, despite numerous frustrated phone calls to me from her dad to ask her to cease and desist.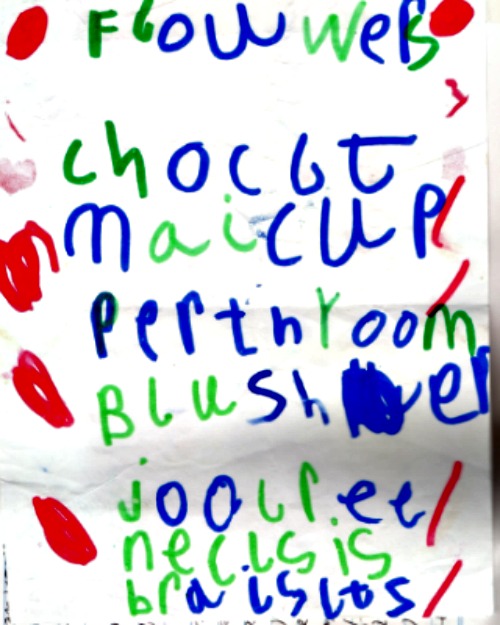 Personalised inspiration for your own mum
So if you're stuck for ideas, you're going to need some good input. From lunchtime on Saturday, selected Tesco stores will be operating Inspiration Stations where in return for answering a short questionnaire about your mum, you'll be given some brilliant ideas on what would make a perfect gift for her. My own daughter completed the questionnaire for me this week, and the suggestions Tesco have come up with are perfect! She told them I never have any free time, but that if I did, I'd like to spend it hanging out with family and friends (true). She also said I liked food (true, true, true!), and chocolate (guilty), and lilies – at which point I had to question if she was even related to me. Lilies are clearly devil flowers, what with all that possessive pollen spreading itself over every fabric in the house. Gerberas darling. Remember that.
Anyway, the lovely Inspiration Station experts suggested we all go on a Chocolate Workshop together, and I think I'm only marginally more excited than my children – a day out with my family, where I do nothing but eat chocolate? Sounds like heaven. If you visit on Saturday, I'm betting you'll get the perfect gift too, as the experts at the Inspiration Station will be able to suggest the right treats to buy in store, as well as gift experiences so you can spend some quality time together and really show how much you enjoy her company. And if flowers are your gift of choice, the questionnaire will tell you which bouquet is likely to go down best with your mum.
We will be spending this Mother's Day with both my own mother, and my mother-in-law, enjoying a lovely Sunday lunch. My mum, being somewhat old-fashioned, is somewhat confused by my proclamation that I will be doing no cooking, and in a panic that she might have to. I've told her, Mother's Day is for mums. The boys will do the cooking. And the clearing up…
*I have been compensated for my time in reviewing the Tesco Inspiration Station experience. All editorial and opinion is my own.