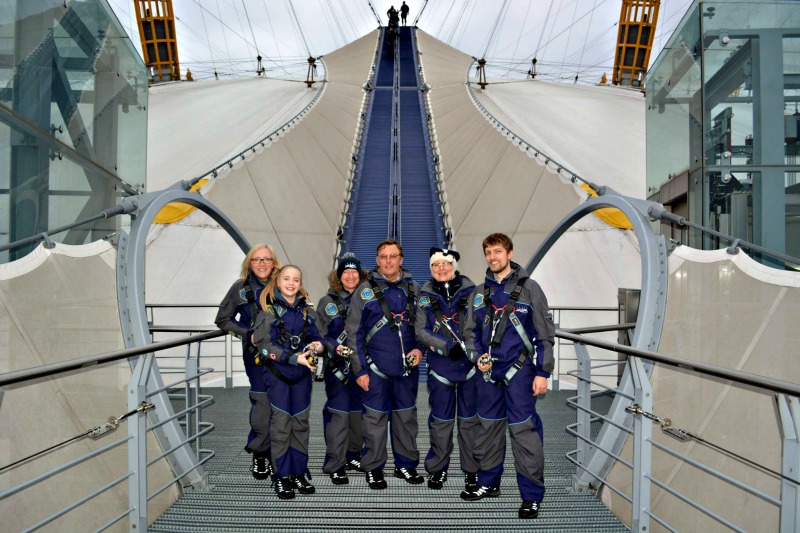 We've had a couple of big birthdays in our family recently. Just before Christmas, I made a big song and dance about turning 50. Ok, so really it was all an attempt to justify the complete wardrobe haul spending spree I went on. Call it mid-life crisis, if you will. I don't care. Once you're 50 it's ok to stop caring what others think, right? Anyway, it was great, we celebrated in New York – well, mid-flight en-route to the Big Apple, to be exact, but who's counting? Oh yeah, right. That would be me.
Anyway, again… my brother and I were born pretty much a decade apart. Which makes him, uhm, well, you do the maths. Having spent my own birthday wondering what on earth anyone could buy me that I could possibly need, I knew that the same would be true for my sibling and his wife's big days. We have no need of any more stuff (though I never did get that pony). So I set about researching things they could do to mark the occasion, but would never actually purchase for themselves.
When I gifted them two vouchers to climb over the roof of the O2, I was pleased with their reaction. I was right, they would never have purchased them for themselves. Over the next 11 months they procrastinated over fixing a date, until eventually, with four weeks left on the passes, they called me.
"Right, if we're going to do this crazy-ass thing, you're doing it with us. And we've bought extra tickets for the other nutters in our family. Let's do this."
Or something along those lines. And so it was that 2 days after storm Doris we congregated here, on a platform in the wind, ready to climb 52 metres above the ground on top of what is basically a giant tent. Stuff you do when you're 60, right? I'd chosen to take my daughter as my climbing companion – kids over the age of 10 are able to take part. We had no idea what to expect, but she is a thrill-seeker, so she was excited to get going.
Whilst I was nervous about the 90 minute experience (it was cold, and raining!), our guide quickly put us at ease. We were shown safety video on what to expect, then kitted out in tough overalls, climbing shoes and a harness. We quickly realised that the climb is really safe; we were each clipped individually on to the steel rope along the walkway, and very soon got the hang of hauling ourselves to the top. Once there, we were free to explore the giant observation platform, identifying such landmarks as the Olympic Stadium and Canary Wharf.
There was also the obligatory Summit Selfie: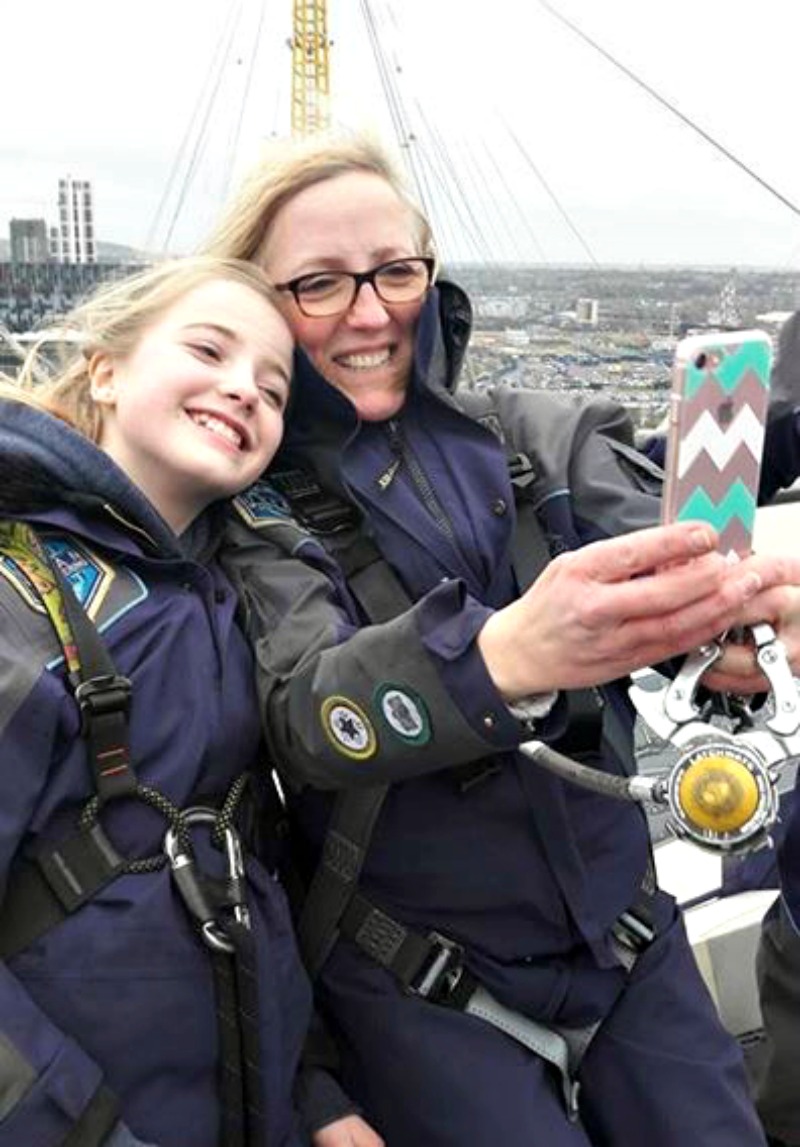 The climb down the other side of the dome is a different experience, requiring a different technique of backwards walking, hand over hand on the cable, a thrill, but again, easier than you'd imagine. And when we got to the bottom the verdict was almost unanimous. We were doing it again some day. Probably in summer! I have very little choice anyway. There is an almost 10 year old who was most put out about not being able to join us – he's already put it on his wish list for his birthday party!
Thanks to Up at the O2 for giving us two tickets for the purposes of review, and allowing us to join in with our family. Prices start from £28 per person. Visit the O2 website for more information, and to book.
Pin for later