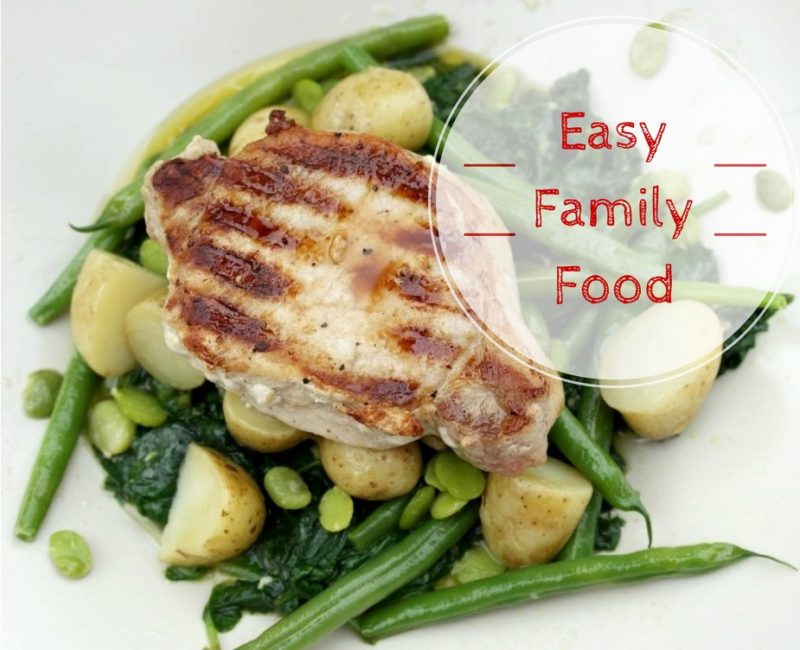 Would your children eat this? I honestly thought mine wouldn't. They are sworn meat eaters, and GG is partial to the odd potato, but broad beans? And spinach?? I held my breath, and ordered the griddled pork with broad beans, spinach and asparagus (hold the asparagus) for my kids to share when we splashed out on a gorgeous dinner at Jamie Oliver's Fifteen in Watergate Bay on our recent holiday to Cornwall. By the end of the meal they were tugging at my sleeve and whispering urgent requests for me to get the recipe from our waiter so I could recreate the dish at home!
Being the lovely folk that they are, the staff at Fifteen sent me an email, with the basics for the recipe. They're not daft, and the seasoning was pretty much left to me, but how lovely are they for even bothering to reply?! So last weekend, armed with the best pork loin steaks I could find, and half the contents of the herb aisle at the supermarket, I had a go. I don't think Jamie will be beating a path to my door with an offer of employment any time soon, but the kids have already asked me when I can cook it again. Fresh, summery, and bursting with flavours, the addition of a glass of chilled dry rosé for the adults made this the perfect sunny Sunday lunch. Here's our version of Jamie's griddled pork.
Jamie Oliver's Griddled Pork with Summer Vegetables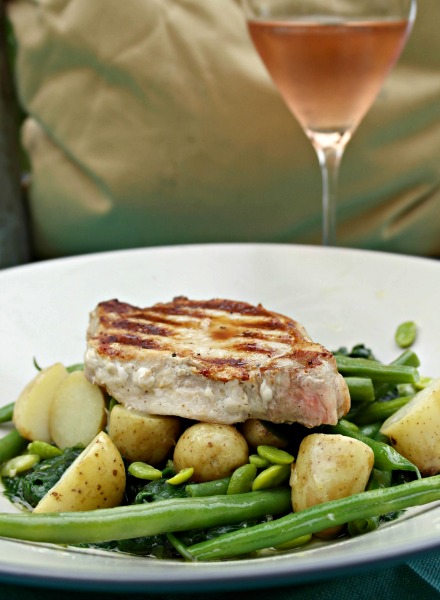 Jamie Oliver's griddled pork
A gorgeous summery dish that I recreated after loving it so much at Jamie Oliver's Fifteen Cornwall.
Author:
Actually Mummy...
Ingredients
4 pork loin steaks
Jersey Royal new potatoes (as many as your family will eat)
Large sprigs of rosemary, mint, and thyme.
1 small lemon
1 pack of trimmed green beans
200g broad beans (podded weight)
1 large pack of baby leaf spinach
½ small red chilli, chopped
1 clove garlic, chopped
100g butter
Instructions
Put the potatoes into a large pan with the herb sprigs and halved lemon. Cover with water and bring to the boil. Boil until just cooked, then drain and set aside.
Season the pork on both sides with salt, pepper and a little olive oil, then griddle until just cooked through - about 8-10 minutes in total, depending on the thickness of the steaks.
Boil the broad beans for 2 minutes, then remove and discard the tough skins.
Steam the green beans lightly for 2-3 minutes.
Saute the spinach in a splash of olive oil with the chopped chilli and garlic until wilted.
Just before you're ready to serve, heat the butter in a large frying pan until foaming. Add the potatoes and beans and toss to coat.
Put a layer of spinach in the bottom of your plate, spoon over the potatoes and bean mixture, and top with the pork. Drizzle with a little good quality olive oil, and serve.
Jamie's chef served this with asparagus, but my children will not go near the stuff, so we substituted for green beans. He also added the most delicious salsa I've ever tasted, but very smartly didn't give me the recipe. We used  
Jamie's Salsa Verde recipe
, and it really did add the zing the adults needed.
Of course, for the real authentic zing, you'd also need the view…