I love this photo. I know so many things about it that quite simply aren't visible to everyone else. That my daughter, who loved pink, and once selected outfits on the basis of how twirly they were, now prefers blue. That blue, especially this periwinkle shade, is so totally her  colour. It's the colour of her eyes when she was a newborn – indigo eyes, black hair, hard to believe now. You can't see it in this picture, but this colour brings back the flecks of that baby in her eyes and I remember…
Or that this messy hair isn't just the wind, or her dislike of a hairbrush; it's the result of her first surfing session with her father. While the Bug and I laid on a blanket in the sand, relishing the softer breeze that washed over us as we lay, dad and daughter raced off in the feistier wind at head height to sample the waves of Fistral beach.
That she is unstoppable, rarely phased by anything, excited to try something new, even whilst grumbling about dragging on a damp, hired wetsuit on a cold day. Where that would be enough to see me huddling in a fleece and offering to help the Bug build sandcastles, she needs no encouragement to get past the discomfort to the joy of what is to come.
That she is all girl, but knows no boundaries for that.
That she loves her brother as much as she loathes him.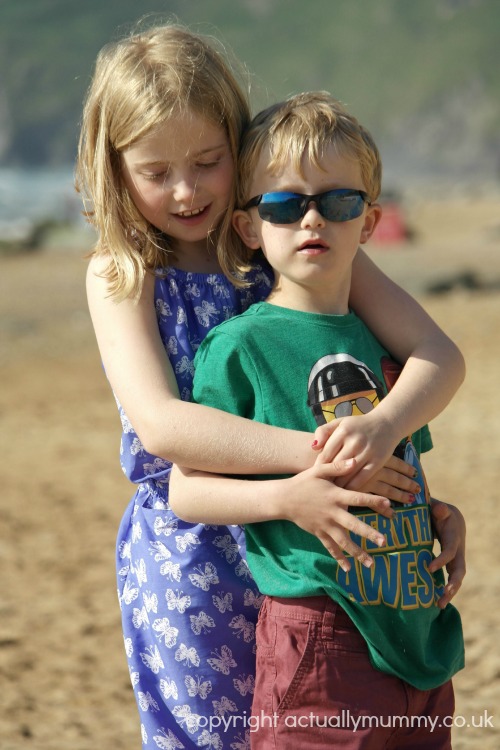 We had the most wonderful day, just chilling out on Fristral Beach, each of us doing our own thing. The Bug perfected the art of making a sand ball; I dozed in the breeze and daydreamed of a retirement by the sea. The adventurers eventually returned to our blanket, huge smiles and hunger prompting the picnic I had brought, with the addition of a rather quirky 'piestry' from the beachside shops. Perfect food for a windswept beach.
I'm definitely visiting Fistral beach again next time we holiday in Cornwall, but I know that both my kids would love to visit more places in this beautiful county. In particular, my daughter – a total bookworm – would love to follow this trail of books whose stories are based in Cornwall!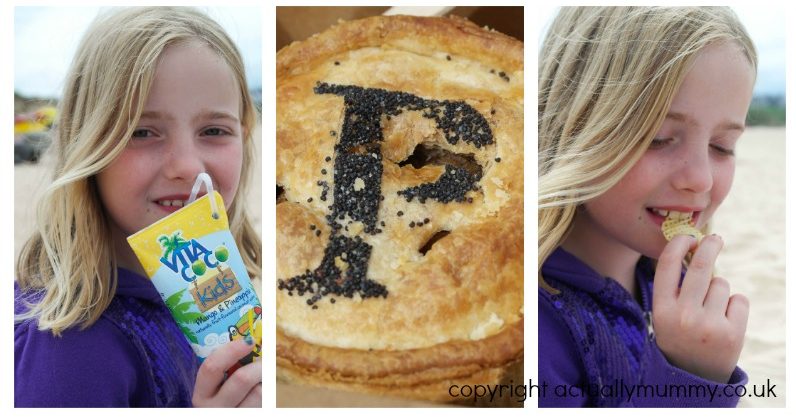 The children are both dressed in the current season of Next Kids clothing, for which we were sent a small voucher.