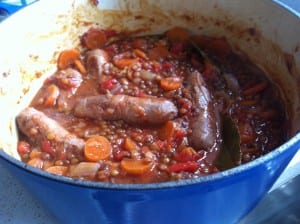 This recipe is calculated using WeightWatchers ProPoints, and serves 4 hearty appetites

This is healthy, delicious comfort-food, that event the children relish eating! A proper alternative to the Sunday roast.
Sausage and Lentil Casserole recipe
You will need:

Sausage and Lentil Casserole: 8 WeightWatchers ProPoints
Author:
Actually Mummy...
Ingredients
1 onion, chopped into wedges
1 leek, finely sliced
4 small carrots
Low calorie cooking spray
150g dried puy lentils
200ml fiesty red wine (bordeaux or burgandy)
500ml chicken stock, from a cube
8 low-fat pork sausages
1 400g tin chopped tomatoes
Instructions
Spray a flame-proof casserole dish with the cooking spray and fry the veg over a medium heat for about 10 minutes, until softened.
Add the wine and let bubble, then add the stock and bring to a simmer.
Meanwhile wash the lentils in cold water, then cover in a pan with cold water. Bring to the boil, cover, and simmer for 20 minutes.
Spray a frying pan with cooking spray and fry the sausages until browned.
Drain the lentils and add to the vegetable mixture with the sausages and tomatoes.
Bring to the boil, and cook in the oven at 150°C for 1 hour and 40 minutes, stirring occasionally, and adding water if the lentils look dry.
Alternatively, once bubbling transfer to a slow cooker and cook on medium for around 5-6 hours.
We served this with steamed savoy cabbage. It all went, and seconds were requested! Result!
I'm linking this post to Romanian Mum's Foodie Friday, where you will find a whole host of meaty recipes!