I like to read. I like to write. I read fast. I write fast. I am easily bored, so what may begin it's foray onto paper as genius styling and witty prose, could well tail off into an ugly scrawl as I lose patience and start to crave a skipping rope. At school I have frequently been praised for a good start, then reprimanded for metaphorically wandering off the page and into my neighbour's pencil case.
Wot so funee about that?? C'mon, let me know!!!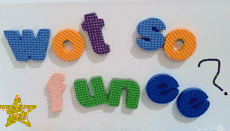 Now, if you have your own post to link this week, grab the badge code from the bottom of the page, and click the link – I can't wait to see what you have! If you're new here you can check out the Wot So Funee? main page for more on how to join in.