I snuggled down in my sleeping bag, and wriggled my ten-year-old toes. I was far too excited to sleep, my Dad's torch flicking signals on the canvas, fearful shadows urging me to stay in the tent. Joanna lay next to me, but she wasn't asleep either. Both of us were eagerly awaiting midnight, so we could eat our Blue Riband biscuits and declare that we had experienced a real-life midnight feast. In the event, we wore ourselves out giggling well before the appointed hour, and I set my purple-faced alarm clock so we wouldn't miss it, as we dozed off.
It was my first night camping, in my back garden, and I wouldn't have another one for nearly forty years. No-one really camped in our family. Friends took me on holiday in their caravans, I slept most weekends on my Dad's canal boat, and Holimarine static home parks became our regular summer fix. I have fabulous memories of British holidays growing up in the seventies, but I longed to camp, and we never did.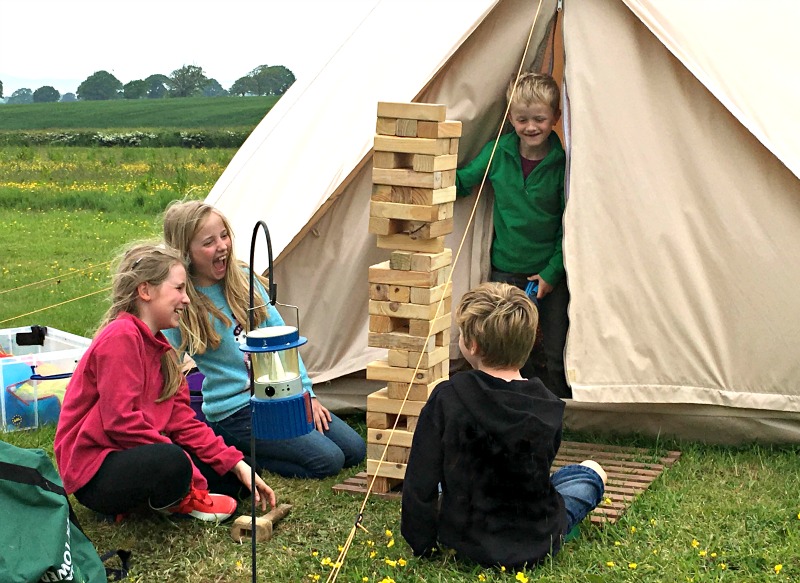 Travel morphed so fast in the eighties, and by the time I left university, I'd forgotten about camping, falling for the allure of European cities on an inter-railing ticket, and a GAP year in Sydney. The world just seemed so big, and sleeping in a muddy tent had totally lost its attraction.
Then I had kids, and suddenly the anticipation of spending a night huddled under blankets together was back. We have camped in Britain many, many times over the last few years, and I've enjoyed it more than I thought possible, in spite of my ageing bones and love of sleep.
How to love camping
But then camping has changed since that lilo in a 2-man tent in the back garden in 1977. Facilities are better, and there are so many ways to camp that I defy anyone not to find one that they love. Of course, you can still pitch your own tent and camp at the huge amount of official campsites across the UK, but they all have great facilities now – hot showers, farm shops for local cider and fresh eggs, and all sorts of food options to make the whole eating outdoors thing easier if you need it. Some even have pizza ovens!
But should roughing it not be your thing, you can still camp, and enjoy the great outdoors. This pizza oven, and the pre-erected bell tent at the top of the post make Old Bidlake Farm in Dorset very special indeed, and the owners even provide your pots, pans and crockery, in their open air kitchen, so you don't have to cart all your own stuff across the country.
Glamping
Then there are yurts, complete with wood burning stoves to warm your toes before you jump out of bed, and futons for a comfortable night's sleep. Our first experience of a yurt was at Somerset Yurts, near Taunton, and we loved it so much we bunked off school for a day so we could have another night there!
And if you really want something special, you can sleep in a treehouse. It's still technically camping – you have to walk through the woods if you need the loo in the night, and you'll need a hot water bottle – but waking up to the sun streaming through the trees in Norfolk was one of the most special nights we've had as a family.
Festivals
Finally, there's festival camping. As I switched off the alarm and went back to sleep, all thoughts of my chocolate biscuit gone, I could never have dreamed that forty years later people would cram together in tents to listen to top bands. Personally, I feel too old to join the crowds of Glastonbury, or the V Festival, but I have camped with Jamie Oliver at Feastival, and crafted with the fairies at the Just So Festival. Families flock to Camp Bestival, and CarFest is on my radar for next year. Festivals have made even the most basic camping cool again, and it's a huge British craze right now.
Camping has changed in so many ways, and yet so much that is good about a weekend under the stars in the English countryside is still the same as ever. Like the way kids just gel in a field full of haystacks and marshmallows, circling each other only briefly, before coming up with the biggest adventures of their lives, and going home with penpals. The conversations you strike up with total strangers as you sit in the sun and wait for a shower; and the knights in shining armour who come to the rescue of a couple of mums battling tent poles in the wind. Wine bottles are exchanged, cricket bats shared, and sausages burned as families bond in a field. You couldn't script it if you tried, but it's still one of the best holidays a family can have.
I'm working with Visit England and BritMums promoting the Oh My Great Britain campaign, celebrating all the wonderful experiences families can have in the UK. Share your experiences using the #OMGBFamily tag and @BritMums.