I have to say we've had the best summer. Quite apart from the weather playing ball for once (shhh…), we haven't been away on holiday. And that's a good thing. Instead, we've had a series of brilliant days out, lots of them in London. The kids, at 9 and nearly 12, are super company, pretty safe to take out in a crowd, and capable of doing some walking without getting tired. (Though I do have to carry their stuff as the day wears on).
Without a doubt, one of our best days out was spent around Piccadilly Circus, visiting Ripleys Believe it or Not! (more on that in a separate post), and having lunch at Planet Hollywood. I used to work in the West End, and was very aware of the movie-themed diner style venue, but I'd never been through the doors, and had no idea what to expect. If I'm honest, I probably thought it might be a bit cheesy, with average food. I was so wrong!
From the minute we walked in, the atmosphere was buzzing. At around 1.30pm on a Thursday lunchtime, the restaurant was busy, but still with seating available for walk-ins. We were greeted at the door, and shown to a booth table by a really chatty and confident waitress, who was completely natural with the kids, and couldn't do enough for us. The fact that we were seated underneath John Travolta's actual jacket really impressed my daughter, who has seen, and acted in a production of Grease. It's his actual jacket Mum!
I had thought that much of the movie memorabilia might be over the kids' heads, but they surprised me with how much they recognised, from Stormtroopers, to Star Trek models – the manager explained to them that special effects in the seventies were created with models, rather than CGI, and I'm not sure they believed him. We've watched a lot of our old favourite movies recently, including Indiana Jones, and some of the old Bond films, and the kids just dissolve in giggles at the effects. Anyone else remember Sean Connery driving his car in front of a photograph?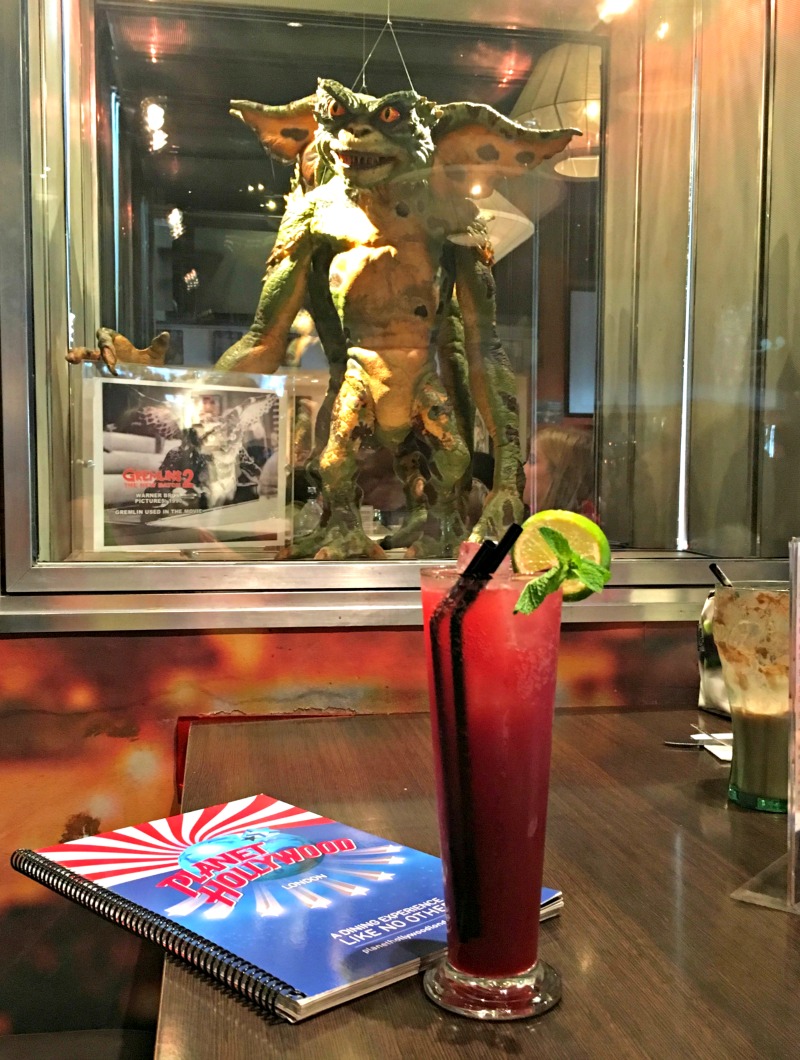 As I struck up conversation with a Gremlin over a delicious Pink Panther mocktail, the kids went walkabout to see what else they could recognise. I'm normally very careful about letting them out of my sight in public, but it actually felt very safe in Planet Hollywood, with lots of staff and family diners everywhere, so they wandered upstairs to compare hand prints with the stars casts on the walls. When they came back it was with the demand that I follow them, because "quite unbelievably, Mum, they have the actual real carbonite cast they froze Harrison Ford in!" 
Food came really quickly once we'd narrowed it down from the absolutely vast menu. As you'd expect, there are burgers, and grill meals, pizza, pasta, and club sandwiches, but there are some items you might not expect. We shared nachos and popcorn shrimp, which were really tasty, then the kids shared a rack of ribs (the waitress recommended sharing and was totally happy to bring us extra plates), while I had a really good Singapore Noodles. Coke floats were ordered and devoured, and we professed ourselves too full for dessert. Seriously, go when you're really hungry – we've already agreed to go back and share the giant chocolate brownie sundae one day soon.
What really impressed me about the menu was the amount of gluten-free items. I had to photograph it and post it here, even though it's not the best image. I loved the fact that there was a great range of starters, as well as burgers and salads, and I don't think I'd have felt cheated eating from this selection. The manager explained to me that their commitment to producing a good range of quality gluten-free dishes is very high profile in the business at the moment, and that was great to hear.
And if we'd thought we were just going there for dinner, we were to be surprised again. There's a great vibe at Planet Hollywood, and that's a lot to do with the DJ who plays every lunchtime during the school summer holidays. The big screens show film trailers and music videos, interspersed with personal messages for diners. It wasn't long before GG got the gist of what was going on, and texted the DJ's number with a message to say thank you to me for a great day out, and Happy Birthday to the Bug! As the messages ended, the webcam focused in on diners, starting with us. I was left with the choice of pretending to be very interested in my shoes, or lip-syncing to One Direction with my fork. I'll let you guess which one I chose…
We were guests of Planet Hollywood for the purposes of review. We had a great time, and all words, imagery, and opinion are our own.