Last week I was lucky enough to spend a few days in rural Norfolk on my own. I don't know about you, but trying to juggle a family and a busy job can still feel exhausting even when you have teenagers, and I always seem to put my own needs at the bottom of the pile. The joy of teenagers though, is that they can manage without their mum for a couple of days, and I'd been craving some headspace, so this Norfolk rural retreat seemed to be begging me to book it. So I did. Here's my review of The Goat Shed in Thompson, a wonderful self-catering barn conversion that's just a stone's throw from London.
Advertorial content: my stay at The Goat Shed was gifted to me through Norfolk Hideaways. All content is my own, apart from some images, which are attributed to the owners.
A rural Norfolk farm cottage for adults
I booked my stay through Norfolk Hideaways, a company that specialises in beautiful self-catering cottages in Norfolk. As I completed the very easy journey from north London to rural Norfolk (just a 2 hour drive) it felt like arriving in a picture postcard. Over a tiny hump bridge, past a chocolate box thatched cottage and up the driveway through fields of llamas to College Farm, the stunning 14th century property owned by Katharine and her family. The main house is a Katharine's childhood home, where she hosts B&B guests who come to walk the local Brecks, well known for wild forests, craggy heaths and towering Scots pines.
The Goat Shed is newly converted from a barn on the main driveway, and backs onto The Cattle Shed, a converted party barn where Katharine hosts events and weddings (her own daughters got married there last summer – I've seen the photos and it looks gorgeous!)
Katharine doesn't take guests under the age of 12. What this means is that this self-catering cottage for two in Norfolk is secluded and peaceful, and there's not a chance that you might consider taking your children. I love being with my kids, but a stay at The Goat Shed is a total B.R.E.A.K.
Unusual places to stay in Norfolk
The Goat Shed is a stunning barn conversion, well thought out to make the most of the space and light, with all the facilities gorgeously planned out in one huge room.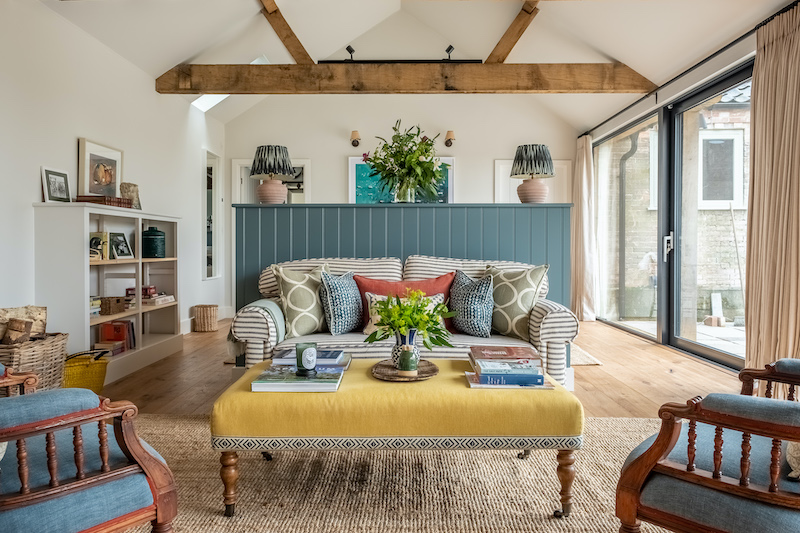 Coming through the front door, you walk into a beautiful living room which easily seats 4 people on a soft, deep sofa full of cushions, and two deceptively comfortable, supportive armchairs. The seating is set around a large ottoman-style padded low table big enough to hold a tray of dinner and drinks, a laptop and a good few books. I should know because that's where I set myself up for the entire three days.
On the side wall is a wood burning stove which Katharine had already lit ready for my arrival. The Norfolk Hideaways welcome guide told me to expect logs and kindling on my first night, after which I would need to buy my own, but Katharine saw to it that I had enough wood for the duration of my stay. (I think she must have noticed that – whatever I did with my day – I was always back with the fire lit by 3pm, such was its allure for me).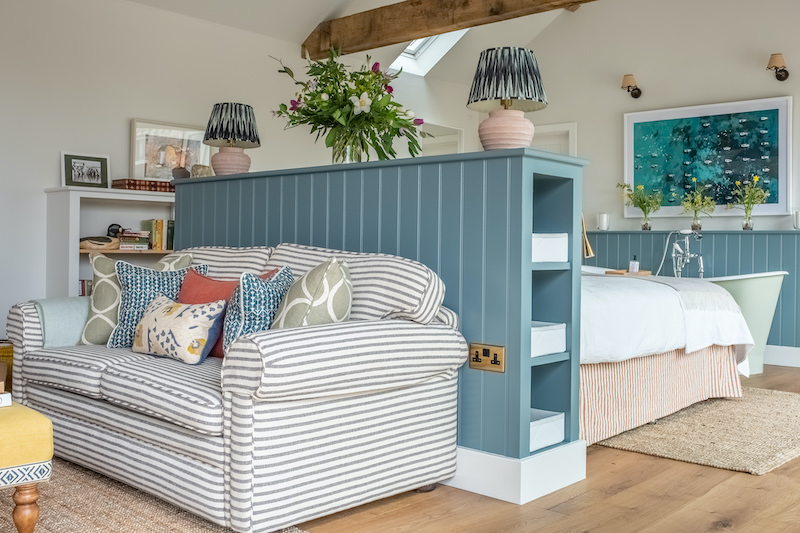 The space has been cleverly sectioned without the need for walls, which would only make everything seem smaller. Behind the sofa is a wooden partition which hides the (firm but comfortable) king-size bed, and what has to be the deepest bathtub in the world.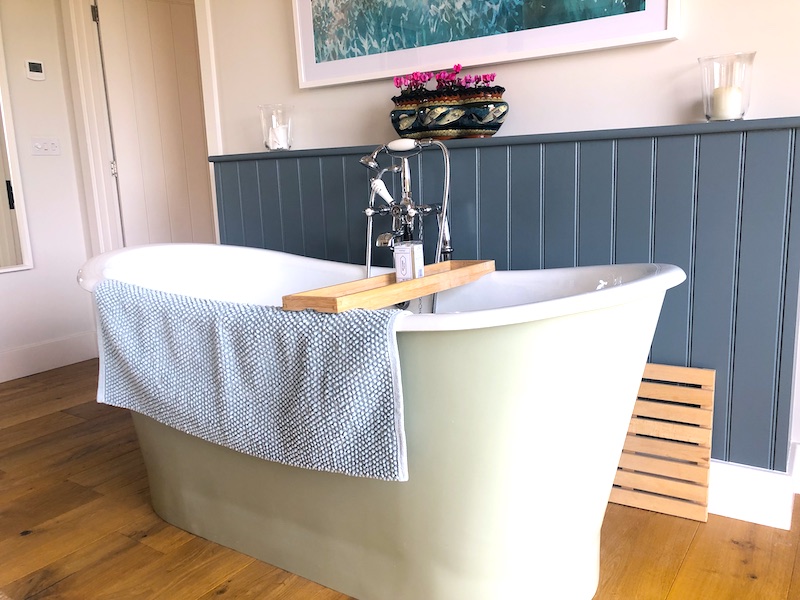 I took a bath on my first afternoon, after a long forest walk had me feeling my muscles and the rain had started to seep through my jacket. It was bliss to sink up to my shoulders in the warm water with a cup of hot chocolate and read a book for an hour. I mean, imagine that when your average day includes running a family after a full day's work!
A rural Norfolk holiday cottage with a very warm welcome
Speaking of which, my hot chocolate was incredible. Katharine provides her guests at The Goat Shed with a welcome package. So far so normal, right? But this welcome package is unlike any I've had before. Here's what greeted me on my arrival for my first night: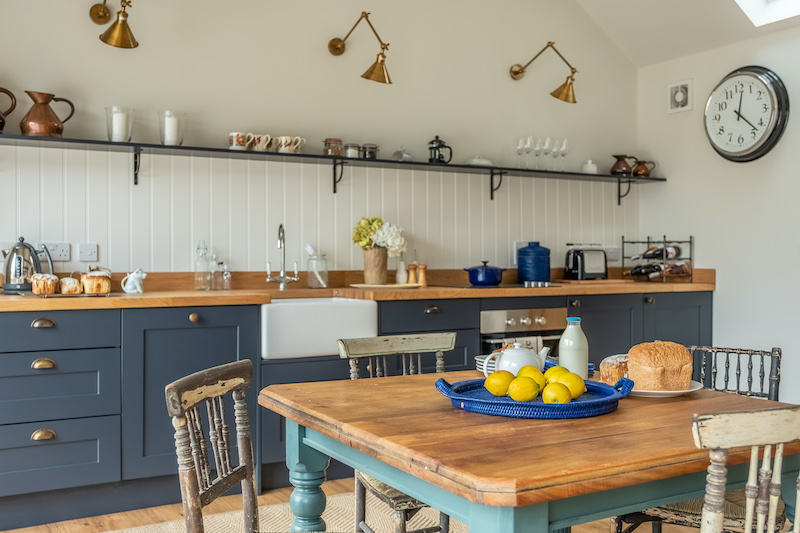 A loaf of homemade sourdough (it's either a seeded brown loaf made by Katharine, or a sourdough from her friend in the next village)
A jar of fruit compote – mine was homegrown apple and pear
A jar of homemade yoghurt so creamy I thought it was double cream!
A freshly baked lime drizzle cake
Thick cut marmalade made by Richard, Katharine's husband
Jam made by a friend in the village
4 sausages and 4 slices of thick cut bacon from the farm across the fields
4 eggs – I didn't ask, but I'm guessing they came from the hens that wander freely around the grounds
A bowl of mushrooms
A dish of tomatoes
A bottle of wine and one of fizzy water
A bar of Tony's Chocolonely chocolate (which I used to make my hot chocolate)
A bottle of milk, and one of orange and mango juice
A big slab of butter in the butter dish
A jar of granola, and another of muesli
A large packet of crisps and one of popcorn
A well-stocked fruit bowl
Tea bags, ground coffee and a cafetière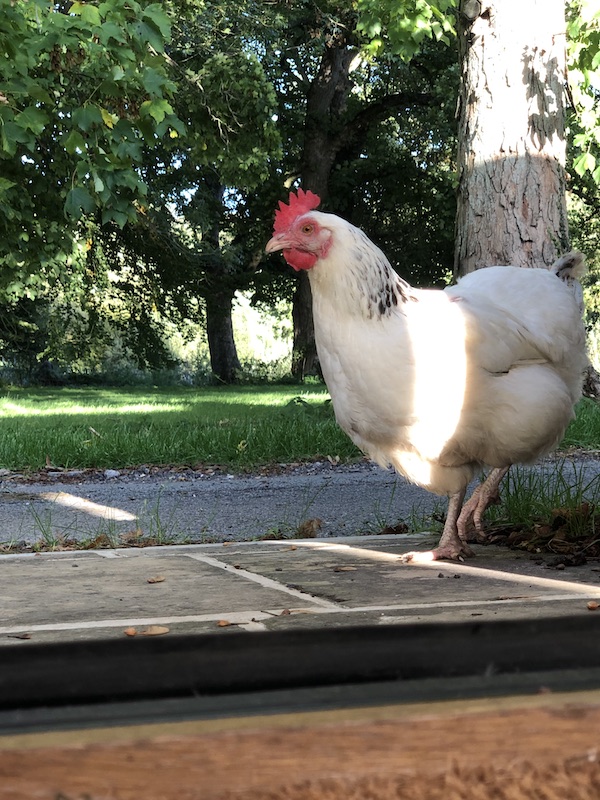 Tell me that isn't the biggest and best self-catering welcome pack you've ever had? I mean, granted, it was meant for two people but still, that's more than enough for a massive breakfast in the morning and snacks on your first night. As it was, I had bacon, sausage, eggs and mushrooms for dinner every night, and ate granola, yoghurt, fruit and toast for breakfast and didn't go shopping at all!
What's included at The Goat Shed self-catering cottage?
It's always useful to know what basics are stocked in a self-catering cottage before you set off, so here's what else is in the cottage for your use:
Handwash and hand cream, shower gel, shampoo and conditioner, all made locally and smelling good enough to eat
Towels and bathrobes
A hairdryer
Plenty of bin liners
Matches and firelighters
A dishcloth and two tea towels
Washing up liquid and a few tablets for the dishwasher
A pan scrub and washing up brush
Salt and pepper
Oil and vinegar
A big box of cleaning materials are stocked in the bathroom
There's also a really good selection of left-behind books, as well as some board games to while away the evenings by the fire.
What's the kitchen set up at The Goat Shed, Norfolk?
The kitchen hasn't escaped the quality design approach in this beautiful barn conversion. There's a dishwasher, oven and small fridge, and enough pots and pans, plates, bowls and cutlery to service at least two or three meals before you have to do any dishes. There's also a large bin with a section for rubbish and one for recycling, so you can do your bit for the environment whilst you're there. There are chopping boards, a kettle and toaster, a water jug, and plenty of mugs and glasses. Honestly, Katharine has thought of everything.
Katharine has also thought hard about what makes a home a home, and dotted around the cottage are brightly coloured plants, candles for atmosphere, and little touches like blankets and throws for chilly evenings. When I was there, Autumn was just beginning, and as well as the conker collection I could have swiped from the field to take home for my children – were they still interested in such childish joys as conkers (sob!) – the mantlepiece was draped with seasonal leaves, acorns and giant pears (which I suspect become part of the compote once they've ripened). It's just gorgeous.
What's the bathroom like at The Goat Shed, Norfolk?
In short, classy.
A shower space large enough for even the most enthusiastic person not to flood the bathroom floor plays host to a rainfall shower that's easily switchable to a wall-mounted attachment (in case – like me – you don't want to wash your hair every day). It has everything you need. Bring nothing except your favourite styling products.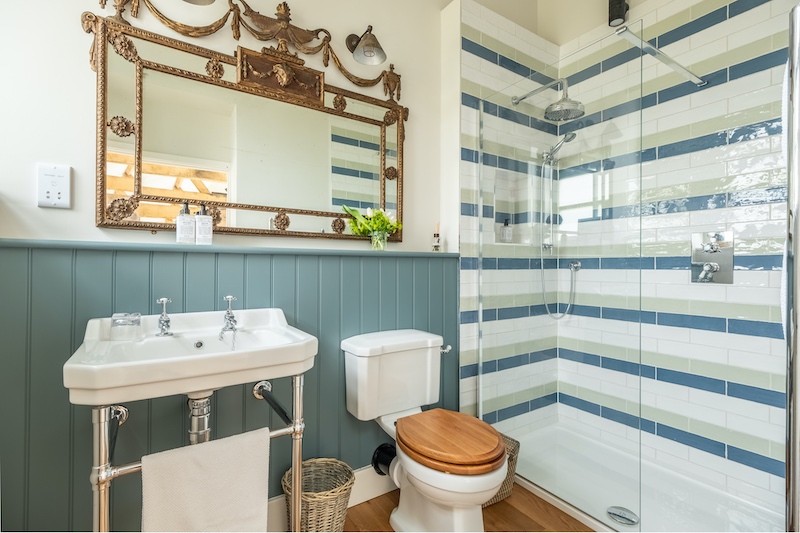 Stay in a Norfolk farm holiday cottage
One thing I forgot to mention, but you need to know. This self-catering Norfolk barn conversion is made all the more spectacular by the floor to ceiling windows that fill the entirety of one whole wall. These sliding doors open onto a lovely garden that, even in October, was full of colourful flowers and shrubs. There's a large patio with garden furniture and parasol that would truly make you feel like you'd taken the inside out.
It's made even better by the fact that the neat garden backs on to fields, across which I saw the most glorious sunsets.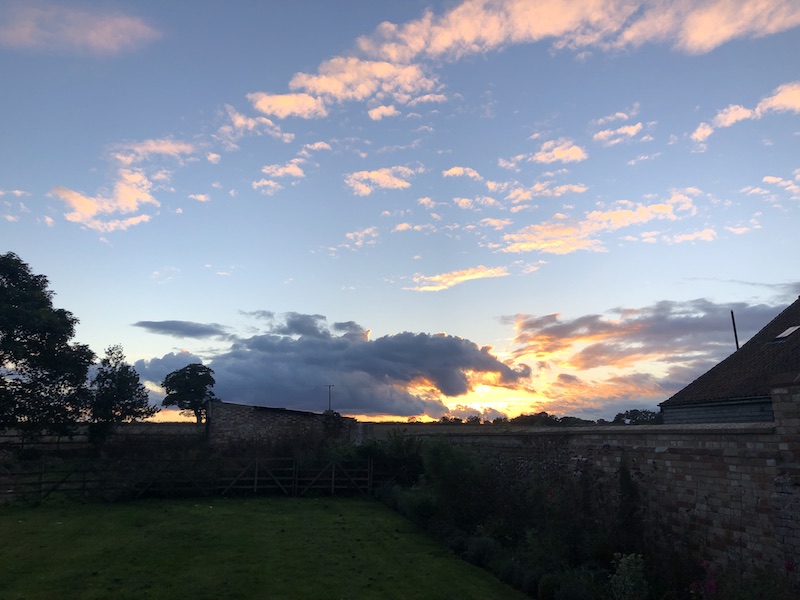 What is there to do in South Norfolk?
South Norfolk is the easiest part of the county to get to from London and the Home Counties, which makes it perfect for anyone – like me – who wants a few days break from the norm. It's also one of the most beautiful parts of the UK if you're a walker or lover of nature and wildlife. I walked the Great Eastern Pingo trail, so named after the rare ponds formed at the end of the last ice age. This 7 mile walk starts at the back of College Farm and goes on a circuit through dramatic forest and along fern-filled paths filled with stunning scenery and wildlife. It's no wonder rural Norfolk as popular with walkers and bird-watchers.
There are numerous walks to take from the cottage; the village of Thompson is surrounded by 300 acres of Woodland Trust land that's very flat and easy to walk. The Roman Road of Peddars Way crosses on end of the village, starting south of Thetford and going all the way up to the Norfolk coast, making The Goat Shed a fantastic place to stay for cyclists.
The land is also protected from the outside world by the army training area behind the village. This land can never be developed, so has become a sanctuary for wildlife.
Other places to visit near The Goat Shed in rural Norfolk
Norfolk is not short of beautiful places to visit, and lots of them are easily reached from The Goat Shed:
Oxburgh Hall, a National Trust property is a 27 minute drive
Gooderstone Water Gardens, a unique attraction for garden lovers – 27 minutes
Ely cathedral – 54 minutes
Norwich – 41 minutes
Grimes Graves, a fascinating flint mine – 20 minutes
The military bases at Lakenheath, Mildenhall and Mariam are a must visit for military aircraft enthusiasts – 30-45 minutes
Wyken Vineyard – 40 minutes. I did visit this fabulous book and gift shop, which I'm told has an incredible restaurant (book early, it's popular). I didn't escape without a selection from the most interesting books I've ever seen in one book shop. They also have a farmers market at weekends. Check ahead for dates.
Places to eat near The Goat Shed, Thompson
As well as Wyken Vineyard for fine food, there's a pub in the village of Thompson which is walkable from the farm. I didn't visit, but Katharine tells me it's good, not fancy, but serves huge portions of good honest pub food. Perfect after walking the Pingo trail, I'd say. She also recommended the following:
The Bedingfield Arms – 27 minutes
Afterfive at Strattons Hotel, Swaffham – 25 minutes
There's also a folder in the Goat Shed with lots more suggestions of places to eat and visit during your stay.
I had the most wonderful 3 day retreat in Norfolk, I wouldn't hesitate to recommend it to anyone feeling the need for an escape – whether it be as a couple or sneaking away by yourself!