I remember reading Wuthering Heights as a young teenager and being struck by both an urge to visit the dark, bleak landscapes of Heathcliff's and Cathy's affair, and fear of what I might find there if I did. Such is the power of a compelling story, that you dive into the descriptions, and want to experience the romance, the rush, or the emotion of the places you read about. I was similarly taken with Daphne du Maurier's Jamaica Inn (I know, I was that kind of teen!), and I visited Bodmin Moor years later, on a lone trip to 'find myself' after a particularly ridiculous break-up. It ticked all the boxes and I came straight home to re-read my old favourite.
As my children begin to find their own literary passions, I'm fascinated to see how they identify with the descriptions of places across the UK that have played host to story settings, if they find them compelling enough to want to visit. As fans of geocaching, they were delighted to go and find the actual Whomping Willow of Harry Potter fame, and I know my daughter is going to want to pick her way through Stratford-on-Avon soon as her love of Shakespeare takes off.
UK holidays inspired by books
Advertorial post: sponsored by Cottages.com
Cottages.com have been ingenious in their approach to World Book Day this year, picking out some of the best known children's books, to highlight in this nifty UK map of some of their cottages available to rent. It has totally whet my appetite for some more travels, and given me a great reason to visit some places I might not otherwise have thought of.

Here are some of my favourite picks where I'd love to curl up with the kids and the best books from their younger years:
Discover Roald Dahl and sleep in a windmill!
See the fantastical world of author Roald Dahl come alive at the museum created in his honour. Featuring three interactive galleries, find out about Roald Dahl's school days, see his original Writing Hut and in The Story Centre put your imagination centre-stage with fantabulous activities to inspire your little writer. And when you're done for the day, you can rest your head in a at The Windmill, a 200 year old converted windmill with lovely accommodation over five floors, with spectacular views over the Chiltern hills. The description says it sleeps 10 people and 2 pets. I love that last bit – almost makes me want to get a dog! Whipsnade Zoo is just up the road too, so there's plenty to keep children busy on this trip.
Breathe in the stunning countryside which inspired Beatrix Potter
What could be more idyllic than a pretty little stone cottage in the Lake District? We were gifted the complete set of Beatrix Potter books when GG was born, and I've read the entire book to each of my children in turn. They seem such old-fashioned stories now, and yet they're timeless with their illustrations, and descriptions of the little hedgerows and lanes explored by her animal characters. The Cottage adjoins a 17th-century farmhouse on a traditional Lakeland working hill farm, once owned by Beatrix Potter, now owned by the National Trust. And there's plenty of activities to inspire children in the Lake District, so the TV-free cottage is the perfect base to really get away from it all with the family.
During your stay a visit to the World of Beatrix Potter would be a lovely addition to our days out.
The Wonderful World of Winnie the Pooh
A.A Milne was inspired to write his endearing collection of stories by Ashdown Forest, close to his home of Hartfield in East Sussex. There are a number of Pooh Walks to help guide you through the settings for some of his favourite tales and see Pooh, Christopher Robin, Piglet and Eeyore come to life.
The Oast House is the perfect base for finding out more about Pooh and his friends. Sitting right on the edge of Ashdown Forest in 15 acres of grounds, it is has exposed beams and its own small garden.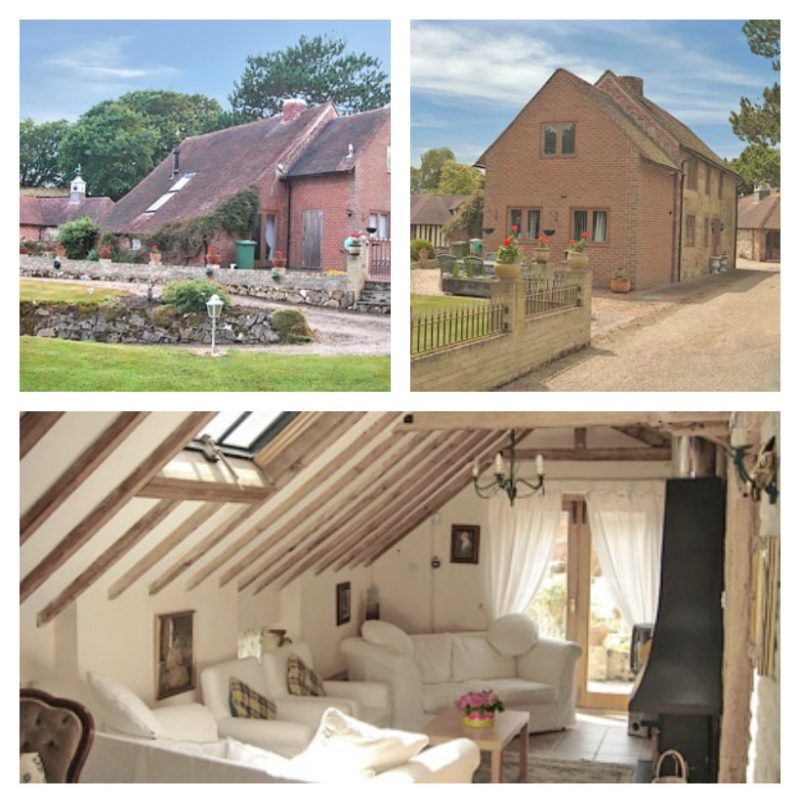 Now, someone pack me up some ginger beer and a big batch of sandwiches. I'm off on a Famous Five adventure!
All featured accommodation can be seen on Cottages.com
The Windmill, Wendover, near Aylesbury, Property Ref: PKKW
The Cottage, High Oxen Fell, near Coniston, Property Ref: 948
The Oast House, Nutley, Property Ref: PJJX
Cottages.com have a huge list of suggestions to inspire your literary travels. Here are some more great places to stay with connections to favourite children's books.