Our summer holiday this year took us on a family week to Duinrell holiday park, in the Netherlands. We've done a lot of campsite holidays, and several with Canvas, but this was probably the most successful of all of them. And it wasn't due to the weather! Duinrell is a bit different in that – once you've paid for your accommodation – you have a range of rather unusual on-site activities included in the price, including access to a full-scale theme park! We honestly could have spent the whole week on site. Here are our top 10 things to do at Duinrell:
Top 10 activities at Duinrell
1. Swim and slide at the Tikibad
The Tikibad is the onsite swimming pool and water slide complex at Duinrell. As well as being a fabulous way to spend a rainy day (which does happen – this is Holland!), it's also the best indoor water park I've been to. With 16 slides, chutes and water features, a wave pool, and an outdoor swimming pool, this part of the park is well worth the extra 4 Euros entrance fee. It has something for every age, and you can quite easily spend several hours there before tiredness and hunger drives you back out onto the park. You can see our tips on how to make the most of the Tikibad here.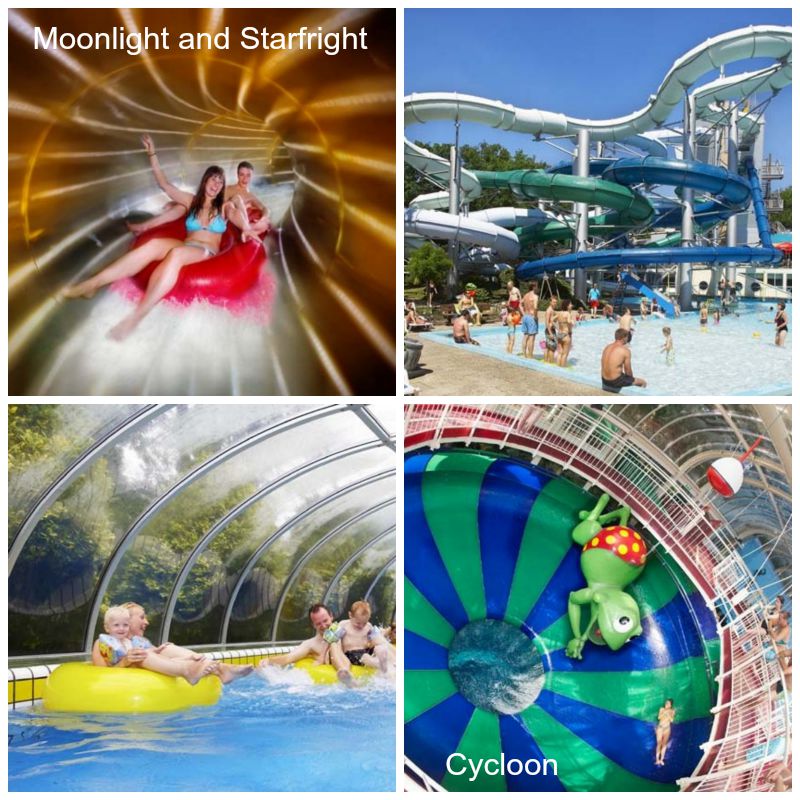 2. Ride the coasters
The next big attraction at Duinrell is the theme park. This is a genius idea for a holiday park, and ensures that you could quite happily never leave the site. We did, several times, venture out to see the local area, but on our return this was the first thing the kids wanted to do every afternoon.
What's lovely about the attractions is that they are very widely balanced. The Bug managed his first rollercoaster in the form of the Dragonfly, but if he'd felt less brave, there was plenty for him to do in the form of a a small ferris wheel, bumper boats, and a rather excellent swing seat carousel. For thrillseeker GG there was the very scary Falcon, with loops and a sheer drop, and the Mad Mill – I'll leave that one to your imagination! For a small theme park, it had pretty much everything covered.
And because there's no entry fee, and very short queues, it really is a relaxed affair popping down the lane from your mobile home or camp pitch for a couple of rides.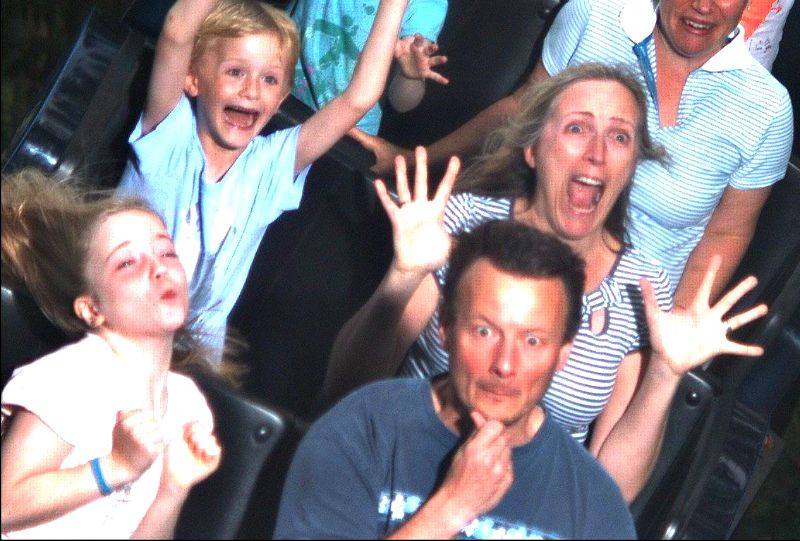 Canvas have a meme going on this year in celebration of their 50th birthday – #Canvas50. We think making fun of the coaster camera should be added to their list!
3. Hire a Go-Kart
Remember the feeling of staying out late on summer nights as a child? Roaming the streets with your mates, making up games and finding adventure. We don't tend to let our children have so much freedom these days, but Duinrell is the perfect place for them to gain a taste. These gorgeous machines are available to hire from the on-site bike rental facility. We didn't have one, having hired bikes for the week, but all the kids were zooming around on them until late in the evening. So we armed our two with phones, check-in times, and instructions to stay together, and sent them off on their bikes to the theme park after dinner. The site is self-contained after it closes to the public, with good security (and they were questioned about where their parents were), so we knew they were safe. They were so proud of themselves managing their freedom that we even poured ourselves a glass of wine on deck.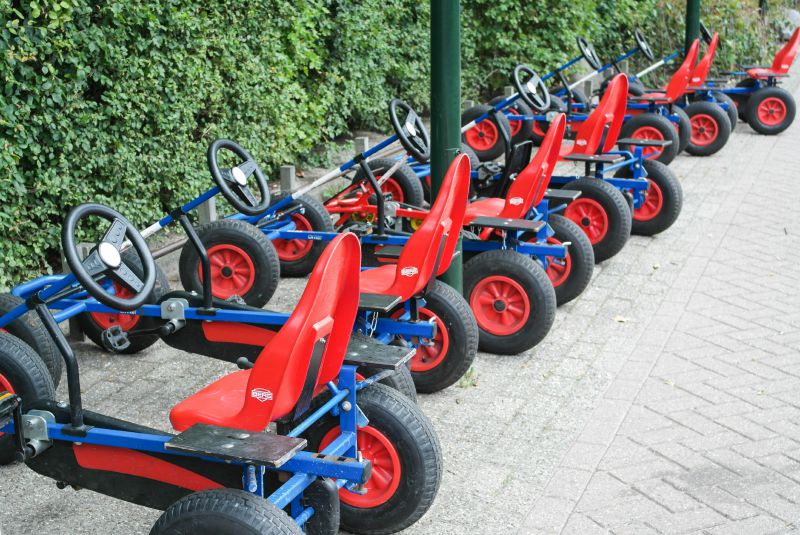 4. Eat pancakes
We did this after a long morning at the Tikibad and we were ravenous, but these were hearty enough to satisfy all our appetites. In fact, our plan to have a savoury pancake for lunch, and a sweet version for pudding fell through, so stuffed were we. So we had to go back the next day for a late breakfast. Naturally…

The pancake house is a great place to hang out on a wet day too. Which brings us to…
5. Ride the carousel at the Pancake House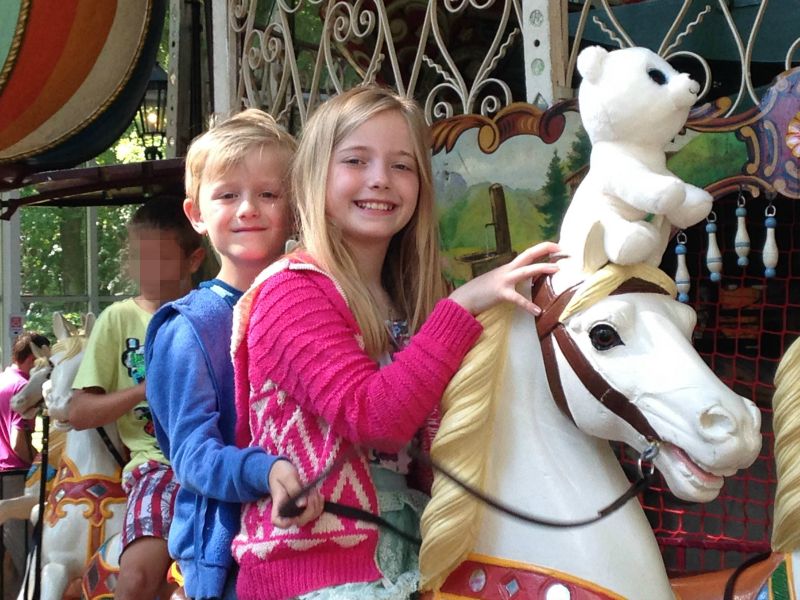 At the centre of the pancake house is a lovely traditional-style carousel. I know it's sedate, but I've always loved sitting on those glossy braided ponies – there's something so charming about it. There are no impatient kids in this restaurant while they wait for their lunch.
6. Dine at La Place
The main plaza is where you will find the supermarket, the pub with regular evening entertainment, a bowling alley, and La Place, a restaurant with lots of options. If you're in a hurry or just want something simple, there's a self-service selection; but for a really special dinner, you can watch the staff prepare pretty much anything you fancy. There's an impressive selection of steaks and chicken; you pick the cut you want, the sauce or dressings, and watch them grill it to your specification, then simply help yourself to a vast array of salads and side dishes. If you fancy pizza they'll make that in front of you, with your choice of toppings, in a wood-burning oven. Or there are various pasta options if that's your preference. It's self-service, but it's really good self-service.
When you're finished with your main courses, the kids will be bursting to get to the dessert bar, where there's a self-service ice-cream machine, and bowls full of treats to select as toppings. It was a very popular choice with our two!
7. Try Poffertjes
Everwhere we went, we saw chalkboards advertising poffertjes. We asked twitter for an explanation, which started a hilarious conversation about when Appeltaart met Slagroom (apple pie with whipped cream). But I was able to discover that poffertjes are a type of small, puffed up pancake, served with butter and icing sugar. I had to have them, and luckily they're available on the amusement park, just between the Log Flume and the Tikibad. They're delicious! And what's more the supermarket on site sells a poffertje pan. Guess what I got for my holiday souvenir?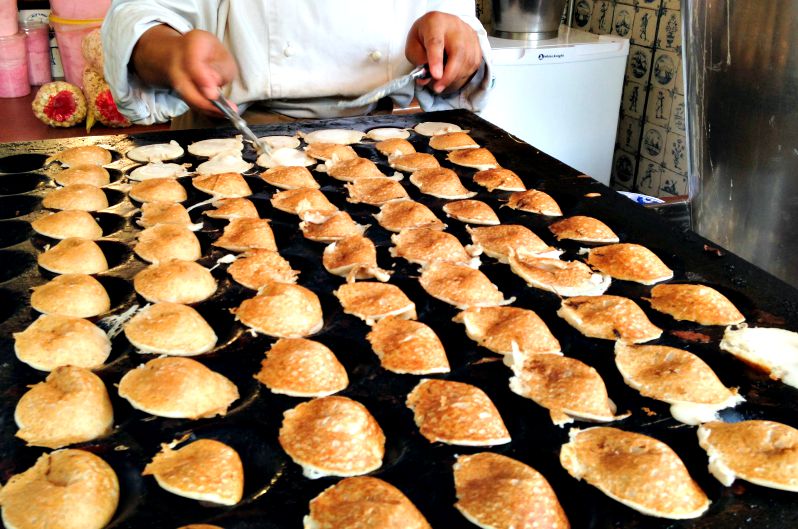 8. Cycle to the beach
The bikes for hire at Duinrell are in great condition, and once you get used to pedalling backwards to brake (no handlebar brakes here), it's a breeze to take the kids cycling. Firstly, The Netherlands are flat! When we cycle at home there are frequent whines, and requirements for bribes when confronted with a hill. The Dutch do cycling so brilliantly I wonder why anyone ever bothers with a car. Cycle lanes are wide, road markings often dictate that cyclists have right of way, and everyone in a vehicle is on the lookout for people on bikes. A twenty minute easy ride took us to Wassenaar, the local beach, where we had a rather interesting adventure…
9. Take a drive out to Leiden
Leiden is a charming town, and boasts the very pretty canals that Holland is famous for. Just a half hour drive away, it's a lovely day out wandering along the waterways, stopping for coffee and cake, or browsing the shops. Dutch people are really friendly and helpful, and everywhere feels safe. There are so many lovely coffee shops along the canal, and you can't really go wrong in any of them.
Part of your planning might include car hire. We recommend Discover Cars for sensible car hire at sensible prices. (Affiliate link)

10. Take a day trip to Scheveningen
The beach is why you'd go to Sheveningen, and it's an easy hour-long cycle ride. It's a much more commercial beach town than the local beaches, but it's full of vibe and activities for everyone. My daughter very quickly figured out the translation for shopping, and got down to the serious business of browsing the beach-front outlets, but not before we had a lovely lunch at one of the gorgeous restaurants overlooking the promenade. We had the most epic ice-cream on a walk along the very cool enclosed pier, and then the children did this!
Lucky we'd parked our bikes at the Carlton beach bar – we needed a cocktail for the road after that excitement!
For a visual account of our trip to Duinrell with Canvas Holidays watch this short clip. The Netherlands may not be the obvious first choice for a summer camping trip, but it's certainly the one with the most options to fill your week.
Lake Garda is another less obvious holiday destination but you might like to try Canvas's Bella Italia site there too!
We were guests of Canvas Holidays in a Select Plus 3-bedroom mobile home at Duinrell. All fun, photos and opinion was our own!