I met my husband on holiday. We bonded over gluwein and ski-runs, and never looked back. Always forward, to the next trip. And we've had some great trips over the years. Dubai, the Maldives, California, Aspen, Cape Town and Turkey are just some of the places we've ventured. When children came along we stayed a little closer to home, but not for long. Our wanderlust and love of new experiences has us back out there now that the kids are a little older, and they're proving themselves to be very enthusastic travel companions in their own rights.
Lonely Planet introduces travel books for kids
One thing that never fails to make it into our luggage (indeed, it graces the bedside table for months beforehand, and is always on one of our Christmas lists) is the Lonely Planet guide to wherever our next adventure is going to be. So we were excited to find that Lonely Planet are now providing travel books aimed purely at the younger members of the family. Lonely Planet Kids aims to "kick start the travel bug in young ones all over the globe," and they've started their quest with the launch of four new books guaranteed to inspire children of all ages.
Here we review one of our favourites. Scroll down for a chance to enter our giveaway to win one of these books (your choice) for yourself.
You Rule
Tired of following other people's rules? Think you can do better? Now's your chance. We'll show you how to design a completely new nation from scratch. Decide on the laws, choose your borders, make your flag, and lots more. You'll get to create, organise, govern and judge. You can be king, queen, big chief, emperor, president or dictator. Because right here, right now, you rule!
Well, you can imagine how enticing this sounded to an eight-year-old. The Bug got stuck into this lovely book straight away, picking up tips about borders, currency, climate, and nationality along the way. Following the instructions in the nine chapters of this book, he chose a part of the world he loves, decided who would live on either side, and worked out his form of government. He figured out how to make money in his new economy, and planned some fun for his people.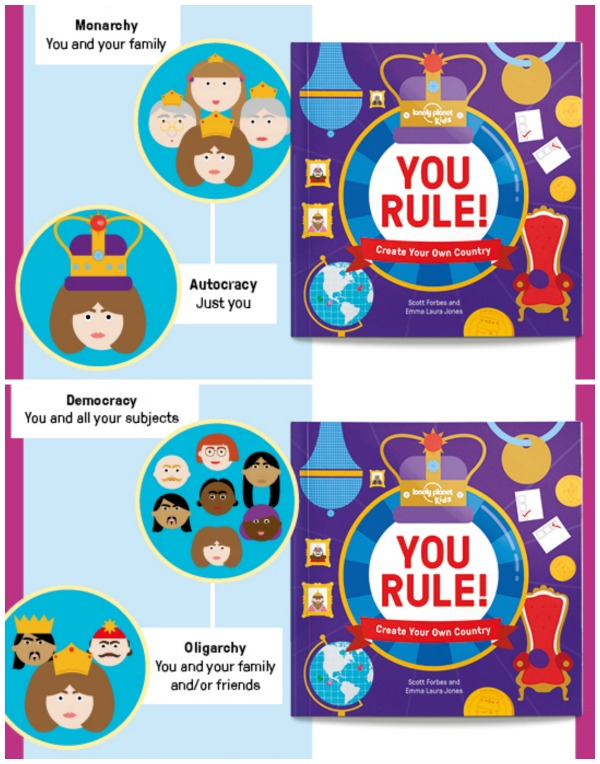 Here's what he had to say about his choices:
Step 1: Pick a place
I chose the Caribbean, because it's warm, and lovely, and the best holiday I've ever been on. Who wouldn't want to live there?
Step 2: Mark your territory
The book describes what some of the natural boundaries of a country might be, and I decided to border one side of my land with the sea; on the other side I placed the great wall of China. Of course, I know it's not in the Caribbean, but this is my country, and I rule! The rest of my land is bordered by Argentina.
Step 3: Make it official
Here is where it gets very cool. You need to decide on a name for your country, design a flag, and think up a motto. I'm still working on that one, but it will be something appropriately egotistical, and based around the ethos of chilling out on a beach.
Step 4: Bring a crowd
There's a special path so that people from England can visit my country. Anyone can come, but the first person down it is my sister – she's going to be a slave. She wears a special hat – the slave hat – so that everyone knows she is my slave. You get lots of tips and facts about migration in the real world, and even some ideas on which nationalities will suit your temperament best. I'm thinking I need autocratic slave-drivers who like to lie in the sun…
Step 5: Showing who's boss
This is where you learn about different forms of government, and which countries are democracies and dictatorships. As we all know, I am the boss, the King, with a very heavy crown, covered in jewels and diamonds. I'm a nice person though, and I let anyone in – apart from traitors; they get pushed straight into the sea.
Step 6: Get down to business
For a country to thrive, you need money, so next I created my currency. I made £15 and £50 coins, because coins are much nicer than notes. We also have high value notes, with curved edges, and if you're lucky, the cash points will occasionally give you a note with a coin attached to it! Unfortunately, the cash machine breaks down quite a lot, but this can be used to your advantage: if you're very clever, you can manage to press all the buttons on the machine at the same time, and it will spew out all the cash the bank has. Brilliant when you need to buy lots of LEGO.
Of course, to make all this wealth, you need a resource or a trade. My country is very rich, so a lot of our time is spent roaming the land with a metal detector. There is so much treasure under the ground that the metal detector never stops beeping.
Step 7: Dress it up
This is where you get to have some fun, deciding what your citizens do with their time. Mine are all sparkly – given how much metal we unearth with our metal detectors – so they like to dress up and have regular parties. Plus it's the Caribbean – we know how to have fun!
Step 8: Troubleshooting
Obviously, when you have a country as good as mine, people want it. They want to invade and start a war. Like I said before, we just push them into the sea. But not before we've made them own up to all their secrets. We're also very good friends with Argentina and China, who always step in to help if we're in trouble.
Step 9: Pass It On
It's very important to make sure that everyone remembers you when you're gone, so I commission photographers and painters to make lots of pictures of me, and of all the important people in the country. Not my slaves though.
More Lonely Planet travel books for kids
The Lonely Planet Kids Travel Book
I love this one. With a different country on every page, the Travel Book gives kids bite-sized facts and quirks about every country in the world. I'm going to spend some time dipping into this one with my daughter, whose only current information on Mexico is that they have nachos, and hats, and ponies there. Which is all quite possibly true, but still…
How to be an International Spy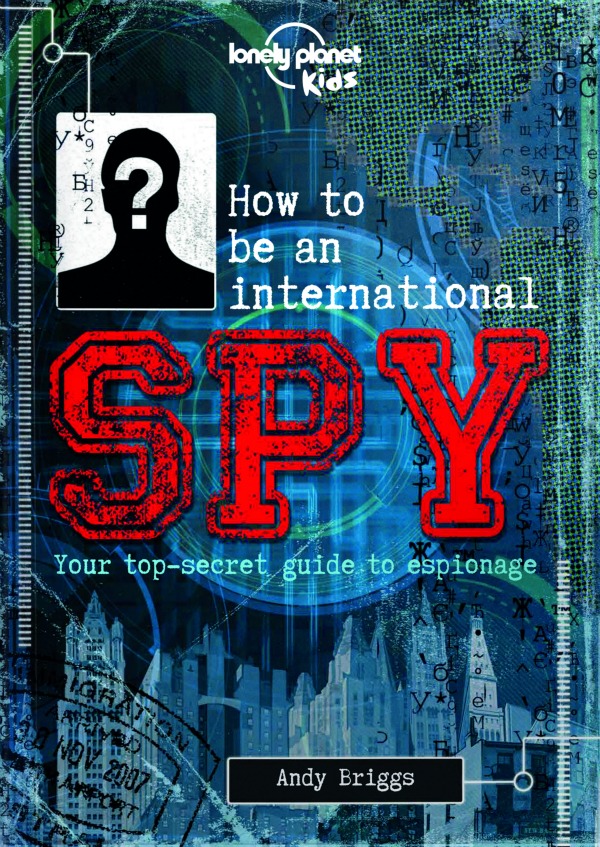 Latching onto an age-old favourite with kids, this book talks them through everything involved in espionage, teaching them along the way which countries play host to the biggest agencies in the world, and who invented the coolest gadgets. GG recently did a school module on World War II, which saw an actual Enigma machine brought into the school hall, and she was fascinated, so I know this book will be a great success in our house.
Adventures Around the Globe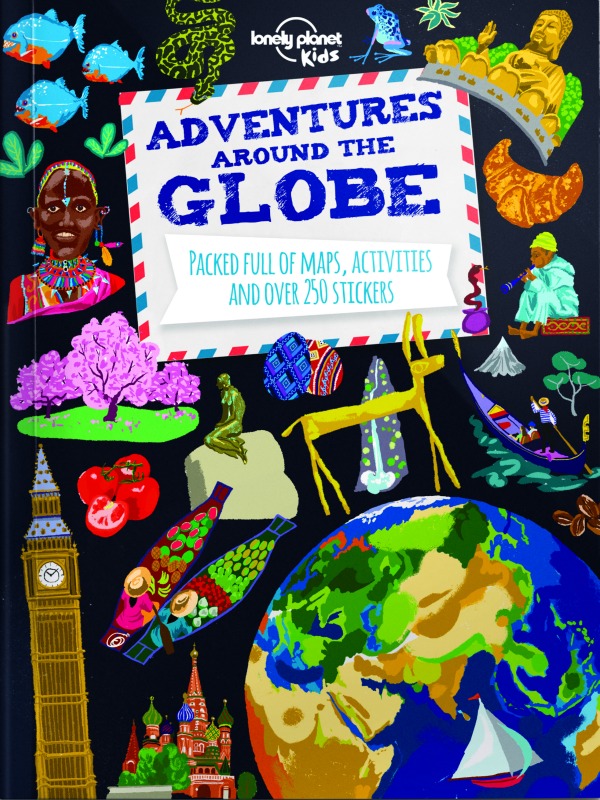 Aimed at younger children, aged three and up, is a beautifully illustrated sticker atlas which inspires young readers with glimpses of some of the world's most iconic sights. Open at your peril, once seen, your pre-schoolers will have African safaris and Machu Picchu on their travel bucket-lists!
GIVEAWAY NOW ENDED
To win one of these books for your own mini-globetrotter, simply complete the options in the Rafflecopter form below:
Terms and Conditions
1. Entry is open to UK residents only, excluding anyone professionally associated with Actually Mummy or the promoter.
2. One winner will win a book of their choice from the four books featured in this post. The prize is non-transferable, non-refundable and there is no cash alternative.
3. The prize draw starts at 12.01am GMT on Friday 23 October 2015 and closes at 11.59pm GMT on Thursday 5th October 2015.
4. Entry is free and must be made by commenting on this blog post answering: 'Where does your child have on his/her travel bucket list?' Bonus entries can be obtained by tweeting about the giveaway, visiting Lonely Planet Kids on Facebook, visiting Actually Mummy on Facebook, following Lonely Planet Kids on Twitter, and following Actually Mummy on Twitter.
5. The name of the winner will be published on this website within 14 days of the giveaway closing.
6. The winner will be drawn at random using Rafflecopter and they must have commented on this blog post for their entry to count.
7. The winner will be notified by email. They willl have a week to respond, after which time a redraw will take place.
8. In the unlikely event that the prize becomes unavailable the Promoter reserves the right to substitute a prize of equal value.
9. The Promoter's decision on all matters is final and binding on all entrants. No correspondence will be entered into.
10. By taking part in this competition you agree to be bound by the competition terms and conditions.
11. The Promoter reserves the right to disqualify any entrant and / or winner at its discretion and without any notice in accordance with these terms and conditions.
12. The Promoter is: Lonely Planet, 240 Blackfriars Rd, London SE1 8NW
You Rule, and Adventures Around the Globe are priced at £9.99. The Lonely Planet Kids Travel Book retails at £14.99, and How to be an International Spy is £12.99. Follow Lonely Planet Kids on Twitter, or on Facebook, for fabulous kids activities, family travel inspiration, and practical advice on travelling with children.
We were sent all 4 books for the purposes of review. Words and opinions are our own.