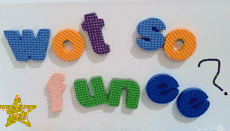 I was having a chat with Mummy the other day about school in the olden days. She laughed when I asked her if they had school when she was young and if she went. I thought it was a pretty reasonable question given how little she knows about the things they teach in school. I am 7 and I already know more than her. This is a synopsis of several post-schoolday interactions we have had over the last few weeks:
Mummy: What did you learn today?
GG: Oh just Symbolism in Hindu worship….
GG: I was sad today because I didn't get a go with the camera
M: Oh, are you learning to take photos?
GG: No! *eyeroll* We're learning to capture a digital image….
GG: Today I wrote a story using Hands connectives.
M: What are they?
GG: You know, HANDS – However, Although, Nevertheless, Despite, and Subsequently, obviously!
M: Did you have P.E. today?
GG: Yes, we learned about making facial gestures.
M: Oh, do you mean acting?
GG: Mummy, today we made a portrait of our teacher in the Cubist style – Picasso was one. Next week we're doing Pointilism – I love it!
M: ??
GG: Mummy, do you know the difference between digital and non-digital text?
M: Well no, obviously I know nothing. Did I even go to school?
GG: Probably not, they didn't have hyperlinks in the olden days, did they?
Did you say anything your parents found amusing this week? If so, are they as old as mine, and therefore educationally challenged? Let me know if they laugh at your success and I'll be round to have a word. Or several…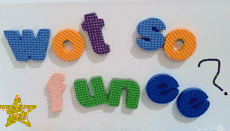 Link up your own #funee posts with the linky tool below. Steal my badge, and leave a comment after you have linked. If you're new here check out the Wot So Funee? main page then come back and join in the fun! Feel free to add any funny post you want to share. Just include a link back to this post or paste the #funee badge into your own. Then go and share the giggles!
Powered by Linky Tools
Click here to enter your link and view this Linky Tools list…
And now for my Christmas Blog Discovery for today! On the 8th Day of Christmas Mummy was drawn to this cheeky post by The Bush Babies. Never having seen it before she very quickly signed up after seeing this post – I will warn you, wait until the kids are in bed before you click!