There's something exciting about Autumn. When you finally concede that the weather is too cold to go without socks, and pack away your summer clothes, it's tempting to feel sad, especially when you've had an amazing summer at home with the kids. But once I've committed to it, I start to get excited about the clothes that have been stashed away at the back of the cupboard – the cosy fleeces and padded mittens – and I greet them like old friends. Even better, though, there's a new season of clothes to be had!
When it comes to buying clothes for kids, I've learned to take a two-pronged approach to it. It needs to look cool, because my kids care about that stuff, and they know what they like; and it needs to be good quality. I remember my mum refusing to buy me clothes from the cheap fashion shops I liked, instead dragging me to quality department stores I will not name here. I hated it. Well, I know now exactly where she was coming from, and the need to balance quality and durability with fashion is really important to me when I shop for my kids.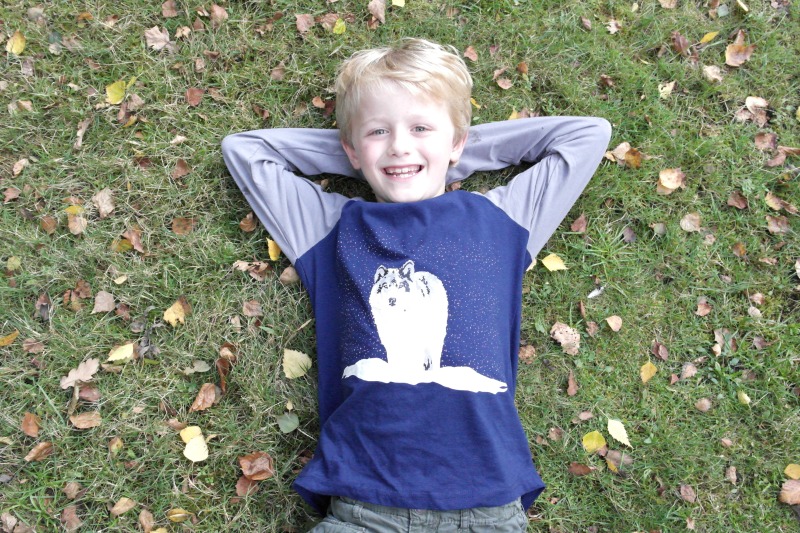 One brand I've really fallen in love with since it launched last spring, is the Steve Backshall range from Mountain Warehouse. For children aged between 7-13 years, the collection has been made with the aim to encourage kids back outside and capture the spirit of adventure through design and functionality. Just knowing there are clothes designed in collaboration with the kids' Deadly 60 idol tells me they are going to be cool. And my son is so much into animals, that I knew he'd be spoilt for choice in terms of design. The t-shirts and hoodies all feature great animal designs, and there's a fab choice of colours. They're also made of really thick, good quality fabric, and the Bug's wolf hoodie stood up to the test of climbing trees really well at the weekend. I also really love the design of the long-sleeved t-shirt he chose, and he said it felt super-soft and comfortable.
I'm pretty confident that these clothes will survive the bashing that young boys put their things through, but the proof of the pudding is always in actually testing it out, and that's exactly what GG did when she took her Steve Backshall walking boots on her first school hiking trip. They knew they'd be walking eight kilometres in the Peak District; what they didn't know is they'd be doing a steep climb at the end, and then walking back again! And just to really shake things up, she sprained her ankle two days before they left! So her new boots had a challenge to stand up to.
The boots have a high ankle, which is great for support, and are made in a strong, structured design, with thick soles and a deep tread. So we knew they would protect her feet really well. I'd asked her to wear them in around the house for a few weeks before she left, as she can be prone to blisters in new shoes, but inevitably, we'd both forgotten. I deposited her on the school coach nervously, with instructions to take ibuprofen after meals, and ice her ankle if it got worse. She returned three days later full of tall stories about giant mountains, near exhaustion, and rap battles in the evenings. Not a word about her ankle. "Oh that," she declared. "Wasn't a problem." So the boots did well. They're also really cool in colour, without being so girly that they won't serve the same purpose for her brother when his turn comes to scale the massive peaks!
Thanks to Mountain Warehouse for our fab new threads. The new Autumn/Winter Steve Backshall range is out now, but I have it on good authority that stocks are selling fast, so you'll have to be quick. I have my eye on a turquoise penguin hoodie. Wish they made it in my size!