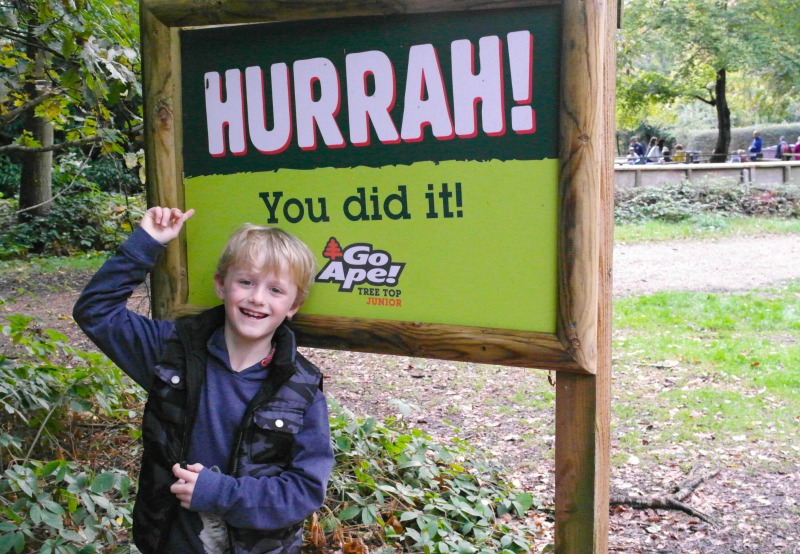 Go Ape for Families – what you need to know
Yesterday we had the most fun it's possible to have with bark chips in your pants and mud up your sleeves. I've had my eye on Go Ape for ages, but have been resisting it until the Bug was old enough to do the more challenging Tree Top Adventure with all of us (kids have to be 10 or over), but when he told me he was too nervous, I couldn't resist any longer, and we booked for Go Ape Black Park, in Buckinghamshire. The whole family can enjoy Go Ape, from age 6 up, so myself and the Bug hit Tree Top Junior, whilst the thrill-seekers went off to climb the big trees – and do the really scary stuff (more on that later).
Go Ape Tree Top Junior (6-10 years)
I so needn't have worried. Firstly, the team at Go Ape are super friendly, and explained to us the risks and what-not-to-do's in a way that got the message over, but didn't induce nerves of any kind. The Bug paid attention, got his harness clipped onto the course, and we were off.
The first thing you do on the Junior adventure is have a go on a short low-level course, to get a feel for how your harness and cables work. It's not scary at all. You can't fall off, and even if you could, it's only a foot off the ground – plain sailing for any toddler who's ever defied a parent on a climbing frame. Your safety harness is attached by a rope and carabiner to the metal cables of the course, and once it's clipped on by the supervisors, it won't unclip until you've completed the whole circuit. Really safe.
After that, we set off on the higher ropes. Now, it turns out I'm not great with heights. Albeit I was convinced of my complete and total safety, looking down through the obstacles challenged my senses to a duel with my good friend vertigo. (I'm a wimp – I can't look over the back of a ferry either). I found the best way to get past that was to focus on my feet, and zone out my peripheral vision to reduce the sensation of height.
Needless to say, my 9 year old had no such compunction, and left me in the dust, totally. In fact, as I opted to shoot photographs from the ground, he actually ran, leaping from spot to spot on the walkways, to throw himself down the zip wire with aplomb. He liked it so much that he completely filled the whole hour we had allocated, and told me how many sleeps it is till he's ten. Apparently, he's going on the bigger course next year!
Go Ape Tree Top Adventure (over 10)
Meanwhile, these two had completed an even more rigorous training session, and were well under way on the second of 5 courses on the Tree Top Adventure. This is more technical, with various ropes and clips involved, but they'd been given a simple colour code for the order the different clips had to be released and reattached to the safety wires, and it was hard to get it wrong. Certainly, they looked pretty confident, and when I questioned a supervisor on course 5 about the lack of staff at every platform, he said by this point it's ingrained in them, and they're not going to make mistakes. That said, it does take a bit of discipline to make sure you're set up at each station – the 10 year age limit is more for sense and responsibility than for fear of heights!
Once you've got your head around the fact that you're safe, you can get on with the business of having fun with the challenges. And they are a challenge! I watched GG and Actually Daddy struggle with this hoop run, both of them making shapes with their bodies that I'd not seen before. If you're old enough to remember Gladiators, it's not far off.
The zip wire at the end of all these runs is also much longer and faster, for the ultimate thrill.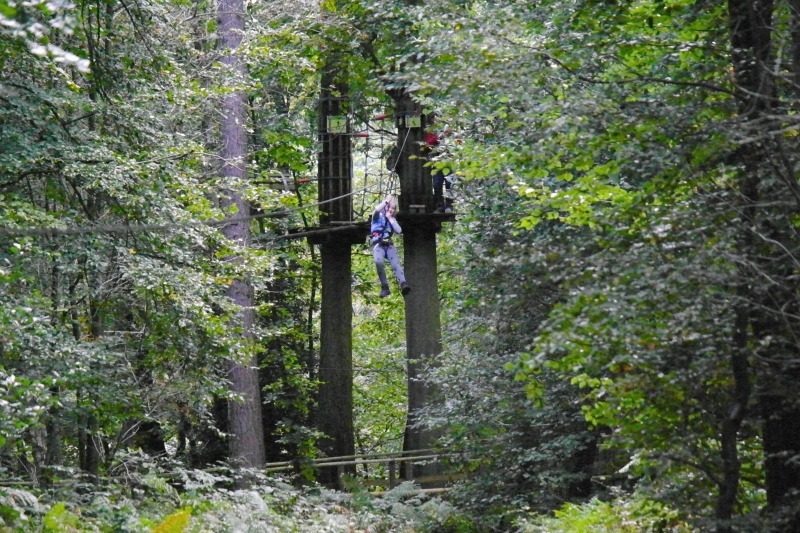 If you're planning a visit, it's worth knowing that the Tree Top Adventure takes about 2 hours to complete, depending on how many people are ahead of you. Whilst it never felt crowded, there were a few platforms where my two had to wait a while for those ahead of them to complete the next challenge. But it's probably a good place to take a breather before moving on, and the woods are beautiful. In fact, it's not a bad idea to go as a family and do some walks through the woods while you wait for older members to complete the course. You could easily spend all day at the park – there are some play and lunch areas, a small coffee and snack bar, and Segway tours for older members of the family.
Good to know
Tree top adventure is for children and adults age 10 upwards. The entire course takes about 2 and a half hours to complete, but it is split into 5 sections (at Black Park), and you can stop at the end of any section.
Younger children can do tree top junior from the age of 6, but may need an adult with them to supervise. It takes just over 1 hour, including safety briefings
Go Ape run children's parties on tree top junior. It is completely safe if children stick to the rules
Safety is good, but it is wise to have an adult behind each child on tree top adventure, to double check all the safety ropes have been properly attached
It's a good idea to wear gloves, to protect hands from rope burns, though it's not mandatory
The parks are beautiful, and it's worth spending a whole day – take a picnic. There's a small open-air café on site, but no meal options
You'll need change for the pay and display car park.
Thanks to Go Ape for our tickets. All opinion and imagery is our own.
THANK YOU FOR READING
If you've enjoyed this post and found it useful here are some ways you can say thanks and support Actually Mummy:
Click here to buy me a virtual coffee.
Join our Teenage Kicks Facebook group which includes lots of advice and support for parents of teenagers. You can post your own problems and advice here too.
Click here to leave a review of the Teenage Kicks podcast.
Click here to sign up to our newsletter packed with tips, ideas and support for parents of teens.
Share this post with your friends.