Indoor Skydiving with iFly
I swore I would never go skydiving. We're pretty adventurous in our family, and between us we're up for most things. But jumping out of a plane? No. Not for me. My daughter claims she would, and also thinks that bungee jumping is something everyone should try. (Also not happening in my lifetime). My son is the most sedate amongst us, and probably won't be testing my parental panic meter with daredevil activities any time soon, but with a husband who's planning to throw himself off a mountain for his 50th birthday, it's fair to say that getting on the thrill programme is not optional for us.
So when iFly asked if we'd like to try indoor skydiving, I decided it would be the perfect opportunity to show my daughter that I'm brave enough to keep up with her, without risking life and limb. And with any luck, it would tick her skydiving box and I'd never have to contemplate it again. In the event, it didn't turn out that way.
We 'flew' at iFly in Milton Keynes where, after a full confession of our state of fitness, we were taken through all the safety procedures and flying techniques. Our instructor began the session with a summary of the skydiving he had done, pointing out that at 1600 jumps, he was the baby of the iFly team, who had all completed thousands of free falling jumps from a plane. "So skydiving is actually a really safe sport, and I hope that after today you guys will take it up seriously," he urged us, before handing us full flight suits and goggles. We were then told how to position our bodies whilst flying – which is really the most bizarre thought – and given hand signals in order to communicate with him mid-flight. The we inserted ear plugs (it gets noisy in the wind tunnel), and taken to the flight chamber.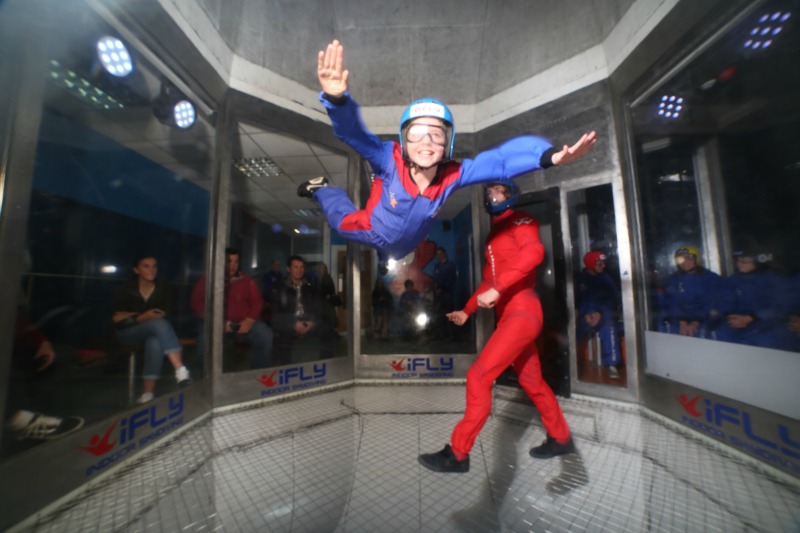 There was never any doubt about who would be first in, and I watched as Maddie literally threw herself onto the air rush. The chamber is basically a long vertical tunnel, with a net to stand on (and prevent you dropping – I was all over the safety measures!) A guy in a booth controls the airflow, and therefore the resistance, increasing flow for larger weights, I imagine. She loved it and emerged, breathless, after her two-minute flight, ready to go again. When it came my turn, I was too scared to 'fall' into the air, but that really didn't matter. Our instructor grabbed me and manipulated me into a horizontal position, and just like that, I was flying!
I say 'just like that,' but there's actually more to flying than meets the eye, and I found that I had very little control over where and how the air stream took me. But I needn't have worried. The sign language began, and I remembered my arm position. Things improved as I picked up my technique, but whenever I struggled, our instructor just manoeuvred me to the screen in the tunnel, which told me what to do. So as long as you can read, you're going to learn. My instruction was to 'RELAX!' and it really did work.
The Bug really wasn't keen. He huddled up to me until the last minute. But the instructor seemed to know that he was nervous, and took him in, holding him, letting him go, then grabbing him to recentre him as needed, making sure he got his confidence. I'd been pretty convinced he wouldn't take his second go (and he told me afterwards that he almost didn't) but he went in without hesitation, and came out smiling.
As we picked up our certificates at the end (no prizes for guessing who had the most achievements and was ready for the next grade!) my wobbly legs gathered their strength, and I found myself asking how much the full course would cost. Of course, I'm not going to do it, because once you're fully qualified in the wind tunnel, there's nowhere to go but the sky, and I've already said, I'm not doing that. Or am I?
iFly indoor skydiving is available at Basingstoke, Manchester, and Milton Keynes. A flight usually costs £48.99, but the iFly Kick Start experience voucher is currently available for £28.99, making it a perfect Christmas gift for thrill-seekers, and it's the perfect idea for a teenage birthday party.
Thanks to iFly for this experience. All opinion is our own. Images are courtesy of iFly from our flight. 
Good to know
You must arrive for your flight one hour before your allotted time. This is so that you can fill out the safety forms, take the basic training, and get kitted out ready to fly.
Take some £1 coins – you can't take anything with you into the flight chamber (though they will look after medical kit for you in there if you need it), and the lockers aren't large. The lockers will swallow your £1 as well, so be prepared to lose it. Probably more sensible (at Milton Keynes) to use the refundable lockers at the Snowdome centre before going into iFly.
While you're on your second flight, you will be offered an extra minute, or the opportunity to have the instructor take you up high into the chamber. This does incur an extra charge though, payable at the end, so if you don't want to pay that, be very clear with your children that a nod, or a thumbs up is going to cost you!