Waffles in the snow – what more could you want?
There's nothing better than sitting out in the cold air, sunshine blazing down on pristine snow, and cold beer in your hand after a long day of skiing. That moment when you loosen your boots, and your tongue, as you relive the stories of the day, from that time the Bug did a 360° spin without meaning to, to the moment when Dad wiped out in the powder and lost a ski, via the epic sneeze on the chair lift that made people on the slopes look up in confusion. It's all part of a ski holiday, and there's no better time for it than over dinner and drinks.
As one of the major ski and snowboarding resorts in Europe, Val Thorens has developed a reputation for top class ski slopes, accompanied by the best the Three Valleys has to offer in terms of accommodation and teaching. In recent years though, the focus in this purpose-built resort has been on adding value around the edges of the core activity of snow sports, especially with regards to families.
Where to eat in Val Thorens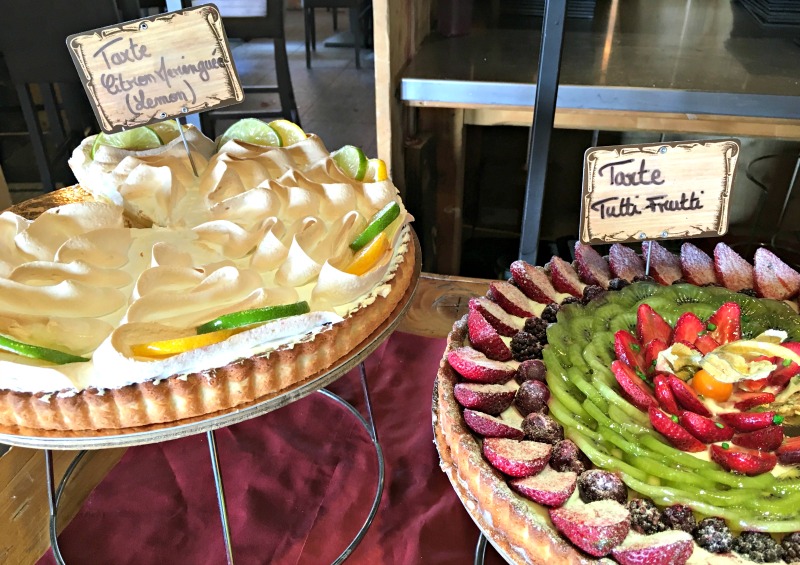 Dessert at Chalet Val Thorens.
We spent a week in Val Thorens as a family, exploring everything it had to offer, including the food. We've been lucky enough to do every kind of ski holiday in the past, from baguettes in a backpack sitting in the snow, to fully catered chalets with cooked breakfasts, sumptuous afternoon teas, and banquets in the evening. Skiing makes you hungry, and French food is amongst the best in the world, especially in the Savoie region where Val Thorens is situated. So we were excited to explore the local cuisine and feast on culinary delights whilst we satisfied our cravings for the snow. By no means did we manage to sample all the best offerings, but we did eat very well during our week in Val Thorens. Here are some of our top picks:
Top slope-side places to eat in Val Thorens
Le Caribou
At the top of the Moraine chair lift (see our Val Thorens piste guide for more on the best slopes for families) is the Génépi run. Quite aside from Génépi's qualities as a delightful blue run that's perfect for intermediate skiers, the piste has another key attribute. From it you can access one of the most atmospheric alpine restaurants in the resort. We were lucky enough to find Le Caribou on our first day of skiing, and though we were tempted by the sunshine on the large deck outside, we opted to eat indoors. It turned out to be a great decision; who could fail to be charmed by this wonderful log fire?
Alpine charm at Le Caribou.
It was pricey, but no more than you'd expect of a really good restaurant in a top ski resort, and the food was good enough to merit the cost. We opted for two plates of the local speciality, tartiflette (a creamy, cheesy, bacony potato dish – what's not to love?), and the plat du jour – fried potatoes with Merguez sausages, perfect for the kids. It was so good I'll admit I succumbed to a glass of very decent house red to set me up for the ski down.
Moutiere
Not as pricey, and not as good but the friendliness of the staff more than made up for any lack where the food was concerned, and though it was decent, rather than epic, it was plentiful. Try the croziflette – basically tartiflette made with macaroni rather than potato. Delicious. By this time the Savoie white was pretty much 'de rigueur' with lunch!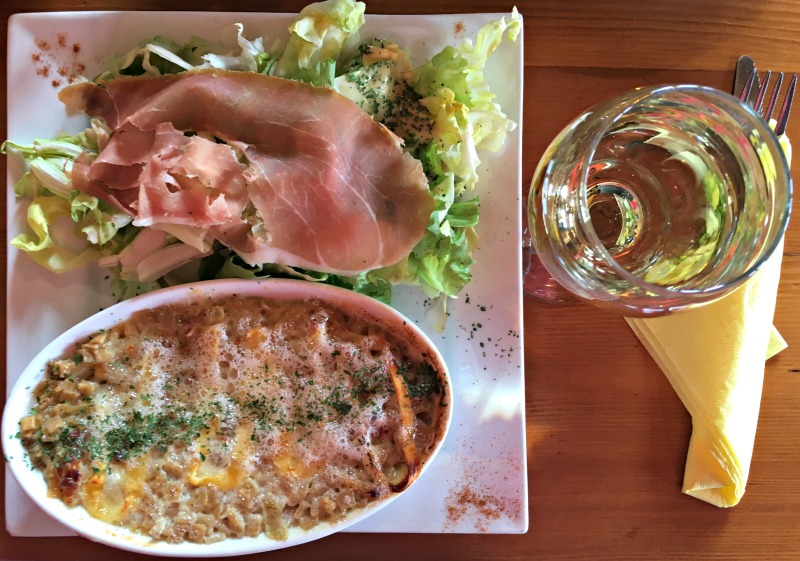 Les Aiguilles de Peclet
I'll admit I was disappointed with this restaurant, perched right at the top of the Peclet lift. By rights it should be the perfect meeting place for non-skiers to catch up with skiing friends, as the gondola can be accessed by walkers from the bottom. And it is, but again, the food here is basic – it's a pit stop more than an indulgence. That said, prices are reflective of this, service is speedy, and the staff are really friendly. A good one for a quick lunch.
Chalets du Thorens
A huge range of food options at Chalets du Thorens.
We had probably our best lunch here, though this was possibly more due to the glorious sunny day than to the food. The restaurant looked amazing (see the tarts above), but we opted for self-service on the vast outside deck. There's nothing more iconic about a ski trip than sitting in a deck chair with a cold beer and a carton of chips, soaking up the sun, and this is the best place for it, in my opinion. Throughout the afternoon they have live music, and you can even book to stay in one of the apartments there as your base for the holiday. My tip for the Chalets is to order waffles for lunch. The queue for paninis and chips moved very slowly, but order a waffle with salted caramel or nutella and whipped cream and you'll wait just five minutes in your deck chair, for a cow bell to call you back for pick up. My family declared the waffles gorgeous. There's also a pizza, or wok option, and we'd definitely have considered going back the following day if we'd had the weather for it.
La Maison
We had the best pizza of our stay here, sitting on deck at the top of the beginners' slopes. Service was friendly, the rosé wine was cold, and they had the most amazing fluffy chandelier inside. I could quite easily have stayed all afternoon while the kids took their lessons. They don't call me a fair weather skier for nothing…
Ski Food
Probably the cheapest option on the slopes, this fast food kiosk sold really good paninis and 'skibabs' to take away, though if you're lucky you'll get one of the picnic tables on deck. Try the cheese mountain with steak – a meaty, cheesy, fried potato-stuffed toasted sandwich that really has to be seen to be believed.
Geo
The smell from the waffle hut that stands above the nightclub Malaysia tempts you in from right across the piste. And with good reason; the waffles are hot, fluffy and sensibly priced. Nutella and and cream was a hit for €5, but €4.50 will get you a waffle stuffed literally with sticks of chocolate – easier to eat, and just as delicious.
Val Thorens restaurants – where to eat in town
Having eaten so well during the day, we spent several evenings watching a film together over a baguette and cheese with salami. Most of the supermarkets sell good charcuterie, and the kids have developed a love of raclette cheese, which is available just about everywhere. We did venture out a couple of times though, and were equally as impressed with the dining options in town as we were with those on the slopes.
The Steak Club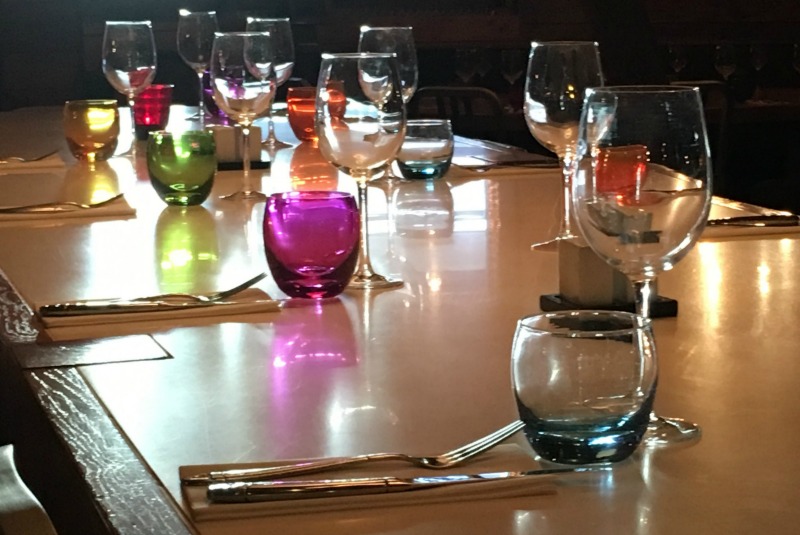 Our apartment at the Hameau du Kashmir was situated right at the entrance to the resort. The Steak Club is pretty much at the top of the hill, but it was so worth the climb. The unassuming exterior of this restaurant belies the sophistication inside. The menu has all the usual Savoie offerings, as well as a children's menu, but we bypassed it all in favour of the various cuts of steak on the meats menu. Our waiter knew pretty much everything about all the Argentinian steak cuts available, as well as which wines would work best with our order. We settled on a cote de boeuf to share, with a bottle of St Emilion for the grown-ups. The waiter was right; it was perfect.
La Petite Ferme
Just by the ski pass ticket office in the centre of town, La Petite Ferme is the classic place for pizzas and local specialities. It was here that we had our by now mandatory for a ski holiday cheese fondue, while the children grazed on pizza. All of it was good, including the indulgent puddings of moelleux chocolat (a gooey chocolate pudding), and crème brulee, which for some reason came as a set of three. Perfect for sharing!
La Piscine
This café/brasserie in the sports and shopping area looks basic but it is anything but. We ventured in here for lunch on our first day, when I was stressed from travelling, unpacking, and generally getting my bearings. I had planned to wash down the excellent-looking pizza with a glass of red wine. We ended up sharing a raclette so huge, and so gorgeous that we stayed for the entire duration of the Arsenal-West Ham derby on the big screen as we ate, and I needed three glasses of wine. For those not in the know, raclette features rather a lot of cheese, melted at your table, and oozed over boiled potatoes and charcuterie. It's awesome. It's a good job you don't go on a ski holiday for the good of your health!
When the raclette's bigger than your child.
Le Karmin
We didn't eat at this restaurant in our hotel Le Hameau du Kashmir, and I'm actually a bit gutted about that. As I wandered through the apartment complex taking photos on our last evening I ventured in and browsed the menu. It looked amazing, and was totally my kind of food for a posh dinner. Oh well, we'll just have to go back.

Restaurant Le Karmin – perfect for a special occasion.
Have you visited any of the restaurants featured here, or do you have other tips on where to eat in Val Thorens? We'd love to hear them.
What to read next
Après-ski – cheers!