I have bemoaned many times on the blog quite how dull I find cooking now that I have kids. Not because I don't enjoy food, or the thrill of creating something tasty that everyone loves. But because that doesn't always happen, and the process of putting meals on the table day after day becomes more of a chore than a joy. Anything that makes that task easier, and more successful will always get my vote. So I was excited to try the HelloFresh recipe box.
We had eight recipes for four people over the course of two weeks. Ample for a family who need routine and a decent meal every night, but who also have lots on and like to keep a few nights flexible for eating out, beans on toast or, you know, takeaways. Ahem…
What struck me first was the freshness and quality of the ingredients in the box. Loads – and I mean loads – of veg, in good condition, along with herbs, spices ready mixed and pre-measured, and a really good shelf-life on all the meat. I ended up freezing one lot of chicken due to a last minute change in plans, but other than that everything hung out in the fridge until I was ready to use it, thanks to the long use-by dates.
Next, I was excited by the recipes themselves. With a foodie and a traditional eater in the house, it's sometimes difficult to cater for the whole family within one meal. But I took one look at the recipes we were sent, and I knew that with a couple of twists, these meals would please everyone. Probably the most successful – after the glazed pork you see at the top of the post – was the marinated chicken kebabs. A little spicy, but not too much, the first comment from my kids was how juicy they were. And they were right. Either the cooking instructions were perfect, or the meat was super good quality. I came to the conclusion that it was both, and have resolved to buy all my meat from a really good butcher in future.
The other thing was the taste. I'd go so far as to say that the flavours were so good that both my kids condescended to try bulgar wheat, and one of them even professed to liking it. He is my politest child, but maybe it's indicative of things to come? Certainly my prawn hating daughter was absolutely fine with her prawn and serrano ham linguine – once we'd swerved her prawns into her brother's dish.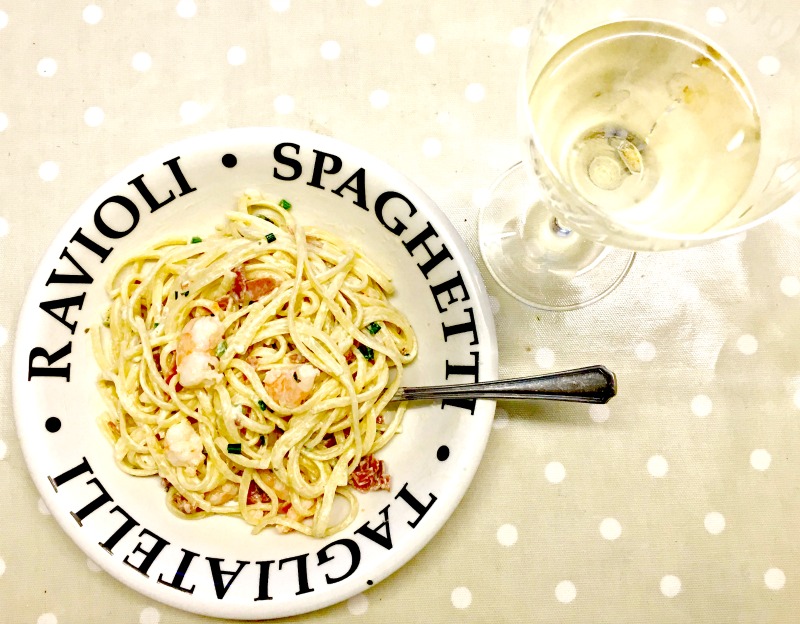 My other plus on the recipe box was the ease of cooking. Each recipe comes with a guideline for how long it will take to recreate, and I'd say they're pretty accurate. This has something to do with the fact that all the ingredients are pre-measured, and require only a small tilt of the hand to add to the recipe. I've always loved a Jamie Oliver recipe, but I swear his dishes only take 15 minutes if you have a sous chef doing all the weighing and chopping. Though there is a bit of herb prep involved (which all adds to the taste) everything else is pre-prepped for you, and that, my friends, is what you pay for. And in my view it's worth it.
That, and the luxury of not having to spend hours menu planning on a Sunday night or suffer the meat/fish/rice/pasta/repeat monotony every week!
If there was one thing I'd change about the HelloFresh recipe box, it would be the amount of packaging involved. It's needed to keep the meat cool until you unpack (I didn't have to be home for my delivery, I just left instructions for it to be left in the porch), but it is a lot to go in the recycling bins if you do this every week. In my ideal world, you'd sign up for an ongoing box, and HelloFresh would collect your old box when they delivered your new. That said, it is all recyclable, which is good.
All in all, if you're bored with menu planning, need some variety and ease, or just fancy a change and a week off the shopping, I'd say HelloFresh is worth a go. It's definitely a good first choice if you're considering trying out a recipe box service.
We were given 2 recipe boxes for the purposes of review. All imagery, opinion and editorial is our own, and may not be copied.