I always knew that this would be my first image in this post about SeaWorld Orlando. Before we visited this year, I had assumed that pretty much the entire park was about whales and dolphins, but I could not have been more wrong. With my kids both now over the magic 140cm height restriction, we were looking forward to riding the giant rollercoasters we could see from our hotel window – seriously, they make for an iconic vista – but I had no idea quite how impressive they'd be.
If you're here to find out about the animals, I'll tell you more about them further down this post. They are incredible, and SeaWorld do some fantastic conservation work, without which a lot of animals would be in distress, or near extinction, so please do read on. But first, prepare for what I think are some of the best rollercoasters in Orlando.
ADVERTISEMENT FEATURE
Our trip to Florida was paid for by SeaWorld Parks & Entertainment, and I have been paid for creating my own content about our holiday. This post contains affiliate links. This doesn't affect your experience, but may mean I make a small commission if you click on any of the links. There is no additional cost to you. 
SeaWorld's Amazing Rollercoasters
Kraken Unleashed – 7 loops
This was me, on our first morning at SeaWorld. Totally content to take the photos, happy to watch my family take the thrills. I'd watched them leave, nervous and excited; I'd watched them come back, elated, and desperate to go again. "There are 7 loops Mum!" they yelled at me, as they strapped themselves in again. "Come on!"
So I was in. How could I resist? I reserved the right to make this face though..
We rode Kraken Unleashed three times. Every time I got the fear as the gates opened, and the floor fell away. Every time I screamed as we cornered, and hung over the first drop. Every time, I swore I wasn't doing it again. And every time, I got right back on and loved every minute. My kids were demons on there too! Maddie, at 14, has always been a thrillseeker. I remember the discussion about whether or not it was safe to put tissue paper in her shoes, and under her hat to sneak her on rides earlier (don't, they make you remove your hat, and as I regularly lectured her dad, there's a height restriction for a reason!) The minute she passed the limit she was off on the ride of her life and she's never looked back. Just look at that smile.
But I was nervous for Evan. He howled his way round the Mouse Trap at Blackpool, and had never wanted to go on the big rides until recently. I needn't have worried. He was first back on, and first to ask what our next coaster experience would be.
Mako – the tallest, fastest and longest in Orlando
All four of us having well and truly found our coaster legs, there was no argument about who was going on Mako. The only debate was who would take the pictures, and do the filming. Take a look at our Florida thrillseeker rides video to see exactly how much of a thrill we had!
As the tallest, longest and fastest rollercoaster in Orlando (like the shark it's named after) Mako is guaranteed to give you a fantastic ride. Unlike most of SeaWorld's coasters, Mako doesn't have a harness. It feels disconcerting, until you realise there are no inversions – this one is all about speed, and the thrill of lifting a little as you ride is all part of the excitement. Trust me, you'll get your head around it. Just in time to ride again!
Fly like a Manta ray
Looks surreal, doesn't it? As you get ready to depart on Manta, your chairs tilt forwards until you're face down, and ready to fly. And that's the point. Designed to feel like the soaring glide of a giant Manta ray, this rollercoaster takes you dipping close to the water, then through the skies in a smooth ride that feels like no other coaster you've ever been on. I'm not a fan of the traditional rides – I find them a bit jerky on my aging neck! – but this was different to anything I've ever experienced before. Completely smooth, just a lovely ride.
Water Rides
Infinity Falls – the world's tallest river raft drop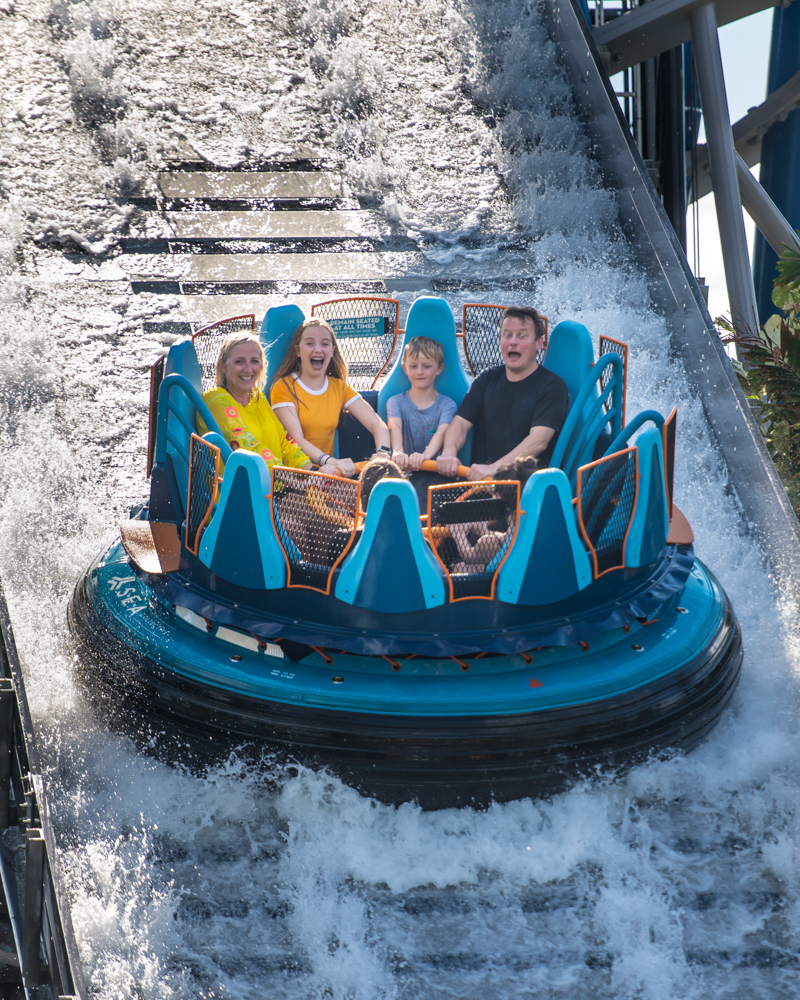 If you can tear yourself away from the coasters, the water rides at SeaWorld Orlando are equally as thrilling. Infinity Falls was new in late 2018, and features a lift that takes your raft up to the highest level of any water raft ride in the world. From there there's a series of water rapids to navigate, and a final shoot that sees you plummet to a splash landing that I defy you to come out of with much, if any dry clothing. I was utterly drenched, as you can see from my IGTV video. ALL the fun!
Journey to Atlantis
If you love a water ride, then I'm betting you started out on log flumes. If so, you'll love Journey to Atlantis. A proper log flume, with plenty of story to float around in between the drops, this is old school theme park water fun at its best. Even with the more sophisticated Infinity Falls on your agenda, you won't want to miss it.
Awesome Animal Encounters at SeaWorld
I don't think I'd fully comprehended quite how much animal conservation goes on at SeaWorld. I knew about the killer whales, and the decision to stop breeding. I also knew about the controversy surrounding that situation, and I was ready to view everything with an objective mind. What I hadn't appreciated was what goes on behind the scenes, and why SeaWorld – despite previous decisions – is such an important contributor to wildlife conservation in this century.
Manatee Rehabilitation Center
The rescued manatees are one of the wonders of SeaWorld. I honestly got tearful watching them, and hearing about what happens to them in the ocean. They are huge, and so cumbersome in their size and movements, and yet when they swim in pods together with their babies it feels somehow so graceful that you can't help being moved by them. Most of the manatees at SeaWorld have been rescued following injury – usually a boat strike. They have no predators, due to their size, and yet their population is decreasing. It's unimaginable to conceive that these magnificent creatures might one day be extinct, and it was wonderful to hear about how the team at SeaWorld rehabilitate them, releasing them back into the wild once the US government has deemed them releasable.
SeaWorld Rescue Operations
As part of our day at SeaWorld we were lucky enough to be given a behind the scenes tour – it's available at an additional cost, and I'd really recommend it, especially if you have children who are interested in animals. Evan is fascinated by them, and can trot out myriad facts he's gleaned from books and TV programmes, so this was a very special part of our day. Our guide described how SeaWorld takes calls from the public about animals in distress, sending out teams to help, and if necessary to bring animals in for treatment and rehab. So far they've rescued over 33,000 animals from injury and other damaging situations, both in the wild, and as inappropriate pet ownership.
TurtleTrek
TurtleTrek is one of the installations designed to entertain guests, as well as taking on the more serious task of conservation. We were introduced to a turtle that had been rescued from beaching three times by SeaWorld. Each time, the team had nursed her back to health, and released her back into her natural habitat, only to find her beached again. She's since been deemed unreleasable by the US government, so she now has a permanent home at SeaWorld. There's a lovely 3D cinema experience that tells the life story of a turtle, as well as some fun interactive games to play, all of which sends you away having learned something new about our oceans, and the creatures in them.
Antarctica: Empire of the Penguin
Is there anything funnier to watch than a penguin? We loved watching them under the water, as well as getting up close with them in their icy habitat. There's also a fun ride that takes you on a journey to Antarctica, to learn all about this crazy little bird!
Other animal encounters at SeaWorld
Again, most of the sea lions at SeaWorld are rescue animals. And most of them will go back to the wild once they've recovered full health. They come in for various reasons, from injury to self-inflicted harm due to the environment they've found themselves in. We heard about one sea lion that had been 4 times over its healthy weight range, just because of a glut of food – he was an overeater! In this case, I like to think that SeaWorld was the equivalent of a trip to the GP for him, with regular weigh-ins, and advice about a balanced diet – only with the self-control he lacked added in by his keepers.
It's not unusual to come across lots of other animals at SeaWorld, just randomly out for a walk. We spotted this otter with his keeper, actually on a lead, going for a walk, and they were happy to stop and chat. It's like that all over the park – the team are clearly besotted with their charges, and are always happy to stop and tell guests about them. If you watch my animals video, you'll see that we even came across a group of flamingos out for a walk by Antarctica – they literally just went sauntering past us, blithely ignoring our race to get to the next coaster!
Shark Encounter!
One of the coolest things to do at SeaWorld Orlando is to travel through the underwater tunnel of Shark Encounter. As giant rays and sharks swim around you, it's easy to imagine yourself underwater with these amazing creatures. If you want to take it one step further, you can book to have lunch in the Sharks Underwater Grill. It was the most bizarre feeling to eat dinner surrounded by sharks; I don't think we talked to each other as we ate, we were so immersed in the different creatures as they swam by our tableside window. So cool!
Dolphin Days
One of the big attractions at SeaWorld has always been the dolphins, and especially the Dolphin Days show. It's a spectacular show that demonstrates just how smart these animals are, and very impressive to watch. We learned most of what we know about dolphins from our encounter at Discovery Cove, and I'd recommend that if you really want a fantastic dolphin experience, but SeaWorld's dolphin show is still worth watching.
SeaWorld Orlando was such a surprise to me. I'd gone with a pretty clear conception of what I would find, and I left with a totally different view. Yes, there were all the animals I'd expected to see, but there was so much more, and my eyes were opened by the conservation work they do. I also had no idea the rollercoasters were so good! We'll definitely go back on a future trip.
If you're planning to visit several theme parks in Florida you'll definitely benefit from hiring a car. Discover Cars has a great reputation for reliability, with a 4.5 review on Trustpilot, and the price they quote is the full price, with no hidden extras. They also won World's leading car rental booking website at the World Travel Awards in 2020.
Our trip to Florida was paid for by SeaWorld Parks and Entertainment, and I have been paid for my time in writing this review. However, everything I've written is my own opinion, and I was genuinely impressed by the park. You can find out more about SeaWorld Orlando, and book by visiting the website.  
If you're planning a Florida trip: