I've had a little change up with my jewellery recently. I've always been into big, colourful earrings but they feel like overkill when I want to wear a necklace. Which I do, a lot of the time, thanks to my size 34FF boobs that need a bit of distracting from! So when Daisy London offered to let me try some of their more classic, elegant earrings I wanted to experiment and see how they made me feel.
Advertorial content: this post is in association with Daisy London and I have been gifted the earrings featured and paid for my time in reviewing them.
My daughter has recently turned 18 and as her birthday present we surprised her with a trip to Paris. I couldn't think of anywhere better to photograph my new earrings, so I packed all my best colourful outfits and put Maddie in charge of creating a little fashion shoot for her mum!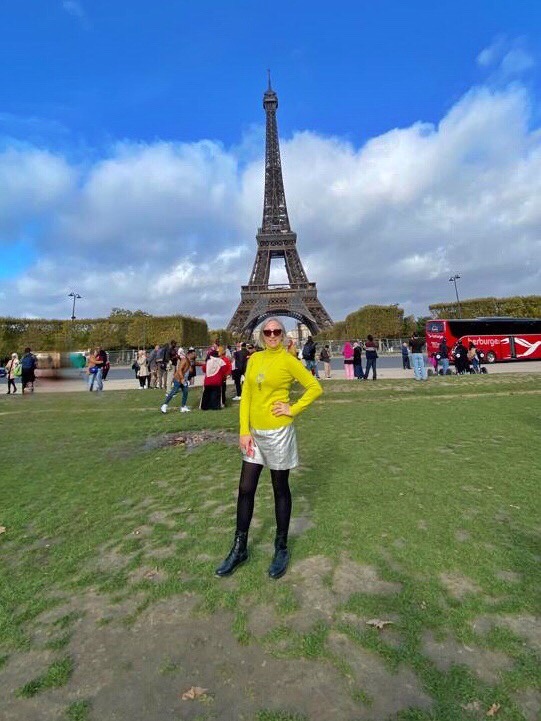 Daisy London started as a small business run from a market stall in the 70s. 40 years later, they are now a much loved brand creating pieces that they describe as modern heirlooms – every day jewellery that's sustainably crafted in 100% recycled sterling silver and 18ct gold plate.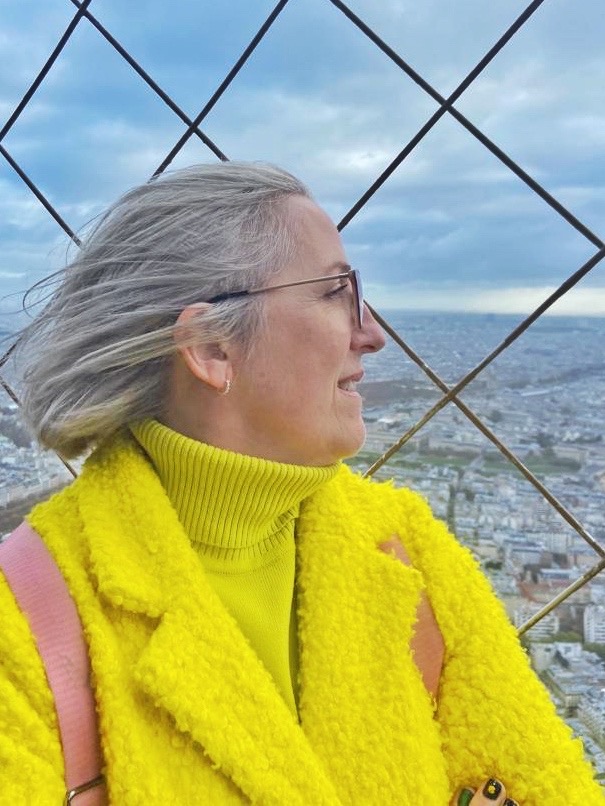 It's no secret that I like to wear colour. My favourite bright yellows and bubblegum pink are a staple in my wardrobe, and I decided to go completely monochrome on our first day in Paris, in my favourite bright yellow coat and a bright yellow roll neck sweater. I decided it was the perfect look to showcase these pretty daisy design silver hoops. The little yellow daisies dotted all the way around the hoop caught the light and reflected the yellows from my coat, and I really enjoyed how small and dainty they felt compared to my usual bold choices, whilst still being fun.
Daisy London like to create modern heirlooms that will live in your jewellery box for years to come, and that's certainly true of these 'Iota' daisy hoops. Although I don't think they'll spend much time in there – they've very quickly become my latest favourites, and they're so comfortable to wear that I sometimes forget to take them out and just carry on in them the next day!
After a hectic first day and 23000 steps, day 2 in Paris was much more relaxed (only 17000!) In fact, we spent most of the day eating and enjoying the sunshine along the Seine, stopping to browse poster stalls and the most beautiful book store in Paris, Shakespeare and Company. This higgledy piggledy house is well worth the queue for a book lover, and they have a series of rooms upstairs where you can sit and read from a huge choice of second hand books that are not for sale.
I chose comfort for the entire trip, so whilst I was still keen to look stylish and colourful, the next two days were spent in the a-line dresses I've found are very forgiving of long lunches and flat boots. This time I was able to make a statement with my Daisy London earrings, choosing a pair of chunky gold-plated hoops with this beautiful Athena design.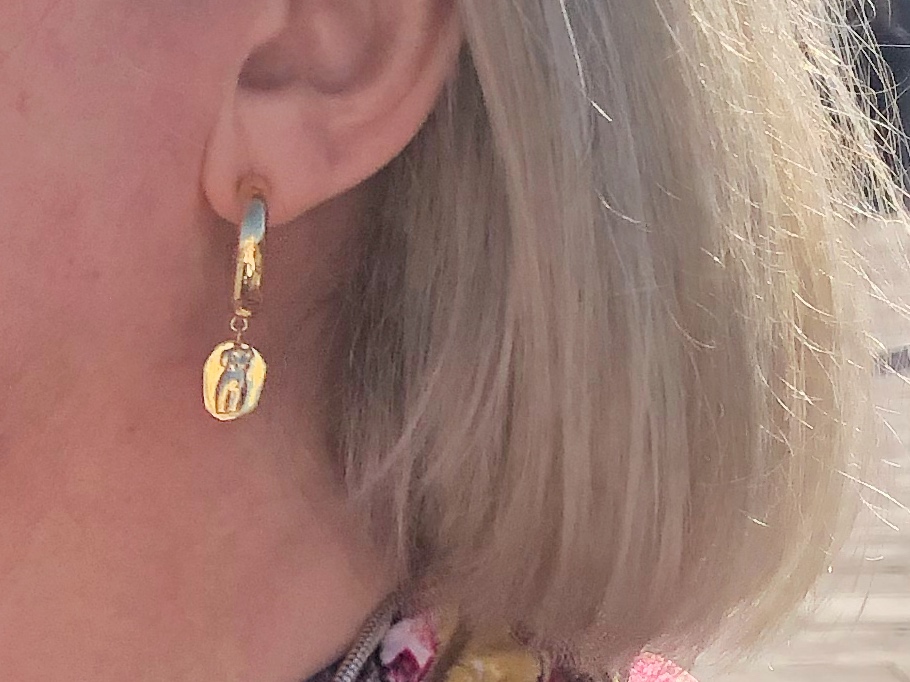 I adored the quirky modern design of this bust of Athena; it felt like wearing quality jewellery but with a slightly irreverent take on elegance. Much more me than more traditional pieces! Daisy London work in keeping with the Responsible Jewellery Council's guidelines with trusted, family-owned factories in Italy and Thailand. Their packaging is recyclable and made from FSC certified materials. Their jewellery is made to last and includes a one year warranty as standard. Daisy doesn't do throw away fashion, and it feels nice to finally own something other than my wedding ring that's intended to last more than a season.
It's something I'm thinking about taking into my clothing choices too, as I'd rather have a few good quality items that last than a wardrobe full of cheaper things I'll only wear a few times. The dress I'm wearing above came from a huge second hand vintage shop Maddie and I found in Vancouver when we were there in April, and the one below was my find of the year at my friend Emma's charity clothes swap event. It's a Stine Goya (I always make a beeline for the prints when I see them – they're unmistakeable, and so colourful) and I don't think I'll ever part with it!
My choice of earrings for this final day is just as fun as my dress. These silver English daisy drop earrings are my new favourite for having a bit of understated fun. With a dress like this Stine Goya I don't want to make my earrings compete, but I do want them to be funky enough to hold their own, and I really think these daisies do the job. (If you look really closely you'll see that my Halloween nail art is a Pacman ghost. Like I said, I don't do traditional and understated!)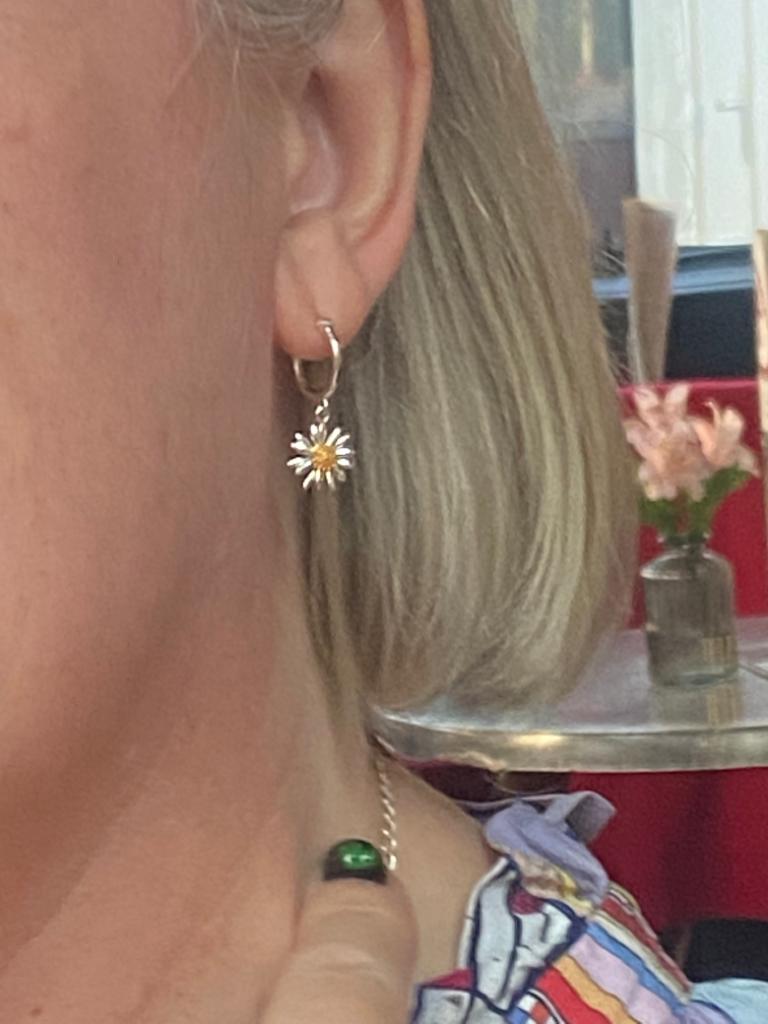 I find all these Daisy London earrings comfortable to wear, and I'm really enjoying having something a little bit more classy along with my loud and bright fashion choices!