There is a very cool blog over in the States called Never Growing Old. Over there. Java asks questions once a week designed to give us all a little bit more insight into each other's lives. This week it is about Christmas, so we are joining in to record our Christmas traditions:
Questions:
1.Wrapping paper or gift bags? Wrapping paper. Colour-coordinated to match the tree! Mummy isn't good with random colours.
2.Real or artificial tree? Artificial. Real makes too much mess, clogs up the hoover, and has to go to the tip after the holidays. Which in Daddy's world means somewhere around mid-February.
3.When do you put your tree up? Could be any time from last week of November, until Christmas Eve, depending on when the festive spirit hits.
4.When do you take your tree down? 12th night, without fail – we are all miserable for days!
5.Do you like eggnog? Eggnog?? Yeuch! (Although Mummy and Grandma are partial to a Snowball on Christmas morning!
6.Do you have a nativity scene? We use the Usborne Advent Nativity with pop-out models. Every day we get to take aout anoew model and add it to the scene until Chrismas Eve. It is getting a bit tattered, and we are missing a lamb, but it is lovely!
7.Favorite Christmas Movie? Since I was 3 we have watched the Snowman every Christmas Eve. I hear that M&D watch Love Actually or The Holiday after we are in bed.
8.Favorite Christmas cookie? Pieces of our Gingerbread House, even better if they are sneaked illicitly 😉
9.Where will you eat Christmas dinner? In our kitchen, possibly in our pyjamas
10.Angel, bow or star on top of your tree? Fairy, actually, and the Bug and I both have to have a turn at putting her up there. We chose her 2 years ago to replace a really scrappy star, and the anticipation of unpacking her is immense!

11.Most annoying thing about this time of the year? For some reason we get more cranky when we're actually trying to enjoy each other's company. We end up with sanctions, when Mummy actually wants to give us more treats. How does that happen?
12.Do you like Fruitcake? I like any kind of cake!
13.What are you most excited about the holidays? Well there's this guy in a red suit…
14.Do you open presents Christmas Eve or Christmas Morning? M&D share champagne, smoked salmon, and a gift on Christmas Eve, because it is just them. On Christmas Morning it is all about the children.
15.Will you still be wrapping presents on Christmas Eve? M&D will doubtless have some cutting and sticking to do, but most of it will be done. On Christmas Eve we will watch the Snowman, have a bath, and come down for one present. It will be new pyjamas and slippers – it always is. We will read 25 December Lane, then we will hear the unmistakable jingle of bells in the distance and dive under the covers, where we will struggle to fall asleep, wide-eyed and thrilled at the prospect of being awake, once again…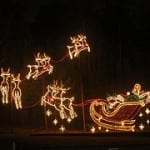 * Santa's Sleigh picture by Flickr user Ches Martin.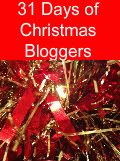 Mummy discovered Never Growing Old a while back, but chose the 19th Day of Christmas to share this amazing blog with you. Lovely blog, lovely lady, and lovely linkies!