Four years ago I was a massively frustrated parent. My then 7-year-old daughter was learning to write, and was equally frustrated. So was her teacher. All three of us were struggling, but each with a different problem. I wanted her handwriting to be neater, more legible. Her Year 2 teacher thought she was capable of better content, more description and depth in her writing. My daughter just wanted to be left alone and given an easy life.
I was tough on her, knowing she was capable of more, aware that she rushed through her work because she didn't enjoy it. Her teachers were tough on her, losing patience with her in class when she didn't try to produce the work they knew she could. She was tough on herself, taking out her frustration in tantrums and scribbles.
So when her brother came to the same stage, and declared himself "rubbish at writing," I was determined to change things as soon as possible.
Oh, he's a boy" they said. "Don't worry, he'll catch up eventually. He's young for his year, isn't he? He's doing really well to be middle of the class then!"
But I knew my child, and I knew he was frustrated with not being able to get the words in his head out onto the paper in the allotted time in class. He compared himself to the girl he sat next to, who managed 3 sides of neatly-written A4 to his 10 lines of illegible scrawl.
He had decided he was good at science, but bad at literacy, so he had low expectations of himself before he even began. For me, attitude is so important to achieving anything. As a runner, I know that the minute I tell myself I can't go on, I will stop, and that will be the end of my run. When I focus on going that little bit further, I always surprise myself with how far I can run.
So I persevered. I went to see his headteacher and insisted. In his next literacy session, his teacher sat with him and 'scribed.' This means that instead of writing, the child tells the story that is in his head, while someone else puts it onto paper. That afternoon I walked into school to find 2 pages of fabulous descriptive writing up on the wall, with my son's name underneath it.
He has the best vocabulary in the class – probably even in the year group!" the teacher declared. "No wonder he's so frustrated."
And suddenly it dawned on me that learning to write is not just about forming the letters. I started asking him to tell me stories that I could write down for him. I pointed out brilliant descriptive passages in texts whenever I read to him. I talked about the different styles of writing we came across in The Hobbit, compared to his favourite David Walliams books. And I would ask him to give me his best adjectives for things we came across in everyday life.
Still, though, he struggled with handwriting, and the frustration continued. Eventually I decided we needed some outside help, and I booked him a tutor for 6 sessions, hoping it would get him over a hurdle, and make the process of getting thoughts onto paper a little easier for him. These were some of the tips we picked up from her.
6 Tips for improving kids handwriting
Pencil grasp is crucial, and needs to be nailed when young, before a bad habit sets in. The Bug doesn't have the perfect grasp, so we're hoping the Stabilo pens we were given recently will help retrain his fingers. They have comfortable grip positions for each finger, to encourage the correct position.
Try to get hold of a school-style exercise book (pictured above). It helps children to know where the letters should sit in relation to each other.
If children get bored of actually writing, get them to trace shapes. They don't need to be tricky – in fact, a circle is probably the best practice, as it's all about following a smooth but transitioning line. There are plenty of books to practice letter tracing for different ages.
Remind children about spelling, especially if it's an often-used word, but don't let spelling detail interrupt flow. Focus on spellings in a different session, when the writing is not about descriptive and creative processes.
When small hands get tired, take a break and focus on literacy – ask the child to come up with some brilliant descriptors and talk about adjectives or adverbs.
Ask children to fill in missing words in a story you've made, to get them thinking about different adjectives and nouns. We got this idea from National Geographic Kids magazine, who provide a challenge in each issue.
It took six weekly sessions for the penny to drop with my son, for him to believe in himself when it came to his writing. Although he still gets frustrated about the time it takes him, he perseveres more these days, and tries hard to be neater. Recently he achieved a Rainbow award at school for the first time in literacy. (It's a standing joke in our house that he normally gets awards for 'sitting nicely on the carpet')!
And what of that frustrated girl? Last year, aged 9, she produced this. Just this week she received 3 house points for her poetry. I can't wait to read it!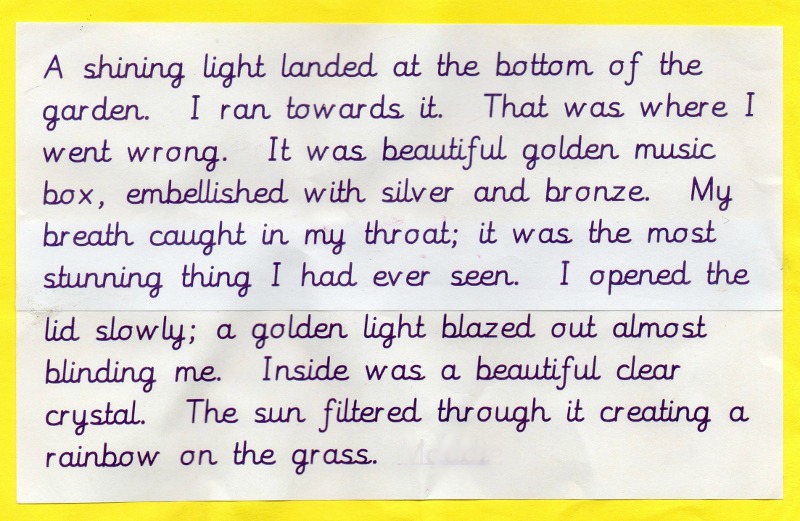 * We were sent an EASYgraph pencil from Stabilo to help with The Bug's writing. All opinion and editorial is our own. Some links may be affiliate links, which means I get a small commission if you buy.
Here is another resource you might find useful: https://www.twinkl.ae/blog/prewriting-skills
THANK YOU FOR READING
If you've enjoyed this post and found it useful here are some ways you can say thanks and support Actually Mummy:
Click here to buy me a virtual coffee.
Join our Teenage Kicks Facebook group which includes lots of advice and support for parents of teenagers. You can post your own problems and advice here too.
Click here to leave a review of the Teenage Kicks podcast.
Click here to sign up to our newsletter packed with tips, ideas and support for parents of teens.
Share this post with your friends.