By Helen…
Dear children,
13 years ago today your Dad and I had the most amazing party. It was bonfire night, and we'd booked fireworks for our wedding celebrations. There was an Abba tribute band, terrible food, and too much wine; no-one wanted to go home. Looking back, I wouldn't have changed much of that day at all, but there were many things I wished we had done differently in the months preceding our big day, and a couple of them have nagged at me over the years.
When your own big days come – if and when you decide the time is right – you will do it all your own way. And so you should – no-one, just no-one has the right to influence a couple's plans for their wedding day, in my opinion. But for what it's worth, here are the things I learned, with hindsight.
How to have the wedding you really want
Plan the proposal. We had been discussing the probability of our marriage for ages before Daddy finally asked me. He had apparently planned a weekend away and a lovely dinner, but in the event, as we staggered home tipsy from a friend's wedding, I fell off my platform shoes into the gutter. He caught me and muttered something like "Wiyumurime." I said yes, and that was that. Whilst I was ok with it, he always regretted not doing the whole romance thing. It has taken him 13 years to make that statement – read my date night post, where out of the blue he presented me with a ring and asked me to marry him again. Get it right the first time, and you'll have years of feeling good about yourself, not to mention making an extra ring unnecessary!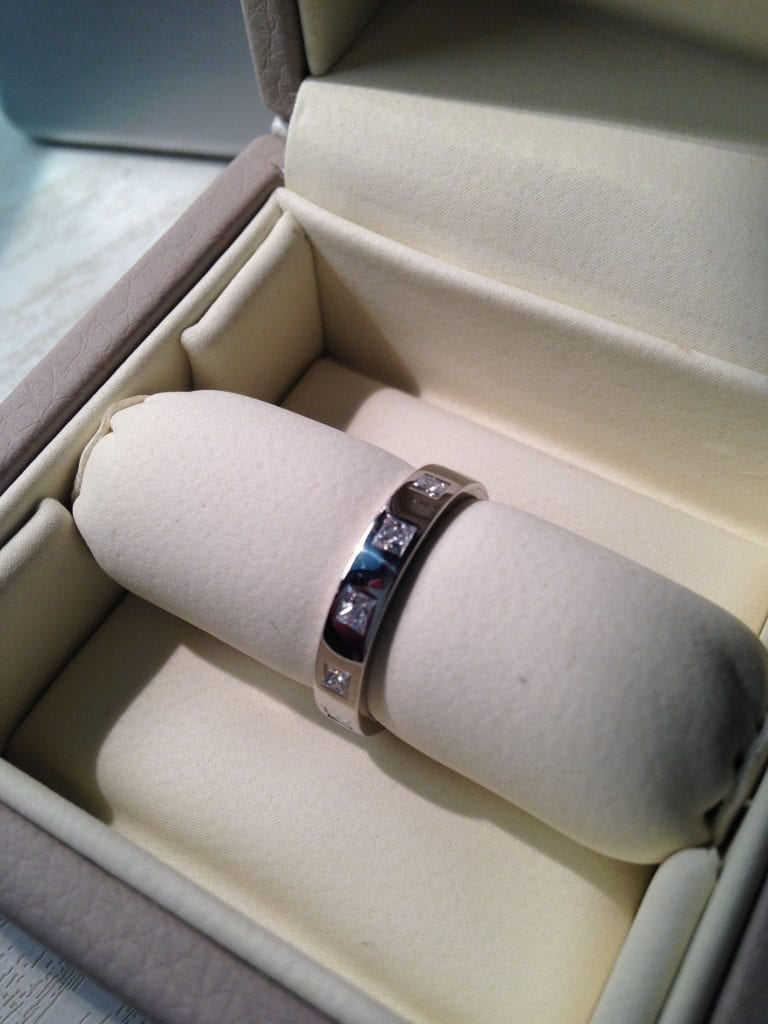 Don't change your appearance in the year preceding your wedding. As you know, I like to flirt with my hair colour. In the 90's strong highlights were in fashion. For you lord knows it may be perms or mullets again. Don't do it! I chose a new salon (first mistake) and asked for bold copper highlights in caramel blonde hair. I ended up with scarlet smudges and went to work wearing a hat. On returning to complain, the only option was allover peroxide. I manged to grow it all out in time for the wedding, but my coveted up-do was out of the question. I had short hair on my wedding day.
Hold your nerve when shopping for wedding dresses. I made the mistake of going to the big bridal stores for my dress shopping experience. Harrods, followed by Virgin Bride. I figured they'd have the  most choice and the best experience. I was wrong. They had a conveyor belt of too-small dresses designed to make me feel fat and unworthy. There was no champagne, not even a cup of tea.
"You have an hour's slot, so that's time for about 4 dresses. You must give us a budget so we can narrow down potential choices."
I didn't have a budget. I'd know my dress when I put it on. I was made to give one even so. The first 3 dresses looked rubbish on me. The fourth looked ok. I quite liked it.
"Well if you like that one, you'll have to order it today or we won't be able to get it here on time."
Sorry, but that's b*@#ocks. You quite like it??! Then it's not your dream dress. Thank goodness for the cloak I'd always imagined, but for 13 years I've regretted that dress. I've regretted being strong-armed by sales staff on commission, and I've mourned for the day of fun and fantasy I had planned with my best friends.
Stick to your guns. We did. After years of struggling to hear speeches over the screams of babies, and flying toddlers collapsing the backs of our knees on wedding dance floors, we didn't want children at our wedding. It caused all manner of mayhem when we made that decision, but we refused to cave in. It was only some years later when we were invited to a wedding 800 miles away without our children, that we realised what an immense effort our friends went to, to come alone to our celebration.
But I had nothing but respect for that couple, and I would not have changed our original decision. Your wedding day is the one day of your life where you should have exactly what you want, and make no apologies for it. And we value our friends even more now than we did then, in hindsight, for paying us that same respect.
Don't scrimp. For ages I had longed for a wedding cake from ChoccyWoccyDooDah. I decided it was just that bit too expensive and instead opted for this very lovely cake:
But I continued to covet that cake from Choccywoccydoodah, and still do.
In addition, we punched the air when the quote for our wedding breakfast came back under budget. We noticed they hadn't added a charge for dessert, and we didn't flag it up to them. But they made it back. Our "Gressingham Duck" bounced, according to my sister-in-law. Unluckily for our hotel, the owner of Gressingham Duck was a guest at our wedding. As he stormed into the kitchen, they naively handed over the receipt for the "cheap French duck" they had substituted in our meals. Do your homework kids – leave nothing to chance!
Find a venue that you love. When we started planning our wedding, we'd only just moved to our current town. We wanted a lovely church, but we had no time to cultivate a relationship there before we started organising. So we went for convenience and used a church close to our respective parents homes (not my home town, as my parents had retired from Manchester to Felixstowe). Our local church is so pretty and special – you were both baptised there. I wish we had taken the more difficult option and married there.
Ignore each other's height. I am a shoe lover. I saw epic wedding shoes, but I was adamant I mustn't look taller than Jason. We're the same height, so I chose flat shoes. Mistake. You need epic shoes for your wedding day.
Do all of this kids, and you'll be so happy with your wedding that you will never feel the need to do it again. Us, on the other hand? Well…
How to have the wedding you want (again)
There have been not inconsiderable raised eyebrows over our decision to renew our wedding vows and celebrate our 13th anniversary with a party. But here are some of the reasons, and some of the balance redressed:
We never had a party for our 40th birthdays. Everyone we knew did, but we a) couldn't afford it, and b) were pregnant at the time. So we're having a party now instead.
Every little girl deserves to be a princess. Or a bridesmaid. And their brothers deserve proper cuff-links should they so choose (although sheesh they were hard to find)!
We get to celebrate our marriage in our own beautiful church.
I am finally having my up-do, and my epic shoes.
I couldn't resist eventually creating my dream cake with ChoccyWoccyDooDah.
Because Daddy finally created the proposal he had planned all those years ago.
Because whilst we wouldn't go back and change our decision not to invite children all those years ago, children have enriched our lives more than we thought possible, and we want to share the happiness of our marriage with our children as a family.
Because we have extra people in our lives now. Friends without whom raising our children would be harder, who colour our lives with new experiences, who are unfailingly supportive of our choices, who make us better people. And we want to include them in our family, past, present and future.
Oh, and if you needed proof that dress shops are lying when they say they can't get your dress in time unless you order it right now, here's an anecdote for you:
I had a chance to revisit dress-shopping by taking my daughter to choose a bridesmaid dress. We had 2 appointments. In the first we found a dress we quite liked. We had to order it today to get it in time. We said we'd get back to them after our next appointment at 1.30. She called the supplier and the bad news was confirmed – we had to order by 12.30 or it would be too late.
GG was beside herself with worry, but I insisted on visiting the next shop, where we found her dream dress, ordered it, and went for a celebratory lunch. At 5pm I received a phone call from the first shop, checking how we were getting on, and whether we'd made a decision on the dress yet…
This week I'm writing a series of posts about our wedding anniversary plans.