I recently had the most glorious weekend away in Bath. If you've never visited, you're really missing something – it's a stunning Georgian city full of fascinating history and beautiful architecture, and home to many, many film and TV sets (hello Bridgerton). Now that the kids are older (and one of them is away at university – sob! – my weekends are my own more often, so I took the opportunity to escape with a friend and explore. We stayed at the Hotel Indigo Bath – read on for what we thought.
AD: We were guests of the hotel, but all words, thoughts and images are mine, unless otherwise credited. The attractions we visited were courtesy of Visit Bath..
Hotel Indigo occupies a classic Georgian parade building, just two minutes from the city centre, so it's convenient for all the attractions as well as having an authentic palladian Bath feel. It's right opposite Manvers Street car park, where you can park overnight. On check-in I was immediately taken by the rows of bells, like you'd expect to see on Downton Abbey; they're not in operation – I asked! – but they lend a certain charm.
As we moved through the hotel into the lounge for a welcoming cup of tea, I realised the bells weren't the only style quirk in the hotel.
Hotel Indigo's decor reflects different aspects of Bath's history and is rooted in storytelling. The 5 room styles also carry distinct themes, with Romance & Mischief, and Literary Hideaway speaking to stories of famous residents and visitors to the city, like Jane Austen (apparently she hated Bath, but Bath seems to have loved her – there's a museum dedicated to the romance author!)
The hotel kept our luggage for us while we set off to explore the city. I'll write more about visiting Bath, but for now, here's a list of what we did:
23,000 steps later (it's a small city but we covered a lot of ground!), we were back at the hotel for a bit of a chill before going out for the evening. We had one of the Architectural Beauty rooms, with traditional style Georgian artwork and furniture, and it felt quite decadent.
What's in the rooms at Hotel Indigo Bath?
Our premium room had two single beds (which could be made up to a kingsize) and an armchair with footstool. There was also a desk and chair, wardrobe and mini bar containing complementary wine, beer, water and soft drinks. A hairdryer and iron were provided, as well as a Nespresso coffee machine, and robes and slippers. We were too tired for alcohol at this point, so we opted for a cup of tea with the beautiful chocolates that were laid by our pillows.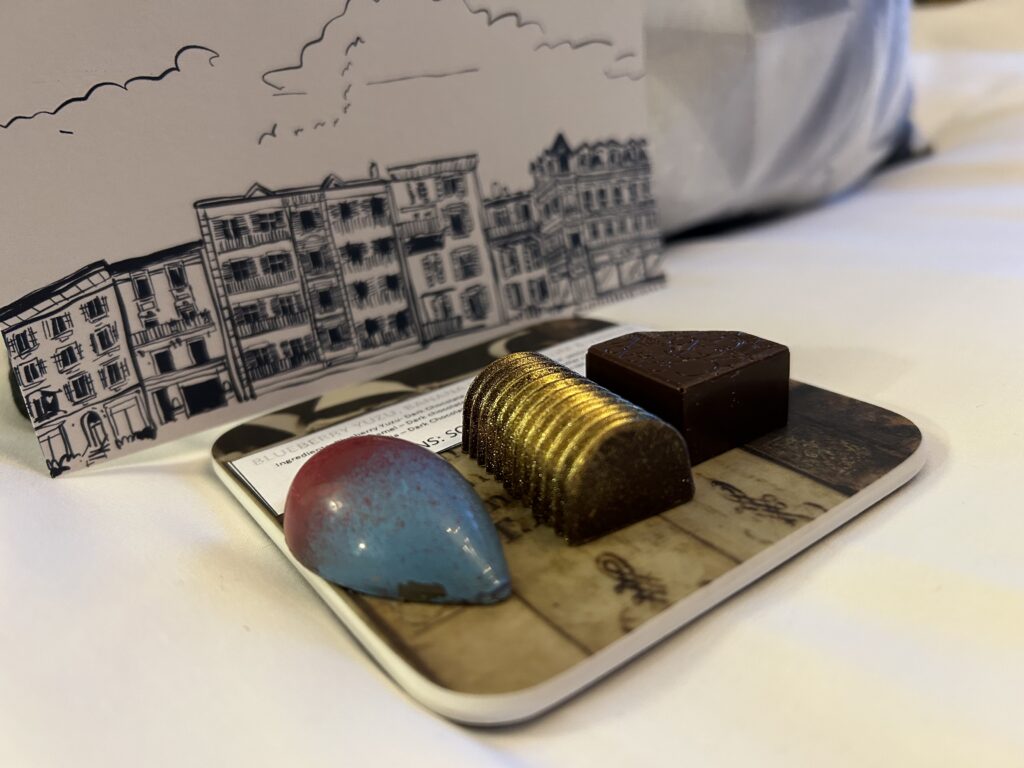 Then it was time to get ready for an evening on the town. The bathroom at Hotel Indigo Bath is a sight to be seen, with gorgeous tiles, a huge walk-in shower with rainfall option, and a deep, claw-foot bath to luxuriate in.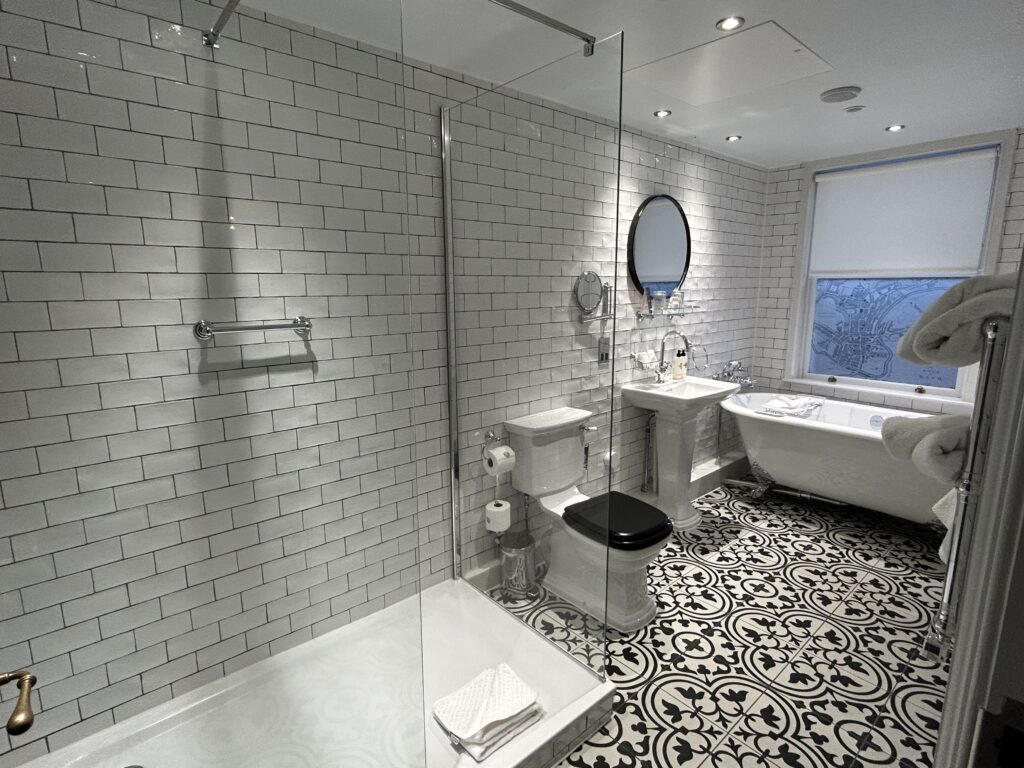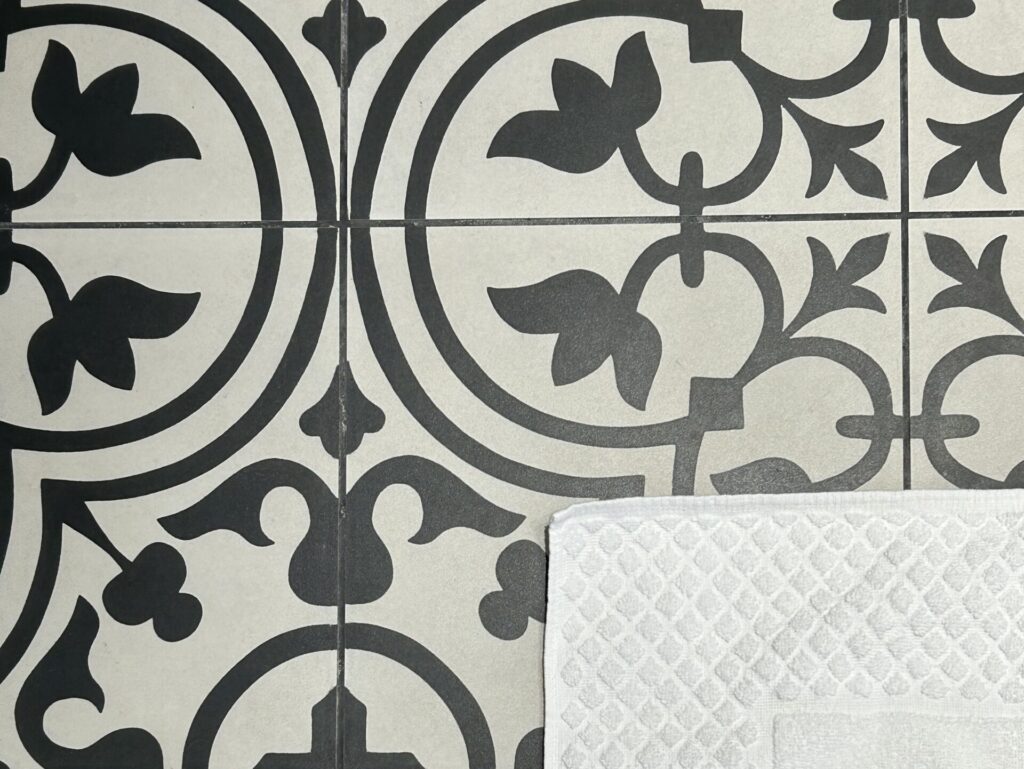 Bath is so fun at night! Firstly, it's beautiful; the city authorities know that Bath's architecture needs to be showcased at all hours of the day, so all the stunning buildings are well lit, as is the weir under Pulteney bridge. I used to stand there staring at the water and eating a slice of pizza after a night out at the pub when I was a student. It was fun to take that trip down memory lane!
We ate at The Botanist – get the hanging kebabs, they're amazing – where we enjoyed a cocktail from their extensive list. Having got a taste for cocktails, we continued into the evening at a little underground bar in Kingsmead Square, The Dark Horse – more great cocktails. Then it was back to the hotel to sink into the Hypnos beds and marvel at the lack of things to do (I'm talking housework, cooking and life admin – so good to leave all that behind for a night!)
In the morning I explored the other floors of the hotel to get a feel for the other room styles – there are vault rooms which look very cute and equally luxurious – and check out the different themes.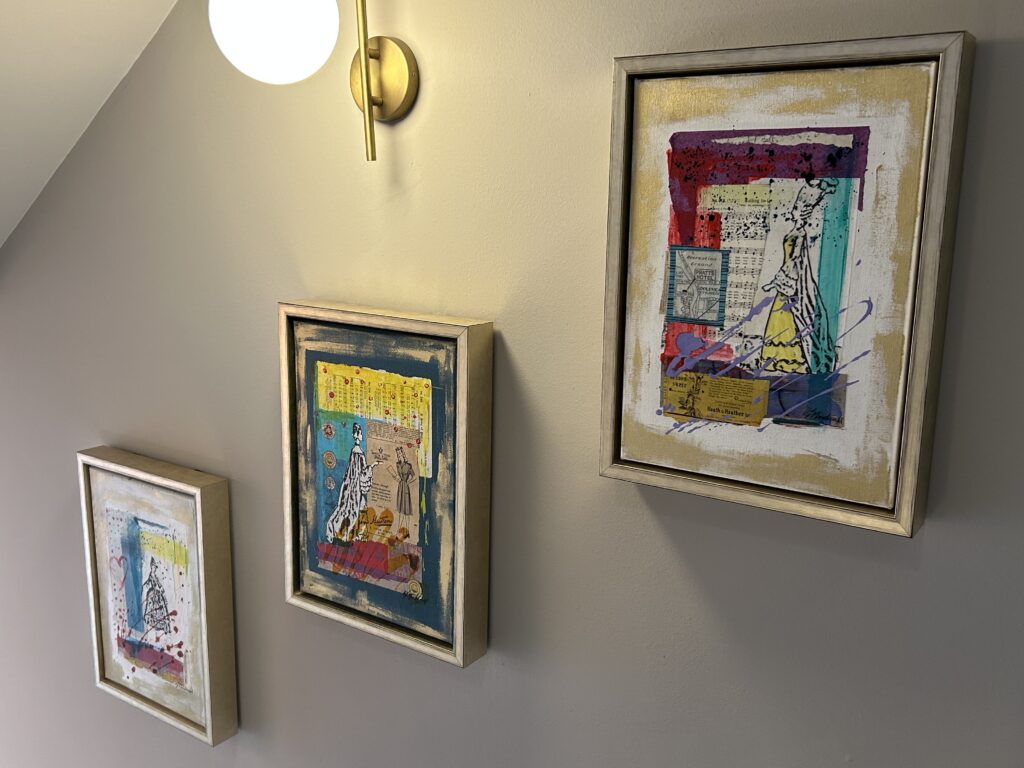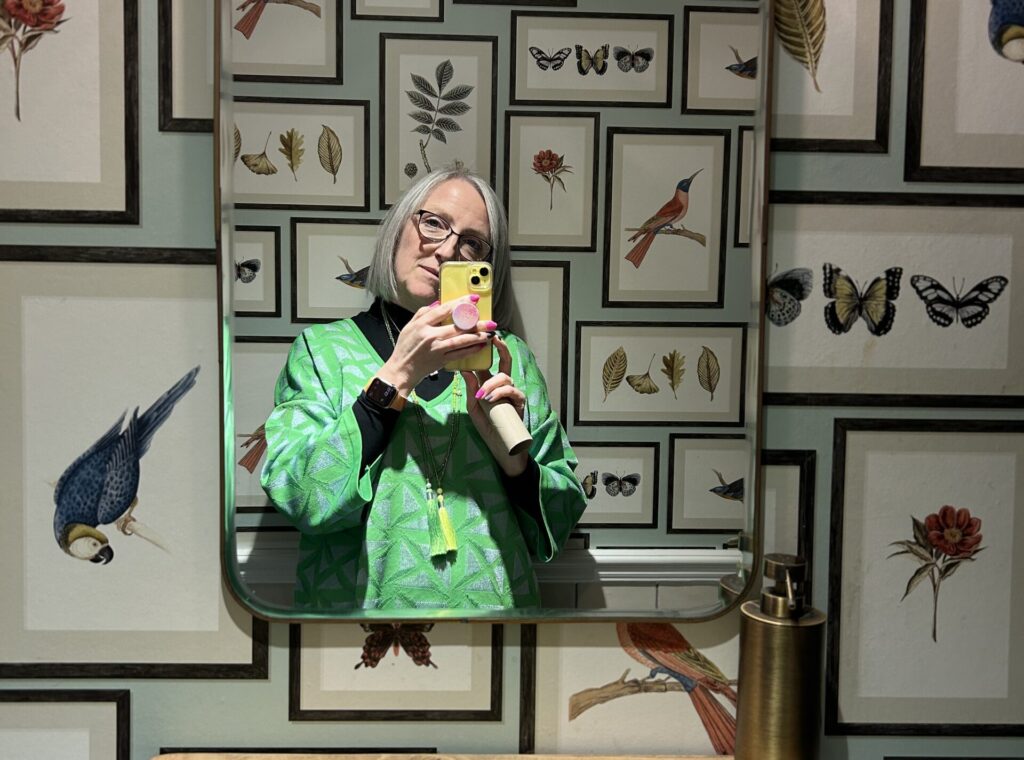 Breakfast was a huge affair, with every buffet option imaginable, plus plenty of cooked options. We loaded up on granola, yoghurt, fresh compôtes and fruit, before diving into eggs Benedict ready for another day of exploring the city. (We didn't need to eat again that day!)
Breakfast is served in the Elder room, where you can also dine in the evening. We had a look at the dinner menu and it looked lovely – very earthy, with winter dishes like Hare ragout Pasta and Wood Pigeon Tart, plus some perfect traditional puddings. It would be lovely for a dinner date.
Hotel Indigo operate several hotels around the country, all in beautiful locations (although I'd argue none as stunning as Bath). We had the loveliest time, and wouldn't hesitate to book again, or to try one of the other hotels on future trips – of which there will be many, I've got the solo/friends travel bug!