ADVERTORIAL . Click my referral link to order a Simba mattress
When you're a mum, getting a good night's sleep becomes a bit of vicious circle, doesn't it? First you can't sleep because your baby won't let you; then your child seems to settle, and you can't sleep because you're lying awake wondering when he will next wake up. And I don't know a mother who hasn't sat bolt upright in the night panicking that their child hasn't woken up yet, therefore something terrible must have happened!
Eventually you get to a point where everyone in the house relearns how to sleep, but even then, interrupted nights can still plague a parent. Will he get into the school we applied for? Does that cough need a visit to the doctor? And eventually, I wonder what time she'll be home, and I hope that boy is treating her right.
Simba mattress review: a better night's sleep
With me it's pain. I'll confess to being something of a stress bucket. The daily insanity of keeping a family on track, mixed up with work deadlines, and the added curve balls that type 1 diabetes throws at me, see my shoulders disappearing into neck more often than not. Relaxation is always on my to do list, and when I finally flop into my bed, my body is a tensed up fist of steel. So I need a really, really good mattress.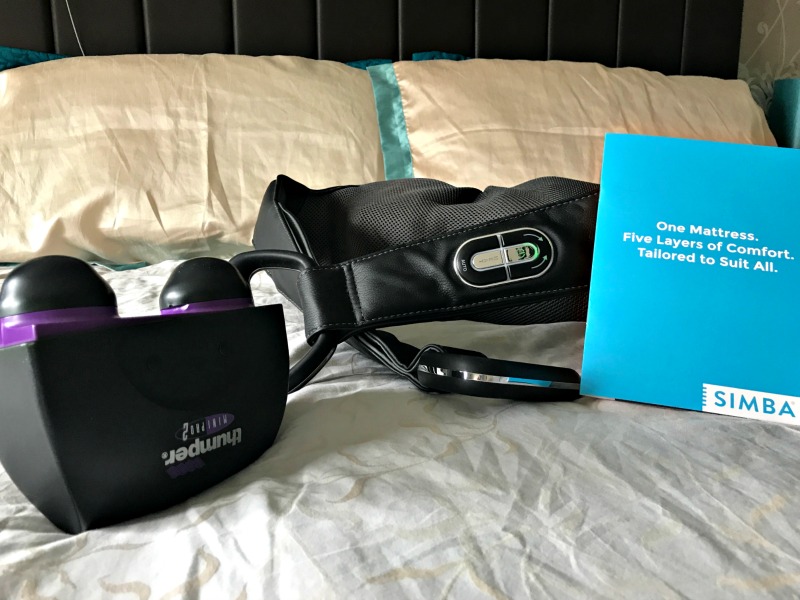 I've suffered with a painful shoulder, and a stiff neck at night for about the last 8 months. The photo above is the massage devices I've purchased over the years to keep my shoulders in check, but it has got worse in recent months, and even all this machinery can no longer prevent me from nights of painful tossing and turning. My old mattress needed replacing, and was probably causing some of my pain. It got so bad at one point that my husband took himself off to sleep in the spare room more often than not, so as to avoid all my cursing in the early hours!
Fortunately, the offer of a Simba mattress review came at exactly the right time for me. I'd seen the claims made by Simba on Facebook and I was tempted by the accolades the fans gave the Simba Hybrid mattress. But could a mattress that comes vacuum-packed the day after you order it really be that good? I decided to find out.
By the way, if you're buying a Simba mattress, and use my referral code (I should point out that as a Simba ambassador I get a small commission on every sale).
The Simba Hybrid Mattress – Facts and Features
Pocket springs: Simba's biggest claim is that the mattress will suit all types of sleeper – side sleepers, those who sleep on their backs, and face-planters (who sleeps like that? I can't imagine anything less comfortable!). The reason, they say, is the "unique combination of 2,500 patented conical pocket springs." Now, I know about this – pocket springs mean each one moves independently of the other; if they were linked springs, when one moved, they all would, hence the disturbance when your partner turns over in the bed. Pocket springs also mean that as you move, each part of your body is supported separately, so that your back is kept aligned – no sagging in the wrong places. *Awards self brownie points for supreme mattress knowledge!*
Memory foam: Under the springs there's a memory foam layer that moulds to your particular shape. Memory foam has been the latest mattress innovation, so I was dying to try it.
Air flow: the other buzzword term in sleep technology, the Simba Hybrid has a breathable, hypoallergenic layer to help regulate temperature and air flow so you don't overheat.
Two more layers that I honestly couldn't get my head round, but they look and sound mega high tech – find out more here, there's a seriously cool diagram of every layer!
The other thing Simba pride themselves on is brilliant customer service, and it's absolutely true. Every person I spoke to – from the website chat, to the emails about my order, and even the delivery man – was absolutely lovely, had their own mattress, and swore by it. It was like sleeping on a pillow of air, our delivery team told us. By the time we had our mattress unboxed and 'warming up' I literally could not wait to go to bed!
Simba Unboxing and Video Review
Check out what we thought in this video review, plus find out exactly what happens when you open the Simba mattress box!
What we thought
Unboxing: the process of converting our mattress from a compact box to a superkingsize mattress was fascinating. It's squished to such a small size, it's hard to believe it will cover a huge bed like ours. Once we'd peeled away the plastic coverings, the mattress self-inflated to the depth of a normal mattress. Simba advise leaving it for at least 3 hours before sleeping, and that it will continue to improve over the next two days.
Comfort: I immediately felt comfortable when I went to bed on the first night. The mattress feels quite firm, but as you sit with your book you realise that you're sinking into it just the right amount. I was nervous that it might be too firm to cushion my painful joints, but it slowly moulded itself to me, and I slept much better than normal, waking up with a lot less stiffness in my neck and shoulders. Normally I'd need a hot shower, and a stint with the thumper before my shoulders would loosen up enough not to creak, but on my first morning I skipped both, opting for a relaxed coffee with the kids instead.
Different positions: Simba describe the Hybrid as medium to firm. My instinct is always to go for a softer mattress, to avoid stress on my hips and shoulders, but the memory foam and clever layers really do work to cushion any impact. I do like to sleep on my side, and this mattress is a little bit too firm for that to be comfortable for the whole night for me. But I think that's because I have hypermobility in my hips and shoulders, and in fact, my osteopath has told me that I need to sleep on my back to avoid pressure on my dodgy shoulder. Jason slept on his side, and declared it comfy, and I feel fine sleeping on my back, which is a new development for me. Certainly it has reduced my reliance on painkillers and massages!
The couples test: Did I mention my husband is a fidget? He is a total nightmare to sleep with. Most nights I'll have the duvet whipped off me as he tosses and turns, and every few days we have to completely reinstall the fitted sheet because he's managed to yank it off the mattress with his nightly wriggling while he sleeps. I'm not kidding! He claims he has no memory of it, and sleeps like a baby. So did the mattress prevent my earthquake slumbers? It totally did! I swear I slept right through his usual manoeuvres, and when I was awake, whilst I was aware of his changes in position, I could not feel the bed moving as it normally does. I imagine over time I'll learn to trust that he won't wake me in the night, and relax enough to sleep alongside him. If I can prevent him from stealing the duvet…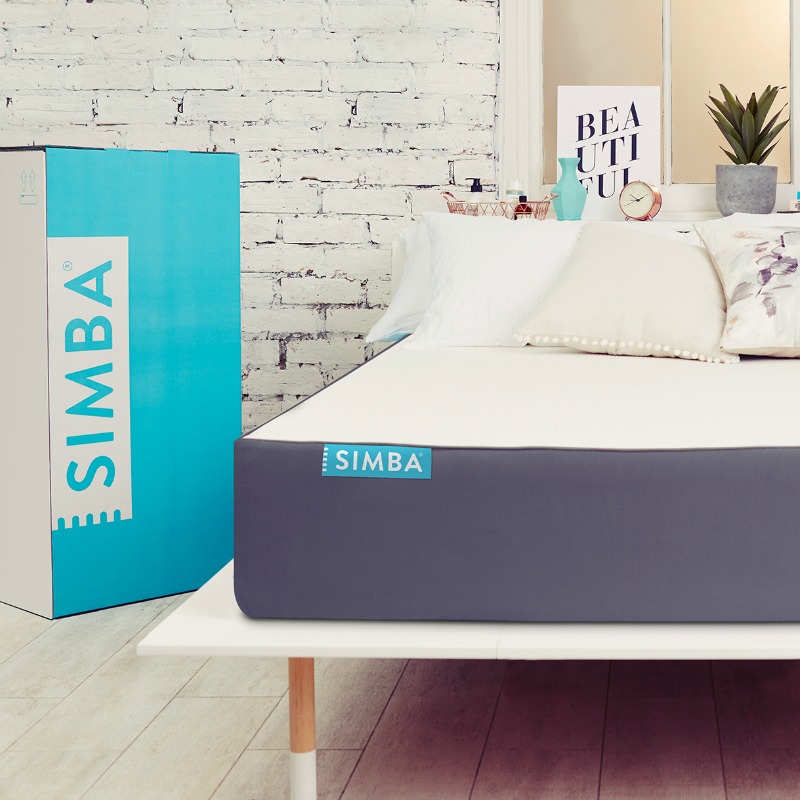 Simba – Good to Know
Update November 2019: Simba have made some recent improvements to the Simba Hybrid® Mattress. The Visco memory foam layer has been removed and replaced with a reflex foam which acts as a foam springboard for their springs for maximum responsiveness.
Every Simba mattress is designed and manufactured in the UK.
Delivery can be scheduled for two different parts of the day, even in two hour time blocks, so you can wait for your mattress while you wait for your grocery delivery! You'll sometimes even get it the day after you order it, so you can start getting comfortable straight away.
The Simba Hybrid comes in a really vast range of sizes, to fit standard UK, and European continental beds. Click here for current prices.
Huge thanks to Simba for providing us with a Hybrid mattress for the purposes of this review. As an ambassador for Simba, I also get an affiliate payment when you use my referral link.
More Simba reviews: